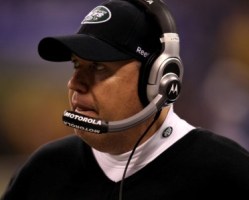 Posted by Andy Benoit

INDIANAPOLIS -- I was told going in that the Combine consists of a lot of sitting around, with little bursts of action here and there. Thus far, that's pretty much true.
The bursts have actually been fairly frequent – a head coach or GM makes his way into the room every 15 or 20 minutes. And a prospect comes in every 10 to 15 minutes. The coach and GM press conferences consist mainly of references to how all 32 teams are looking to get better, how the team is interested in improving and how everyone is still in the middle of evaluating the draft prospects (which is both true and a way of deflecting questions).
The room absolutely buzzed for Rex Ryan's presser. He drew a crowd that was double the size of the next biggest crowd on the day. Ryan's approach was brilliant: he immediately guaranteed a Super Bowl title for 2011 (before any questions were even asked). He then went into a long, passionate and often humorous spiel about how he was going to will a championship out of the team this season. The media loved it – LOVED it. In fact, they loved it to so much, they hardly noticed that Ryan ducked all questions of substance. It's a fair game everyone has agreed to play.
After the press conferences, interviews generally spill out into the hallway. The TV and radio guys patrol the area and score a lot of one-on-ones. But if it's simple conversation or who's who sightings you're after, the best areas are still the hotel lobbies and streets. Walking back from the Marriott this afternoon, I was a few paces behind Rex Ryan and Mike Tannenbaum (it was actually that awkward walking distance where you can't decide whether to pick up the pace and pass the person or just hang in there and hope they don't think you're following them).
For more NFL news, rumors and analysis, follow

@cbssportsnfl

on Twitter and subscribe to our
RSS Feed
.