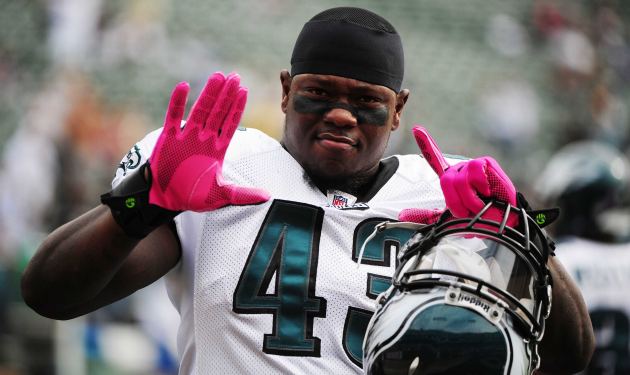 After missing most of 2010 and all of 2011, Weaver won't return to the field in 2012 either. (US Presswire)
By Josh Katzowitz
Leonard Weaver
, perhaps the NFL's best fullback in 2009 who suffered a brutal knee injury in 2010 and who missed all of 2011, won't play in 2012 either. He's simply not healthy enough, as you can surmise in this
Philadelphia Daily News
piece that follows Weaver as he fails another physical with the
Eagles
training staff.
Weaver says his foot doesn't work right, and though he wants to resume what had been a six-year career, he's not sure if he'll ever be healthy enough to do so.
"My heart is to get back," Weaver said. "But it's not going to happen this season. It's tough."
More from the
Daily News
:
What Weaver doesn't have is the ability to move his left foot fully, even after nearly 18 months of rehab, much of it incredibly painful and tedious. He's as athletic and powerful-looking as ever, within a couple of pounds of his playing weight. If you stood the 2009 Weaver up against the 2012 Weaver, in street clothes, you probably couldn't tell the difference. But the difference is huge.

"As of right now, no, I can't run like I used to," Weaver, 29, says.

Teams have called, he said, but he isn't ready to run for them. After another year away? Well, who will call about a 30-year-old fullback whose last substantive action was in 2009?
The tackle that might have ended Weaver's career occurred in Week 1 of 2010 when Weaver took a carry and took a helmet to the leg courtesy of Green Bay's
Nick Barnett
. Weaver's body went forward; his leg went backward. And that was it.
"That was the worst pain I've ever felt. I've never been shot, but I'll tell you what, it had to be worse," Weaver said. "It was just all up and down my leg, up and down my back, this burning sensation. It was like somebody lit a match and it went all over my body, and it just continued. It was crazy."
Weaver tore his ACL and suffered nerve damage, a diagnosis that left Weaver sobbing in the locker room afterward. Since then, Weaver has had three surgeries, and though the foot he couldn't lift after his initial injury has improved, it's nowhere near NFL ready.
Doctors have told him there's a 99 percent chance he'll never play again. For now, Weaver is just happy he can walk.
If you have some time, click the
Daily News
link and check out the rest of the story. It's an interesting look at a guy whose dream most likely will not become a reality.
For more NFL news, rumors and analysis, follow

@EyeOnNFL

on Twitter, Like Us on Facebook, subscribe to our NFL newsletter, and while you're add it, add our
RSS Feed
.