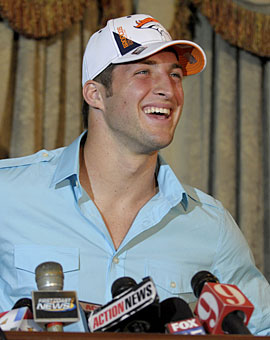 Read
Part One of our interview with Josh McDaniels here .
(
Ed. Note: Yes, we are also annoyed that we got off the phone with McDaniels a few hours before Dumervil signed his extension , thank you for asking.)
CBS Sports
: [Laughing a little] I'm sure you're gonna be sick of this question fairly soon, but, um ...
Tim Tebow
-- he seems to almost be the biggest story in the NFL sometimes. How early is he gonna see the field in 2010?
Josh McDaniels:
[Laughing a lot] We're excited about having Tim here on our team. And he understands that he's got a lot of improvements to make and a long way to go to be exactly what you want an NFL quarterback to be in terms of experience and all those things. And he's got a solid player ahead of him in
Kyle Orton
, and
Brady Quinn
has also done some good things in the spring, so we feel like we've got a great group of QBs that are different in their own way, so it should be a very competitive situation.
Kyle's certainly out in front and had a great spring for us this year, but Tim's got some unique skills and there's certainly no boundary on what we may try to do with any of our skill players, and Tim may allow us to do some things a little differently. So we'll kind of see how those things unfold during the course of training camp and the preseason and I think that'll all -- how productive he can be and what other skills he presents us with -- that'll all … time will tell how we'll use different packages and that kind of thing. But he's in a competitive battle right now and he's got a long way to go and I'm sure he'll keep his head down and keep working, but we're happy to have him here in Denver.
CBS:
Alright,
reader Joe Schlobotnik submitted the top question
on our Facebook page
(Ed. Note: Go here and like CBS Sports on Facebook and you too can have your questions asked in interviews!)
, and it fits well here: Tebow -- hypothetically if he's on the field -- would he be the type of guy that you'd want as the triggerman in the "Wild Horse"?
JMcD:
[Chuckling] No, the Wild Horse is different -- it's a different element for us. It's a little different than the Wildcat and if we were using the Wild Horse package, which we certainly used some last year, it would certainly be a halfback back there and it would likely be
Knowshon [Moreno]
or [
Correll Buckhalter
]. But like I said, Tim's got some different skills and that's what training camp is for, to really kind of poke and prod on your football team and to find out exactly what you're going to look like when you ultimately unveil it the first few weeks of the season and then grow from there. We're gonna experiment a little bit with a lot of different things in terms of our system, and we've made a lot of different changes both offensively and defensively and we'll see how Tim factors in.
CBS:
Good deal -- one more Tebow question and I swear I'll stop. I've seen several local media members -- I believe mostly local -- who have tied your legacy as
Broncos
coach directly to drafting Tebow in the past draft. Do you think that's a fair statement or a fair approach to take?
JMcD:
I'm not really concerned with my "legacy." I think any coach's or player's story will be told by how much they won, how much they didn't, how many championship teams they were a part of, did they happen to get to a Super Bowl and win one, or multiples. We're focused on trying to get our football team to play as well as we can and Tim is just one small part of that -- we know that. It takes 53 players on the roster and a ton of people in the organization, coaching staff and personnel department to make a team successful, and we're certainly not going to put that burden on one player, and I'm not worried about what somebody else says my legacy is. I know if we win, that's the best solution for all of us, that's the best medicine we can all have, and certainly that's what we're gonna try to do.
CBS:
No, that's fair. People have used the word "brash" to describe -- I guess it's attitude -- do you think that being honest and direct, and if you want to use the word "brash," to the media, do you think that's something that benefits you as an NFL head coach in the short term or long term?
JMcD:
I think I just … try to do the best I can at my job and make the decisions that we feel like are in the best interests in putting the best team on the field. You know, that's somebody else is coining those terms and most of the people that may say things like that maybe don't really know me. And I'm not really concerned about that -- as I said, I'm focused on trying to win. And as I said before, if we win, I don't know that many people are gonna call you anything other than "successful," so, we're hoping to put a team out there that can do that and be competitive each week and we've got a long way to go in training camp to get ready for 2010.
CBS:
Good deal. I'll get you out on this -- aside from the obvious names we've mentioned so far, give us one name to watch in training camp, whose performance in training camp you guys are anticipating might surprise the general fan.
JMcD:
Well, there's a lot of players that are looking to improve. One player that really stood out in the spring because of his versatility, and because of some of the things he added to our defense is
Nate Jones
. We signed Nate as a free agent from Miami -- he can play inside as the nickleback, he played outside at corner, we moved him to safety … he's a very smart player, a very cerebral guy who fits in great with our veteran players in the secondary and we're really excited to what he may bring to our defense and how we can use Nate's skills to really improve our team.
-- Will Brinson
For more NFL news, rumors and analysis, follow @cbssportsnfl on Twitter and subscribe to our RSS Feed .