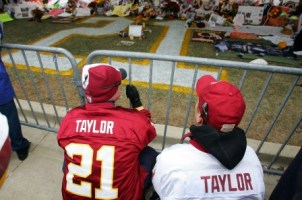 Posted by Josh Katzowitz
New
Redskins
FS O.J. Atogwe – who signed a five-year, $26 million deal with Washington on Thursday – already has begun to ingratiate himself with his new fans.
Atogwe, while in St. Louis, wore No. 21, and normally, star players who are with a new team will do whatever it takes to make sure they secure the same numbered jersey at their new stop (mostly, this is accomplished through cash or other bribes with the player who already happens to be wearing that jersey number).
In Washington, though, No. 21 is sacred. That was the number worn by FS Sean Taylor – tragically gunned down by intruders inside his home in 2007 – and it hasn't been issued by the Redskins since.
Atogwe, though, will not try to take that number.
In a tweet this morning,
Atogwe wrote, "With all due respect, I will not be rocking nor even asking to rock 21."
In response,
NBC Washington
brings up an interesting question: will anybody ever wear No. 21 for the Redskins? The organization doesn't retire jersey numbers, but it looks like Taylor's jersey is unofficially retired, the same way Mike Webster's No. 52 is unofficially retired with the
Steelers
.
Which, I think, is a pretty cool tribute. And it's doubly cool that Atogwe understands and appreciates that.
For more NFL news, rumors and analysis, follow @cbssportsnfl on Twitter and subscribe to our RSS Feed .