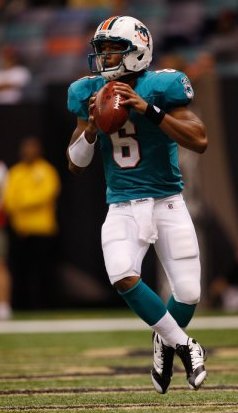 Posted by Josh Katzowitz
The last time we left former
Dolphins
QB Pat White, he had been
cut by Miami,
retired from the NFL and decided he wanted to continue on
with a pro baseball career
within the Kansas City Royals organization.
That was about nine months ago. Now, White has a new pro sports goal. He wants to play football again, and this time, he's going to do it in the UFL with the Virginia Destroyers.
"I'm excited about my next step," White said via the
UFL website.
"My blood is boiling. I guess I kind of feel like a little kid again, a kid in a candy store. Hopefully, we'll be playing for another 5-10 years. I just love to compete.
"It puts a smile on my parents' face. I'm just excited to get back out there and run around in the heat."
It will be very interesting to see how White performs in what is basically the NFL's minor leagues. He was awesome at West Virginia -- by my estimation, he's the most-important collegiate player ever to emerge from the Big East -- and though he was taken way too soon by the Dolphins in the 2009 draft (really, Miami, in the second round?!?), he's obviously got the athleticism that made him such a danger when he had the ball in his hand at West Virginia.
With the Destroyers, White will play for coach Marty Schottenheimer -- who, you might recall,
doesn't want to have anything to do
with
Terrelle Pryor
-- and he's hoping to parlay what he learned in the NFL to success in the UFL (so that, perhaps, he might get another chance in the NFL).
"(Schottenheimer) is looking for a leader," said White. "He's looking for somebody who enjoys the game, somebody that other players see as their quarterback, and I hope I fit that description.
"It's a great opportunity. I've heard nothing but good things about coach Schottenheimer. It's a competitive league. It's new, up-and-coming, and, hopefully, we can make a name for ourselves."
For more NFL news, rumors and analysis, follow @cbssportsnfl on Twitter and subscribe to our RSS Feed.