Posted by Andy Benoit
Wisconsin congressman Paul Ryan, thanks to his aggres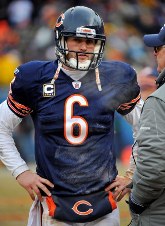 sively conservative budget proposal and ensuing media tour last month during the federal budget battle, has become something of a star. Now,the chairman of the House Budget Committee is making his debut in the Eye on Football blog thanks to some playful potshots he took at
Bears
quarterback
Jay Cutler
.
Ryan recently gave a speech to the Economic Club of Chicago and,
according to Fox News
, chose to break the ice by saying, "I want to thank you all for inviting me to speak. It was especially gracious of you to host me, even though I'm a
Packers
fan and I assume most of you are Bears fans. But that doesn't mean we can't work together. As chairman of the House Budget Committee, I stand ready to do whatever it takes to help you re-sign Jay Cutler."
Then, he added, "I'm here to talk about the economy today -- about the need to get four quarters of strong, consistent performance. That wasn't another Jay Cutler joke, I swear. It could be, but it's not."
Zing.
In breaking down Ryan's joke, it's difficult to ascertain whether or not he is an educated fan. The last dig at Cutler was a clever reference to the NFC Championship knee injury controversy, but any common fan is still aware of that story. Ryan's first dig is more enigmatic. He mentions re-signing Cutler, which isn't a relevant issue given that Cutler is signed through 2013. But to say you're a Packers fan and you're willing to do all you can to help the Bears re-sign Cutler could be a veiled way of saying "Cutler stinks". This makes Ryan's quote just like all his other quotes: debatable and a matter of interpretation.
For more NFL news, rumors and analysis, follow @cbssportsnfl on Twitter and subscribe to our
RSS Feed
.