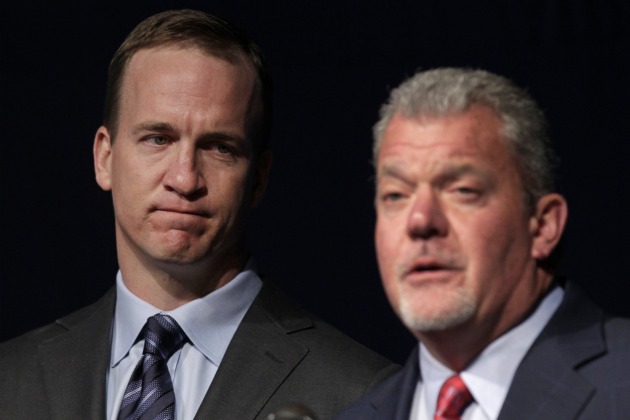 Manning and Irsay officially said goodbye Wednesday. (US Presswire)
By Josh Katzowitz
Say what you will about the dance
Colts
owner Jim Irsay and his superstar quarterback have performed the past few months as he and
Peyton Manning
have played politics, trying to gain leverage on each other. Leaked videos of Manning practicing in North Carolina, and leaked reports that Manning might need another spinal fusion surgery.
At times, it's gotten ugly, but divorces usually are.
In the end, though, Irsay and Manning are like family, and no matter their squabbles, Irsay loves Manning. And Manning loves Irsay and the franchise.
The one moment that crystalized Manning's affection occurred midway through Wednesday's press conference when, after already showcasing his emotion a number of times, Manning nearly broke down when he was talking about the Colts equipment men. The equipment men for, god's sake!
That's what the franchise has meant to him. When you shed a tear for the men who clothe you, you know how Manning feels about the entire organization.
"I sure have loved playing football for the Indianapolis Colts," said Manning, who was officially released by Indianapolis on Wednesday. "For 14 wonderful years, the only professional football I've known has been Colts football. I played with so many great teammates. This is an organization who I respect and will continue to respect them. I guess in life and in sports, nothing lasts forever. Times change. Circumstances change. That's the reality of playing in the NFL."
Latest news at Peyton's place
Multiple times, Irsay and Manning said this breakup was not about money -- though clearly that's hard to believe (remember that $28 million bonus Manning was due at the end of this week?) -- but it was about the circumstances surrounding the organization. The Colts are going to have to rebuild after their 2-14 debacle last year. Manning, at the age of 36, wants to win now. There was no way to keep this relationship alive. Everybody wants -- and needs -- different things.
"We're definitely a few years away," Irsay said. "We want to see him come back and play great. … I want that opportunity for him to succeed at the end of his career … Hopefully we'll watch Peyton win immediately."
Where that is, Manning doesn't know. At least that's what he said Wednesday.
"I haven't thought about where I'll play," Manning said. "But I've thought about where I've been. I've truly been blessed."
And as far as retirement? Not a chance, Manning said. He said he's making progress from his neck surgeries and getting closer to returning to his old form.
"I have some progress to make," Manning said. "But I've come a long way. I've really worked hard. I can't tell you the hours I've put in. I've really enjoyed being back out there.
"No, I don't feel like I have anything to prove. There's no other team I wanted to play for. Nobody has had it better than I've had playing for the Colts these past 14 years. But I love playing quarterback."
He just won't get to do it in the city and the state that he's grown to love the past 14 years. Which made him and Irsay -- who embraced after they were finished taking questions -- emotional.
"When I look down the road and see the many decades we'll share together, he's always part of the horseshoe," Irsay said. "I can't thank him enough."
For more NFL news, rumors and analysis, follow

@EyeOnNFL

on Twitter, Like Us on Facebook, subscribe to our NFL newsletter, and while you're add it, add our
RSS Feed
.