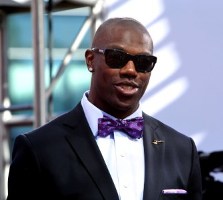 I'm still a little confused about the interest shown to Terrell Owens by the
Bengals
. I wrote Monday
about why owner Mike Brown likes him
– Owens is still a good receiver and Brown considers himself a redeemer – and the Cincinnati Enquirer has reported that originally, Owens wanted $6 million of guaranteed money.
Today,
TMZ tracked down
Owens, and he said, "I know what I made last year ($6.5 million), so we're trying to maybe cut that half and see what I can work with. I'm flexible."
But even if Owens – who, at this point, isn't going to the
Rams
or the
Jets
– makes $3 million of guaranteed money and gets an incentive-laden contract, I don't quite see how he fits in with the Bengals.
There had been speculation that No. 2 WR
Antonio Bryant
– who signed a four-year, $28 million contract in the offseason – continues to have knee problems, but when I asked coach Marvin Lewis about that Monday, he said, "It has nothing to do with Antonio. We took steps in the spring to put Antonio into different spots, so he could play inside and play different spots. It's not reflective of Antonio at all."
So, say Bryant is healthy. With
Chad Ochocinco
as the No. 1 receiver and Bryant as No. 2, would Owens be content as the No. 3? Considering
Andre Caldwell
played the No. 3 spot relatively well last year and considering rookie
Jordan Shipley
will see plenty of playing time, how much is left over for Owens?
One positive in Owens' favor: the Bengals don't have much of a deep threat, and the coaches feel Owens showed last year in Buffalo that he still has the speed to be effective on go routes. Perhaps, that's one option for him.
But remember this, it's not like the Bengals were flinging the ball all over the field last year. Before he was injured, RB
Cedric Benson
was near the top of the league leaderboard in rushing attempts. There might be more passing plays added to the playbook this year, but this still won't be the Bengals of a few years ago when it was the
Carson Palmer
-T.J. Houshmandzadeh-Chad Johnson show.
If the Bengals sign Owens, he's sure to make the roster. That would leave
Quan Cosby
,
Matt Jones
and
Jerome Simpson
fighting for the final spot. Is Owens better than the three of them? Yes, probably. But is he worth a new contract? I'm just not sure I see the point.
UPDATE (5:34 p.m.): Pro Football Talk is reporting that Owens has signed with the Bengals.
UPDATE (5:46 p.m.): The
Cincinnati Enquirer's
Joe Reedy reports it's a one-year deal for $2 million base pay and with $2 million worth of incentives.
--Josh Katzowitz
For more NFL news, rumors and analysis, follow @cbssportsnfl on Twitter and subscribe to our RSS Feed .