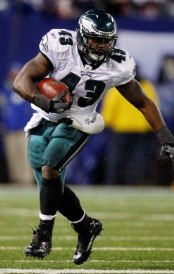 Posted by Josh Katzowitz
We had some surprising, and plenty of not so surprising, names who were released today, the first day teams could actually waive players.
Here are a few of the most-significant pink slips handed out today (we already told you about
Vince Young
and Tennessee
here
and the Baltimore guys who
have been cut
and the Dallas players
who are gone
).
-Former
Vikings
S
Madieu Williams
: He didn't play well last year, and he's teetering on being a bubble player in the league. Although Minnesota coach Leslie Frazier originally said he wanted to see what Williams would do in training camp, he ultimately decided not to find out. The fact Williams was supposed to make $5.4 million this year didn't help his chances.
-Former
Saints
CB
Randall Gay
: After missing most of last season while dealing with the effects of a concussion, New Orleans released Gay. He would have cost New Orleans $5 million, and considering he was stuck behind
Tracy Porter
on the depth chart, this seemed like an easy call.
-Former
Eagles
FB
Leonard Weaver
: The former Pro Bowler was caught off guard by this move. This is what he wrote in a series of tweets (sics, of course, apply): "Hey there eagles nation, I'm sorry to say but I just found out I was released by the Eagles. … The kicker behind that is that the organization didn't call me and tell me. I had to find out by a reporter. … Now I have mixed feeling about that because I gave everything I had to the organization, and I would think that they would atleast call... And Let me know what was going on, but as I have learned over the years fans, business is business. …However I wish the best for the Philadelphia Eagles."
-Former
Chiefs
G
Brian Waters
: He was a Kansas City mainstay for more than a decade, and the news of his release was met by sadness from some of the city's media. Said Waters, who played 163 games in a Kansas City uniform: "The Chiefs and I have mutually agreed on this decision and although I look forward to continuing my career, I'll always have a special place in my heart for Kansas City."
-Former
Giants
RB
Tiki Barber
: I know it's hard to believe, but for some reason, New York severed ties with the former NBC broadcaster.
For more NFL news, rumors and analysis, follow @cbssportsnfl on Twitter and subscribe to our RSS Feed.