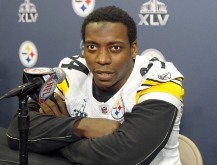 Posted by Will Brinson
It's unlikely that we'll grow tired of talking about
Rashard Mendenhall
on Twitter. That's mainly because he keeps tweeting, of course.
Like, on Saturday, when Mendenhall seemed to start off on an apology tangent (or a "here's what I've learned" tangent at least), when he decided to veer in a similar "outside the box" Twitter rant.
"I've learned more these last few weeks than some people will ever even attempt to learn their whole lives,"
Mendenhall tweeted
. "
Conventional wisdom is the new Jolly Roger
."
What? Conventional wisdom is a pirate ship? That sounds like an
Anchorman
quote.
I kid, of course -- Mendenhall is making reference to the use of "Jolly Roger" to mean "poison" or "a hazard." In which case, he's actually making a fairly provocative statement, only he's doing it in an intelligent way. (Which is quite different than what he did the first time.)
The point Mendenhall's trying to make is that
he wants people to "think."
That's all well and good, and anyone who says they
don't
want professional athletes to think and to have opinions about worldly topics is playing too much into a stereotype.
But it doesn't change the fact that Mendenhall still needs to do that
himself
before he decides to pass along an opinion in a shortened medium like Twitter that doesn't provide much room for explanation.
If he really has learned his lesson, he'll remember that next time around.
For more NFL news, rumors and analysis, follow

@cbssportsnfl

on Twitter and subscribe to our
RSS Feed
.