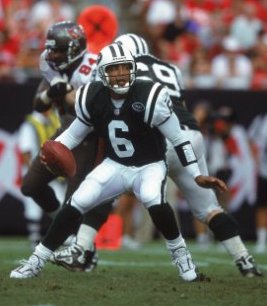 Posted by Josh Katzowitz
Former
Jets
QB Ray Lucas currently is battling an addiction to painkillers, brought on by what he says are his NFL injuries. And he's chronicling his struggles and his attempt at rehab on
his Facebook page.
It's been an interesting look at what an addict goes through as he tries to clean up his life.
Today, he's got good news – he's leaving his rehab facility and going home.
Writes Lucas, who's about 43 days drug free at this point: "I am going home & I am so excited to see my family. I am a little nervous about being in the place where things happened but it will be ok, I have great support. My focus is being a great husband & father. As part of the PAST peer program Randy will come home with me to help me to transition to local meetings & provide support. The peer program has come full circle."
If you have a little time today, read his postings, because some are quite interesting.
For example:
From Feb. 17: "A day ago I was packing my s--- & wanted to leave. I can't sleep & the pain is getting to me. The lead Doc talked me down & explained that my brain was in a craving mode & the thoughts of leaving were tied to that."
From Feb. 27: "Did the first step in group which is led by a therapist & consists of a small group of my peers. I completed the first of the 12 steps. Admitted that I am powerless over my addiction & that my life had become unmanageable. It was hard to bare my soul. It was an emotional experience. Tough to admit you are not in control of it. As an athlete I am competitive & use to being in control. First step .. a big one."
For more NFL news, rumors and analysis, follow @cbssportsnfl on Twitter and subscribe to our RSS Feed .