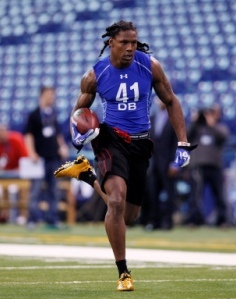 Posted by Rob Rang
Count me among those that is not at all surprised by the fact that LSU's Patrick Peterson and Nebraska's Prince Amukamara silenced a few critics today with their blazing times in the 40-yard dash and strong performances in other defensive back drills.
I certainly wasn't alone in believing these players would perform well. I spoke to various members of NFL scouting departments, agents, prospects and media in the weeks preceding the Combine that expected these two players to do well.
By only confirming the athleticism many of us recognized on tape, Peterson and Amukamara won't be boosting their stock much. Each was already viewed by many as potential top ten prospects.
Here are a few other defensive backs who boosted their stock even more with strong Combine workouts Tuesday.
Chimdi Chekwa, CB, Ohio State: A severely dislocated wrist suffered in the Buckeyes' Sugar Bowl victory over Arkansas kept Chekwa from performing all of the drills in Indianapolis, but he starred in most important one -- recording a 4.40 second showing in the 40-yard dash and reinforcing the belief that he's one of the nation's most underrated cornerbacks and a potential second round pick.
Robert Sands, S, West Virginia (pictured at right): Most are pegging UCLA's Rahim Moore as this year's top safety, but it was the size/speed freak Sands who enjoyed the more impressive Combine showing, Tuesday. The 6-4, 217 pound Sands surprised some with a solid time in the 40-yard dash (4.57) and standout performances, as well, in the leaps and shuttles. Don't be surprised if this Mountaineer winds up a top 75 pick.
Mark Legree, S, Appalachian State: Despite the fact that he was a three-time consensus All-American at Appalachian State with an eye-popping 22 career interceptions, Legree was only a late addition to the Combine. I've long been a fan of his instincts and ball-skills and love that he proved his athleticism against the so-called elite competition. I'm not going to say I expected him to turn in the second fastest time in the 40-yard dash of any safety at the Combine, but I have been very much of a fan of his for a while now...
And can prove it.
Surprised I didn't list Demarcus Van Dyke as a Riser following his Combine-best 4.28 time in the 40-yard dash? Don't be. Scouts certainly weren't, as "DVD" was a well-known speedster who demonstrated his speed recently when asked to play at the Senior Bowl.
Besides, aren't DVDs meant to burn?

This entry was cross-posted from Rob Rang's NFL Draft blog. For more NFL news, rumors and analysis, follow @cbssportsnfl on Twitter and subscribe to our RSS Feed .