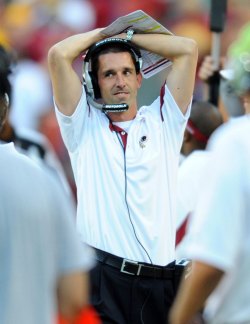 Posted by Josh Katzowitz
The fact that the
Redskins
were shut out by the
Bills
on Sunday is not the fault of one man. It's not only the fault of Mike Shanahan, whose team scored zero points for the first time in his career. It's not only the fault of quarterback
John Beck
, who threw two interceptions. It's not only the fault of the offensive line, which allowed Buffalo to sack Beck nine times and helped
Ryan Torain
to 14 yards on eight carries.
And it's not only the fault of offensive coordinator Kyle Shanahan. But man, something has to change on this squad, and I'm not talking about going from
Rex Grossman
to Beck or vice versa. Fundamentally, it seems like something needs to change in order for Washington to have any shot at competing for an NFC East crown this year.
The Shanahans talk about wanting balance on offense, and on Sunday, they got it. The running game and the passing game stunk.
But what about Kyle Shanahan? Besides the obvious nepotism in play when his father hired him (though, to be fair, Shanahan was an offensive coordinator in Houston before he went to Washington, and the
Texans
were a top-five offense at the time) what good is he doing for the squad? The
Washington Post's
Mike Jones was wondering that exact thing.
The unit hit rock bottom, failing to score a point and producing only 178 yards -- the lowest output since 2007. And as was the case in many of the previous weeks this season, the offense was anything but balanced. Unofficially, Kyle Shanahan called 45 pass plays and nine rushing plays. Another three rushes came when John Beck took off scrambling on broken plays.

The Redskins generated only 26 rushing yards and 208 passing yards, and the team lost 56 yards as a result of nine sacks.

Despite the ineffective attack, (Mike) Shanahan said the offense struggles haven't come as a result of poor scheme or play selection. (Mike) Shanahan said he is "pretty comfortable" with the offensive playcalling, and said, "I'm heavily involved with the offense."
But the good news is that the players are defending Kyle Shanahan.
"We believe in this offense," Torrain said, via
Football News Now
. "We believe in Kyle. We love Kyle out here working with us. We're in this together. So, we've got to keep fighting and keep pressing."
The Redskins offense is ranked 20th in the league this year after it finished 18th last season. But as long as Mike Shanahan is "pretty comfortable" with it, I guess all is well in the world. The fanbase, however, might not be.
Which is why we share this from the
Washington Post's
Mike Wise, quoting Bobby Bowden: "If you hire your son, you better win all your games. Because he's usually the first to get criticized. If you lose, people want to know why. They goin' to think up a reason. And if they can't think up a reason, they gonna go after your daggum' son."
For more NFL news, rumors and analysis, follow

@EyeOnNFL

on Twitter and subscribe to our
RSS Feed
.