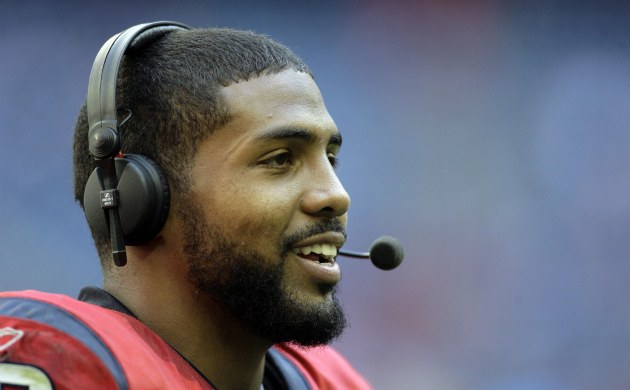 By Josh Katzowitz
For the hardcore NFL football fan, Twitter is necessary. Sometimes, it's a necessary evil -- slogging through your timeline to read what some players are eating for lunch or trying to get through multiple RTs of fans who want a shout-out from their favorite NFL star can be quite tedious.
But there are players and executives who get the Twitter thing. Those who can put together a nice one-liner or turn a delicious phrase or break a bit of news. It's a nice way for NFLers to communicate directly with fans and either inform them or make them laugh. In this day and age, Twitter is important (as much as any social media can truly be important).
That's why, for the second-straight season, we've put together a Top Ten with a Twist list on the best NFL player/executive Twitter accounts. These people brighten our day 140 characters at a time, and since much of Twitter is tasteless swill, these are the people who keep us coming back for more. And
that
is something to RT about.
10.
Shawn Andrews
(
@imshawnandrews
): He was my No. 1 selection on
last year's list
, but after he was released by the
Giants
in the offseason, Andrews is out of football. His Twitter account, though, remains look-worthy. If you're a foodie, Andrews is for you, especially as he tries to appease the weight-watching angel on his shoulder while ignoring the devil who wants him to binge.
Recent tweet:
These Chick Fil A Chicken Strips In The Mall Taste Like They Been Dipped In A Lil Fish Grease!!! I Like It!!!!! ***Crunch***
9. John Elway (
@johnelway
): You've got to love it when the executive vice president of football operations for the
Broncos
breaks news on his Twitter account about team signings and coach hirings. Elway has been more transparent about his team's front office moves than anybody I can remember, and doing it on Twitter is a really smart way to keep the lines of communications open with Broncos fans. His in-season account hasn't been quite as entertaining as it was in the offseason, but still, give Elway credit. It has been a novel idea.
Recent tweet
: Tim's doing a great job leading our offense, coming through when we need him the most. He's a winner who gets better every day.
8.
Darnell Dockett
(
@ddockett
): The
Cardinals
defensive end is the definition of the athlete who just doesn't give a crap what he says or how it might affect him in the future. Which is what makes his account awesome. His best Twitter moment of the year came when he did real-time play-by-play of a traffic stop. His topper, though, was when he refused to allow the police to search his car, and they simply had to let him go. Dockett can be offensive, but there's little doubt he's entertaining. Even if his obsession with hooking up with Oprah is a little disturbing.
Recent tweet:
I'm going to sleep I'm so tired! I'm gonna dream about @Oprah and them thick chocolate thighs tonight. We gonna get back together soon!
7. Greg Aiello (
@gregaiello
): A return to the top Twitter list for the NFL's top PR spokesman. Aiello answers questions from fans in his brusque manner, and he saves scribes e-mail queries but releasing league statements directly to the masses. Plus, his mini-feuds with some scribes during the lockout were interesting to watch from afar, and his haikus are not to be missed.
Recent tweet:
No. Hemingway. RT @giantspathanlon: Haiku? RT @gregaiello: A man in a good mood as the sun also rises. RT beautiful sight as the sun rises!
6. Jim Irsay (
@JimIrsay
): You just won't find an NFL owner who is so in touch with his fans (and maybe not an sports team owner anywhere outside Mark Cuban). Irsay is delightfully weird, posting deep album cut lyrics by classic rock bands, and he made multiple jokes about going after Brett Favre at the beginning of the year when it was clear
Peyton Manning
couldn't play. Lately, he's been less funny and more soothing to an upset fan base. That doesn't make him any less delightful.
Recent tweet:
Woke up this morning,with an arrow thru my nose..there was an indian in the corner..trying on my clothes.... .He said "Get lost" and walked towards his Cadillac..and I chopped down that palm tree..and it landed on his back...." (editor's note: it's a Neil Young lyric)"
5.
Chad Ochocinco
(
@ochocinco
): The
Patriots
receiver was more fun when he was still a
Bengals
receiver, and he (we assume) wasn't hemmed in by Bill Belichick. But he's still funny and still outstanding to his fans. Somehow, during the worst season of his career, he's become much more likeable.
Recent tweet:
I remember when @evelynlozada kicked me out of the house for cheating.......... She takes #Monopoly way to (f------) serious.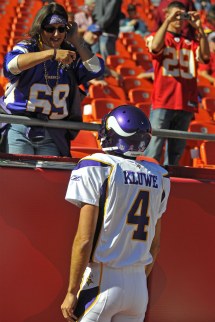 4. Faux John Madden (
@fauxjohnmadden
): For me, parody accounts are hit or miss. Mostly misses, actually. Faux John Madden hits much more than it misses, though. And when you're crawling through your timeline on a lonely Friday night, that is much appreciated.
Recent tweet:
If you need something to keep you awake while watching this
Falcons
-Jaguars game.. Call Sam Hurd.
3. Jim Schwartz (
@jschwartzlions
): By far, the best NFL coach on Twitter (hell, off the top of my head, I can't think of another coach who's actually on Twitter). Mostly, he taps out updates of the Metallica songs he's inputting into his head (or tweeting a picture of
Raiders
fans flipping him the bird), but you have to appreciate a guy who takes a little time out from watching film and game planning all day to remind us all what James Hetfield had to say in 1987.
Recent tweet:
#nowplaying on the way to Oakland stadium: Babylon AD "Bang Go the Bells", Metallica "Blackened", Deep Purple "Highway Star"
2.
Chris Kluwe
(
@chriswarcraft
): As his Twitter handle implies, the
Vikings
punter is big into role-playing games. So, you have to wade through some of that, but Kluwe makes his tweets so damn funny, it's nearly impossible not to be entertained by his musings. He's a guy who knows how to make great use of the hashtag.
Recent tweet:
Remember
Saints
fans, if you're planning on bringing feminine hygiene products to the game to throw at me, please ensure they are unused.
1.
Arian Foster
(
@arianfoster
): He's not only one of the top running backs in the league, he's also a Zen master on his Twitter account. Foster is one of the game's most interesting thinkers, and his tweets aren't the usual athletic bluster. They're deep and interesting and funny. Which is why he's the No. 1 NFL tweeter around.
Recent tweet:
I smile at our potential, but weep for our actions. May the light you see tonight fill your heart with what it needs. I love you all.
For more NFL news, rumors and analysis, follow

@EyeOnNFL

on Twitter, Like Us on Facebook, subscribe to our NFL newsletter, and while you're add it, add our
RSS Feed
.