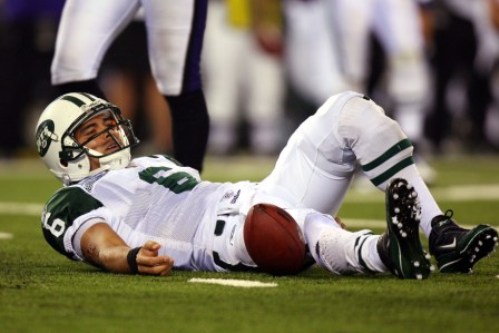 Posted by Josh Katzowitz
We all heard the hype before the first week of games was complete. We heard the boasts and the proclamations and the Super Bowl aspirations in the offseason and in training camp. Yet, this past weekend, we found out that some who had so much confidence perhaps shouldn't have been so forthright about their thoughts.
Sure, some of us – many of us – bought into so much of the hype. And now we know better. Without further ado, here's the top-ten list with a twist entering the second week of games.
Top 10 Biggest Letdowns After So Much Offseason Buildup
10. Kevin Kolb:
It's not really fair to completely dismiss the
Eagles
starting QB after he played just one bad half of football (that, unfortunately for him, came with a side of concussion). But after so much discussion about how Philadelphia made the right move by trading
Donovan McNabb
to the
Redskins
– who naturally won with McNabb on Sunday night – and giving the job to Kolb, this move fell flat with his 5-for-10, 24-yard performance. Now, there's another quarterback controversy in Philadelphia.
9. Percy Harvin and Bernard Berrian:
I was on the bandwagon with the
Vikings
receiving corps, even after
Sidney Rice
underwent hip surgery that's supposed to keep him out half the season. I had called Minnesota's receivers one of the best units in the league. I might have been wrong about that – or, at the very least, underestimated the impact of Rice's absence. Harvin and Berrian combined for two catches for 15 yards Thursday. That's two freakin' catches for 15 freakin' yards.

8. Jake Delhomme:
Many of us figured Delhomme was nearing the end of his career – he was going to CLEVELAND after all – but he certainly had to be considered an upgrade over the awful
Derek Anderson
/Brady Quinn combination from last year. And besides, he couldn't possibly be as bad as his last year in Carolina (eight touchdowns, 18 interceptions), right? Well, he might just be that bad. For a veteran QB, he made a terrible throw that was picked near the end of the first half that killed any momentum the
Browns
had when they led 14-3. Delhomme still is an upgrade from last year, but man oh man, he needs to play smarter.

7. Matthew Stafford:
Is it possible the 6-foot-3, 230-pound quarterback is brittle? Last year, he suffered a shoulder injury, though he showed huge guts by returning against the Browns to throw a game-winning TD pass (if you've got 6:27 to kill, check out Stafford's killer
Mic'd Up segment
from that game – it's cool as hell). On Sunday, he apparently suffered a Grade 2 separation of his right (throwing) shoulder that could keep him out 4-6 weeks. Considering how poor backup
Shaun Hill
played, some of that preseason
Lions
optimism has leaked away.

6. 49ers:
They were supposed to win what should be a very weak NFC West. And then they get blown out by a
Seahawks
team that shouldn't have played as well as it did. But you know, coach Mike Singletary said Monday he was excited about QB
Alex Smith
, so that has to be comforting/horrifying to San Francisco's fans. Perhaps the 49ers are vastly overrated. Or perhaps Seattle RB
Leon Washington
was inspired by our
Five Questions (Or More) segment
we did last week.

5. Terrell Owens:
Was he upset, already acting like a diva? Were his shoes bothering him? Was he getting himself checked out by a team doctor? These are the theories that have been bandied about since Owens, along with teammate
Chad Ochocinco
, left the field before the
Bengals
attempted a Hail Mary pass at the end of the first half. Any which way, Owens didn't endear himself to Cincinnati fans after a smooth preseason. He had seven catches for 53 yards, but he certainly wasn't the dominant force he and Ochocinco predicted he could be. Lucky Cincinnati got him cheap.
4. Bob Sanders:
Sanders had been annoyed this preseason about all the questions he's faced about his durability, and he was excited to be fully healthy for the start of the season. But he's t
orn a biceps tendon and could be out for the season.
Again, his durability will take a huge hit, and once again, the
Colts
will have to find a way to win without him – something they couldn't do against the
Texans
.
3. Concussions in Philly:
remember all the talk about how the NFL was really serious – no, no, really, really SERIOUS – about concussions and keeping players from returning to the field too soon after a brain injury? Yeah, neither does the person(s) who somehow thought it was OK for Eagles LB
Stewart Bradley
and QB Kevin Kolb to return to the game after suffering concussions. Coach Andy Reid explained it like this: "They were fine. All of the questions that they answered with the doctors registered well, but as it went on, they weren't feeling well, so we took them out." Yep, Bradley really looked fine after stumbling around the field like Trevor Berbick after facing Mike Tyson. That's a scary, disturbing scene.
2. Tim Tebow:
Two measly carries for two measly yards. That was Tebow's stat line from Denver's loss to Jacksonville on Sunday. Of course, he is a backup QB playing his first NFL game, so we shouldn't expect the moon from Tebow (I could echo those sentiments for the rest of the season, in fact). But for the amount of hype we got, doubly so because Tebow was opening his career in his hometown, it wasn't much of a payoff. Unless you like your hype short-lived and ineffective.
1. Jets:
I knew that if I kept talking about the possibility of the Jets winning the Super Bowl, they'd make me look like an idiot. And so they have. Still, there's little doubt that with a defense like that, New York could (should?) make a run in the playoffs (though losing NT
Kris Jenkins
for the season with an ACL tear could complicate those plans). The problem, of course, is the offense. QB
Mark Sanchez
went 10 for 21 for 74 yards, and starting RB
Shonn Greene
had five carries for 18 yards (plus a tough time holding onto the ball). With an offense that plays that poorly, the Jets have no chance for the Super Bowl. And maybe not even the playoffs.
For more NFL news, rumors and analysis, follow @cbssportsnfl on Twitter and subscribe to our RSS Feed .