Posted by Andy Benoit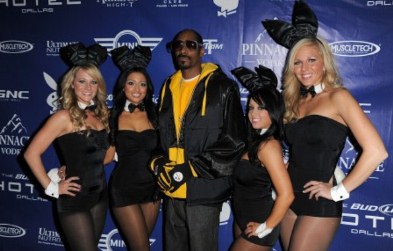 DALLAS -- It feels like the last day of exams in college here at Super Bowl headquarters. Most people have their work done and are not around. The few who are here are working intently on final projects. Crews are taking down the stages and cleaning up all around Radio Row. Every hour or so a fire alarm goes off (presumably because equipment is being hauled out through backdoors). The athletes have been scarce, as well (it's mid-afternoon and I've only seen Michael Irvin and Kurt Warner outside the Sheraton today).

There's also a subtle aura of fatigue floating around. Virtually everyone in Dallas was at a Super Bowl party until the wee hours last night. There was the Commissioner's party, the ESPN party, the Sports Illustrated party, the GQ party and the Playboy party, to name a few. Those of you who follow @CBSSportsNFL on Twitter or read Friday's Super Bowl Scene late edition (which, by the way, has a picture of a perfect Troy Polamalu Jr. that's worth checking out) knows that Sir Will Brinson and I attended the Playboy party.

How was it? In a word, agonizing. In another word, amazing. We began the night as part of the red carpet media, which meant our role was to stand around and wait to have quick, flimsy conversations with famous people before they walk in. It's something neither Will nor I had ever done. Fortunately, one of the four Playboy PR reps would come by and whisper the name of the celebrity if need be. (Or, they'd come by and have us whisper to them the name of the athlete who was coming by.)

There was A LOT of standing and waiting involved. This was especially brutal because the entrance was in an enclosed tent that contained just one heater. The temperature inside the tent was in the mid-40s. The festivities began at 9:00; the celebrities started trickling in at 10:15. At 10:30, sensing that it could be hours before the event gained significant action, Will and I decided that if no one showed up by 10:35, we'd bolt. At around 10:32, Darrelle Revis came in. Not long after him was Phillies slugger Ryan Howard.

Will and I decided again at 10:55 that if no celebrities showed up by 11, we'd once again bolt. At 10:58 or so, Jeremy Maclin (see video), Josh Freeman and Brandon Lloyd came through.

Eventually, we got picky and decided that if the next celebrity was not an A-lister, we'd depart. When Maria Menounos showed up, Will declared her A-list caliber on the basis that she tends to draw a lot of internet traffic. (Wonder why that is.)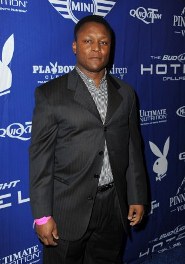 Even though much of the night involved standing in the freezing cold and waiting around, time actually flew by. It helped that Sports Illustrated media guru Richard Deitsch was with us. Discussing the sports media industry is something most in the sports media LOVE to do (Will and I especially).

As we neared midnight, Will and I gave in and just committed to waiting for Snoop Dogg's arrival (the logic was, "hell, it's already late anyway"). Many of the expected guests on Playboy's list were no-shows (which was fine because plenty of big names who were not on the list showed up). By that point we had already encountered Landon Donovan, Craig Robinson (Daryl from The Office), Knowshon Moreno (Broncos), Flo Rida (rapper), Barry Sanders, the White House Crashers, Paul Scheer (TV Show The Leage), Vince Neil (Motley Crue…he was wasted out of his mind, by the way), Lawyer Milloy (Seahawks), Marcus Allen, Jared Fogle (Subway), Ryan Kwanten (actor), Phil Hellmuth (gambler), James Laurinaitis (Rams), Kyle Busch, Ryan Cabrera (rock star), Aubrey O'Day (singer/dancer/actress…i.e. hot girl), Hunter Parrish (actor), Dave Annable (Brothers and Sisters) and Sarah Ramos (actress). And maybe more.

Snoop was guaranteed to show because, as the headline entertainment, he was a big reason 2,500 people shelled out $1,000 to be there. (Plus, his dad, Papa Snoop had arrived earlier.)

Shockingly, Snoop Dogg is not the most punctual guy. He was expected at midnight. At 12:30 someone from his crew called to say that they were five minutes out. At 1:06, he arrived.

Will and I have seen and spoken with loads of celebrities this week. Either fortunately or unfortunately, you become somewhat immune to the excitement of it all. But admittedly, a conversation with Snoop was something we both craved and loved. After some photo ops he strolled over to us smelling exactly how you'd expect him to smell. We asked the standard red carpet questions (the simple, soft-hitting stuff is more appropriate and effective for events like these). The quality of Snoop's answers was very solid – probably better than everyone save for Brandon Lloyd (by far the most engaging and entertaining star on the night), gambler Phil Hellmuth and maybe Lawyer Milloy.

From there we went into the party and watched Snoop tear down the house. The behavior of the patrons was what'd you'd expect at a Playboy gathering (we'll leave it at that). Plenty of A-list sports media faces were there having a good time (again, we'll leave it at that). And a handful of players –including Steelers left tackle Max Starks, who, remember, is on IR – were reveling in it all.

By the time it ended and we got back to the Media Center, it was 2:00 a.m. Poor Josh Katzowitz was sitting in the empty media workroom waiting for us. We had told him we'd be back no later than 9:30.

For more NFL news, rumors and analysis, follow @cbssportsnfl on Twitter and subscribe to our RSS Feed.