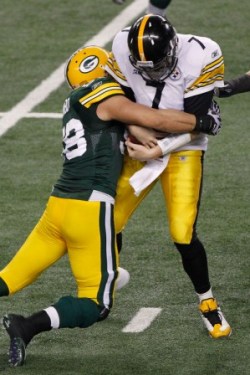 Posted by Josh Katzowitz
In case you're interested in a behind-the-scenes Super Bowl story, let me recount my night for you (and perhaps inadvertently pour salt in
Steelers
fans' wounds).
Pete Prisco and Clark Judge were in the
Cowboys
Stadium main press box, and most of the rest of the writing crew were situated in the auxiliary press box. I, along with the CBSSports.com video personnel, was placed in the field-level media room.
This meant we were stationed directly in front of the Steelers locker room, but most importantly, we also were just a few feet away from both teams' postgame interview spaces. My press pass didn't allow me access to the locker rooms, but the NFL brought six to eight players from each team, so getting quotes was not a problem.
I watched the game in much the same way the vast majority of you did. I watched on a big-screen TV with plenty of free food and free drinks around (though, sadly, no beer).
I had a few different jobs during the game. Will was in charge of the chat, though I periodically took over when nature called, and Andy ran the Twitter account. I was in charge of writing up any breaking/injury news from the game, of which there was plenty, for the actual blog.
Then, most importantly, I was assigned to write the first lede story for CBSSports.com. That means, I was writing a quick game story/analysis that was supposed to be in by the time the game was over. Usually, when that happens, you're rooting for a blowout by either team so you actually can hit 'send' once the final gun goes off.
Close games, after all, don't tend to be friends with reporters on tight deadlines.
That's the direction we were heading when the
Packers
took a 21-3 lead in the first half, and at halftime, I began writing
the story that eventually you saw here.
Even though the Steelers drew closer and closer, I continued on with my original lede.
But I was getting nervous, and after the Packers kicked the field goal that gave them a 31-25 lead with about 2 minutes to go, I knew I needed to have a backup plan. This was the moment I dreaded. I had to start writing another "just in case" story, because if I stuck only with my original and the Steelers scored a touchdown and won the game late, I would have been completely screwed.
So, for the next few minutes (of real time, not game time), I furiously and ferociously tapped out a "Steelers win" lede. Here's what the unedited version looked like:
DALLAS – Ben Roethlisberger, if he wanted, could retire tomorrow. He could walk away from the game on Monday, and he would be assured of one thing: a bust in the Pro Football Hall of Fame.

That's what happens when you lead your team back from an 18-point halftime deficit – the previous Super Bowl record for come-from-behind wins was 10 points – and complete xx to lead the Steelers to the xx win vs. the Packers.

You know, for whatever reason, I had never really considered Roethlisberger to be a top-five quarterback in this league. Maybe it's because he doesn't have the prettiest game or it's because he takes more sacks than perhaps he should (of course, he makes fantastic plays by holding onto the ball for an extra second or two, as well). I don't know why.

But now that he's earned his third Super Bowl ring, there's no denying it. Roethlisberger isn't the best quarterback in the league. But he's most certainly a top-five player.
Aside from cutting and pasting about five paragraphs that were applicable no matter which team won the game, that's pretty much what I had at the time the Steelers turned the ball over on downs to clinch the Packers win. A last-minute, come-from-behind victory is always exciting for the fans, but as you can see, those kinds of games are the bane of a sports writers' existence.
Luckily for me, the worst-case scenario did not occur. Which – and this is the most important aspect of the entire night – made my life just a little bit easier.
For more NFL news, rumors and analysis, follow @cbssportsnfl on Twitter and subscribe to our RSS Feed .