Posted by Andy Benoit

Bud Adams seems to have finally come to his senses.The
Titans
owner says
Vince Young
is out in Tennessee. This likely means that Jeff Fisher is in…at least for 2011. His contract expires after the season. (Adams did make clear, however, that the evaluation of the coaching staff is still ongoing.)
In a statement released by the team, Adams said, "I think it is best for the franchise that we move on at this point." Adams is a known admirer of the 27-year-old quarterback (did you see the Titans' holiday card this past year?). Many around the league assumed that the owner would ignore the myriad calls from his advisors telling them to dump Young.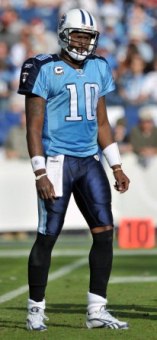 But that didn't prove to be the case. By getting rid of Young, Adams not only holds onto a quality head coach, he also saves more than $12 million in 2011. Expect Young to be traded or released by March 10, as that's the day he's scheduled for a $4.25 million roster bonus.
Just a few short years ago, it would have been unimaginable that Tennessee would find itself in this position. Drafted in '06 No. 3 overall and expected to sit his first few years, Young instead started 13 games his rookie season. Titans went 10-6 and reached the postseason in his second year.
Then, in 2008, it all went south. Young was booed by the home crowd in the season opener. He scared friends and family the next day by disappearing (there were rumors of a suicide watch). The Titans turned to
Kerry Collins
that year and wound up finishing 13-3. Young made his way back into the starting lineup in 2009 and led the team from 0-6 to 8-8. However, his '10 campaign was pocked by off-field transgressions (the bar fight in Austin, the redundant tardiness to team meetings and, most notably, the shoulder pads-throwing and verbal haymaker he dealt Fisher in the locker room following the loss to the
Redskins
).
What people fail to talk about is Young's lack of NFL quality skills. Yes, the Titans were 30-17 in games he started, but that had more to do with a good running game, solid defense and excellent coaching. The reality is, Young was never asked to read the entire field from the pocket. Coaches only felt comfortable with him having a "read 1, read 2, run!" approach. That's fine if you're a rookie, but as a veteran, those kind of mental limitations handcuff an offensive coordinator.
There will probably be more than one foolish team out there willing to give Young another shot at stardom (the
Raiders
seem like the obvious early favorite).
Michael Vick
's resurrection in Philly doesn't hurt Young's chances. But the difference between Vick and Young is the former can throw and the latter cannot. No matter which way you slice it, Young does not have a great arm (his mechanics and velocity are both subpar). And while it's true Young can run, there isn't a defensive coordinator in the league who loses half as much sleep over Young as he would over Vick. Young is more of a scrambler than a running threat. (Think of it this way: if
Alex Smith
's running skills reside on the west coast and Michael Vick's running skills reside on the east coast, Vince Young's running skills are somewhere in Utah. The guy just isn't an electrifying burner.)
But again, Young shouldn't have much trouble finding one team willing to coax itself into loving his skills. He'll make less money than he would have as a Titan, but he'll get the fresh start he so desperately needs.
UPDATE 9:08 p.m. ET:
Jim Wyatt spoke with Young Wednesday night. Young wished Fisher all the best but said he felt like Fisher
never trusted him
. ("I was always looking over my shoulder.")
For more NFL news, rumors and analysis, follow

@cbssportsnfl

on Twitter and subscribe to our
RSS Feed
.