Posted by Will Brinson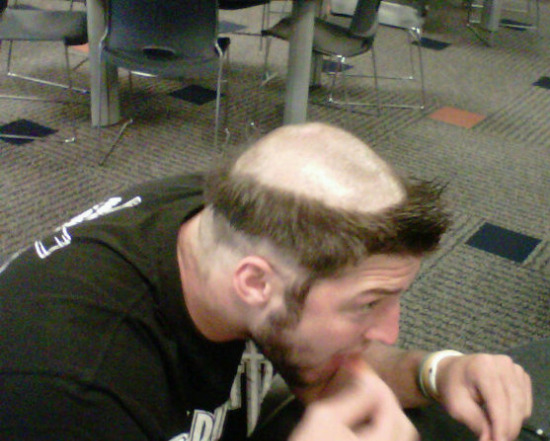 Image via Twitpic
Rookie haircuts are a traditional part of what some people would call "hazing" (others, though, might call it good ole' fun between old millionaires and young millionaires and certainly not worth getting too worked up about).
Tim Tebow
is a rookie who, until today, had a pretty stylish haircut. But then
LenDale White
decided to Tweet the above photo
, with the appropriate "Loks good ROOK!!!!!!!" commentary attached.
It would appear his svelte look didn't go over too well with the veterans holding the razor, so they decided to give him a giant bald spot and a weird, redneck-y looking ring around the back of his head.
(Ed. Note: YES, I know it's a friar's cut. No need to point that out.)
On the bright side, at least they let him keep his beard and he won't exactly have to worry about having a mullet for a while.
I'll just assume that he's going to shave the entire thing before the season starts.
For more NFL news, rumors and analysis, follow @cbssportsnfl on Twitter and subscribe to our RSS Feed .