Posted by Andy Benoit

One of the best things about the draft is that from it we can find out what teams really think about their current players. Excluding examples of teams filling obvious needs, here are some of the more revealing draft picks from 2011, with a quick blurb of what the team was really saying by making this pick.
Baltimore Ravens

2nd round, Torrey Smith, WR, Maryland
We're not sure we want to re-sign T.J. Houshmandzadeh, and we need a downfield playmaker anyway. Plus, Derrick Mason can't play forever…right?
3rd round, Jah Reid, OT, UCF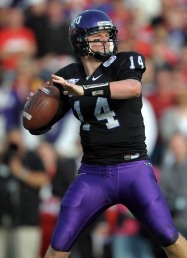 Jared Gaither is far too flaky to bank on, and we prefer to play Marshall Yanda at guard.
4th round, Tandon Doss, WR, Indiana
We're aware of the Torrey Smith-Darrius Heyward-Bey comparisons.
Cincinnati Bengals

1st round, A.J Green, WR, Georgia
We're as sick of Chad Ochocinco as everyone else.
2nd round, Andy Dalton, QB, TCU
We're not going to give an inch with Carson Palmer. Problem is, we don't think he'll give an inch with us either.
3rd round, Dontay Moch, OLB, Nevada
We're not sure Michael Johnson has the ability or drive to be a stud starting linebacker. And we might be starting to realize the same thing about Keith Rivers.
Cleveland Browns

1st round, Phil Taylor, DT, Baylor
We need defensive linemen in the worst of ways. Taylor is perfect because he's Shaun Rogers without being Shaun Rogers.
2nd round, Greg Little, WR, North Carolina
Why spend a first-round pick on Julio Jones when you can get a handful of extra picks and a player who, talent-wise, is not all that far off from Jones? All it takes is a little maneuvering and a slight willingness to overlook character concerns.
Pittsburgh Steelers

2nd round, Marcus Gilbert, OT, Florida
At some point offensive line coach Sean Kugler won't have the patience of Job and will start pounding his fists on the table.
3rd round, Curtis Brown, CB, Texas
Yeah, yeah, we know about Green Bay's spread formations in the Super Bowl. But a third-round pick isn't going to do the trick. That's why we're praying we can re-sign Ike Taylor.
Check back throughout the week for other division's Draft Truths Revealed. To see all Draft Truths Revealed, click the "Draft Truths" tag.

For more NFL news, rumors and analysis, follow @cbssportsnfl on Twitter and subscribe to our RSS Feed .