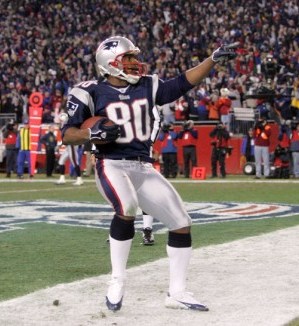 Posted by Josh Katzowitz
Since retiring from his 15-year NFL career, spent entirely with the
Patriots
where he won a Pro Bowl berth in 2001 to go with his three Super Bowl rings and his club record for most career receptions, Brown has delved into media work on the radio and on TV. He helps cover New England for WEEI and Comcast SportsNet, and he's made national news a few times this season, including last month when he made scathing remarks about
Ravens
LB
Terrell Suggs
.
Brown has been working with Captain Morgan in the company's pursuit of the One Million Poses challenge, which is trying to drum up $1 million for various charities. For more information, click
here for the Facebook page.
We caught up with Brown this week, and we discussed
Tom Brady
's MVP candidacy, the difference between Bill Belichick and Rex Ryan, and why the branches on Belichick's coaching tree haven't been so impressive in NFL head coaching jobs.
Previous Five Questions (or More):
Dec. 3:
Panthers
QB
Brian St. Pierre

Nov. 19:
Former coach/author Mike Gottfried
Nov. 12:
49ers
LB
Takeo Spikes
Nov. 5:
former WR, current NFL analyst Keyshawn Johnson
Oct. 29:
Chargers
LS
Mike Windt
Oct. 22:
Bengals
WR coach Mike Sheppard
Oct. 15:
Redskins
WR
Anthony Armstrong

Oct. 8:
Patriots LB
Rob Ninkovich
Oct. 1:
Kent Babb of the
KC Star
Sept. 24:
Texans
WR
Kevin Walter
Sept. 17:
former Bengals,
Titans
DT John Thornton
Sept. 11:
Seahawks
RB
Leon Washington

1. CBSSports.com:
As a former Patriots player, you must have loved what happened on Monday when your men beat up on the
Jets
45-3.
Troy Brown:
They seem to be
the
team in the NFL, and watching that beating makes Patriots fans feel good. I was disappointed in the game. I was expecting to come there and see a good football game, though I expected the Patriots to win it. I didn't think it would be that bad. I thought the Jets would show up a little more than they did after all the talking they did during the week. Obviously, no one on their team showed up. The coaches didn't show up, the players didn't show up, and it showed.

2. CBS:
It's an interesting dichotomy I think between Rex Ryan and Bill Belichick. I was reading a column the other day that talked about how much Ryan wants to make it a rivalry. How much he talked and tried to get Belichick's attention. And then after it was over, Belichick made it seem like it was a preseason win. What do you think about the approach these two coaches take when dealing with each other?

Brown:
One guy seems to be pretty confident in his abilities to lead his guys, and the other guy is trying to create some hype around his players. It backfired. The Patriots didn't show any interest in talking about who's the best team. When there was no response from the Patriots (after the Jets' trash-talking), the Jets seemed to get frustrated. Maybe they didn't have to worry about the Jets, because from watching them on film, they saw some weaknesses. They knew as long as they went out and played well, they could beat these guys. I think the Patriots were inside of their heads.

3. CBS:
What's it like playing for Belichick? Whenever anybody from the Patriots is interviewed on TV, they talk like him and don't say anything. Belichick can come off condescending in public, but obviously, his players love playing for him and they feed off him.
Brown:
That's what you have to have in anything, in any business. Everybody has to be on the same page in order to be successful. You can't have half the guys telling the media one thing and the other guys saying something else and the coach saying something completely different. That's what you have in New York and Minnesota. It becomes chaotic. It's about winning. Not talking trash.
If you're a person that does his job and you come to work prepared to do your job, it's easy to play for him. A lot of the people who have had problems with him didn't come to work to do their job and didn't want responsibility. Those are the guys who have problems with Belichick and with (Bill) Parcells. For me, it was easy. It seems that he plays mind games with you, but do your job. If you know you job and you work at your craft, it's not hard.
CBS:
But you look at Belichick's coaching tree – guys like Josh McDaniels, Romeo Crennel, Eric Mangini, and even Charlie Weis at Notre Dame – and these guys haven't done much as head coaches in the NFL. Why is that?

Brown:
The biggest problem is that a lot of those guys, they change their persona to be like Bill's all the way. You still have to be yourself. They changed who they were. You also have to realize that Bill Belichick is in charge of most everything here. Romeo Crennel didn't even hire his own staff in Cleveland. It's kind of tough to coach a team and be successful if you can't hire your own staff.
4. CBS:
There's been so much talk this week about Tom Brady being the leading candidate for the MVP this season, especially with the way he played against the Jets (editor's note: You can still check out the
Top Ten With a Twist
list for non-Brady MVP candidates). You think he's the MVP at this point?

Brown:
If my vote counted, he should with everything he's done. He's the guy who's gotten better and better this year, even after the
Randy Moss
trade. He seemed to get stronger after he got used to playing with his new crew. You have to give it to him for winning 26 games in a row at home.

CBS:
That is pretty amazing. It's funny. After his knee surgery, he didn't have a great year by his standards and I think people questioned whether he had lost his elite status. I guess he hasn't.
Brown:
He didn't have a horrible season last year. If you compared that to his seasons before, he may have had a subpar season, but if you look at everybody else in the league and compared him to them, he didn't have a bad season. When you come back from knee surgery like that, most guys aren't the same until that following year, so it wasn't a huge concern because they're usually better the second year. But he may have had to get confident and more comfortable with the guys around him.

5. CBS:
I know you do some media work in the Boston-area during the season, working for WEEI and Comcast. How is it as a former player to now be a part of the media?
Brown:
It's difficult at times having to talk about your old team and not be biased toward them and be critical of guys you played with. It was a little tough at first. But for the most part, the players understand. They know you have to have thick skin and be able to take criticism. That's pretty much it.
For more NFL news, rumors and analysis, follow @cbssportsnfl on Twitter and subscribe to our RSS Feed .