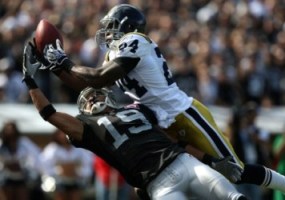 Posted by Josh Katzowitz
The signing of Darrelle Revis changes the entire dynamic of the
Jets
season.
Now that I've read that sentence again, I realize that's a pretty bold statement, because it's hard to imagine one defensive player affecting his team in that way. But in the case of Revis, it's true.
With
Brett Favre
, it's true. With
Peyton Manning
, of course it's true.
Tom Brady
,
Adrian Peterson
,
Andre Johnson
, etc., it's true.
Revis is the only defensive player in the league who can compare.
Without Revis – the No. 1 defender in the NFL – the Jets were good. Potentially very good. Sure,
Mark Sanchez
would have to improve on his rookie season. RB
Shonn Greene
would have to prove right the front office – which allowed
Thomas Jones
(331 carries, 1,402 yards and 14 TDs last season) to walk – and 31-year-old
LaDainian Tomlinson
would have to keep rediscovering his 27-year-old speed and arsenal of moves.
WR
Braylon Edwards
would have to keep making those impressive catches, and two of the best offensive linemen in the NFL – LT D'Brickashaw Ferguson and C
Nick Mangold
– would have to keep opening holes while keeping Sanchez off his backside.
In fact, after watching the Jets first-team offense blast the
Giants
first-team defense in the preseason opener, I wrote I thought Rex Ryan's squad
could compete for the Super Bowl.
A quick passage from that blog post:

Ugh, I hate myself for writing something like that based on one measly preseason game in which the team I'm touting lost by 15 points. But the first-team offense, for the most part, looked very good – except when the Jets got to the red zone – and the defense, like last year, looked pretty nasty. They looked like a team that still could be playing in February.

If ….

If, that is, they get back Darrelle Revis. Because without Revis, New York might not be the Super Bowl team coach Rex Ryan thinks they can be. A virtual unknown WR named Victor Cruz made that pretty clear tonight during the Giants 31-16 win against the Jets.
Now, the Jets have their "If" back. And with their "If" in the mix, this team becomes one of the best in the league.
The Jets front seven remains unchanged. Which, when you're talking about NT
Kris Jenkins
and
Vernon Gholston
(who has had a strong preseason) and LB
Bart Scott
and LB
David Harris
(sadly, the only one of the Core Four who won't receive a new contract) is a good thing.
Without Revis, though, the secondary looked awfully thin.
Antonio Cromartie
is solid No. 2, but Cromartie is no Revis when he's being counted on to be the shutdown CB.
Kyle Wilson
, a first-round pick out of Boise State who now has lost his starting job, was inexperienced, and the rest of the secondary was the kind of secondary who would allow Victor Cruz, an undrafted rookie free agent playing in his first NFL action, to have a breakout game and catch three touchdown passes.
Now, the question becomes: what kind of shape will Revis be in when he flies to New York on Monday to sign his new contract and begin practice in preparation for the Sept. 13 season-opener against the
Ravens
?
According to Manish Mehta of the
NY Daily News,
Revis spent part of his 36-day holdout in South Florida working out with former CB Ty Law. He should be in pretty good shape.
That said, the Jets
knew
they couldn't go into the season without their best player. You could see the tension in the face of GM Mark Tannenbaum as this weekly saga played out on HBO's Hard Knocks. Ryan, even though he was kidding when he went door to door in the season's first episode looking for Revis and begging him to return to the team,
knew
he needed Revis in his defense. Ryan was being funny in that scene, but that doesn't mean he wasn't telling the truth.
That's why Ryan, in a move straight out of
Vikings
coach Brad Childress' playbook, flew to South Florida this weekend to saw howdy to Revis and to add a spark to the contract talks.
Even until the end, Tannenbaum – who said he explored trading for other CBs – wasn't sure the deal would get done.
"I really wasn't optimistic," he told reporters in an early Monday morning conference call. "Until it was done, I really didn't think he'd be here."
Yet, here he is. The "If" has returned. The best defensive player in the league – the only one who could have this kind of impact on his squad, one way or the other – is back. And the Super Bowl trophy awaits.
For more NFL news, rumors and analysis, follow @cbssportsnfl on Twitter and subscribe to our RSS Feed .