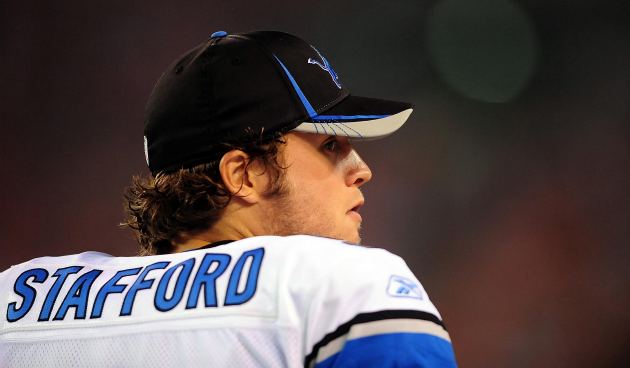 Posted by Josh Katzowitz
Some had disappointing seasons last year only to find themselves in a brand-new setting this year. Some had worn out their welcome in one city and were rewarded with a new home in a new part of the country. Some were injured, and some just flat-out stunk.
But this is a new season, and it's never too early to make predictions about the 2011 comeback player of the year, especially since two-time winner
Chad Pennington
is out for the season and won't be eligible for his third award until 2012.
You won't find
Albert Haynesworth
on this list, because a man who duped one organization out of tens of millions dollars only to find himself holding a golden parachute to the league's most respected franchise doesn't need another reward if he potentially plays well (or, unlike in Washington, plays at all). But pretty much everybody else is eligible for a spot on our latest Top Ten with a Twist: Potential Comeback Players of the Year.
10. Kevin Kolb
: I originally wasn't going to put him on this list, because simply put, I'm not entirely sure he's going to live up to his
$63 million
($20 million guaranteed) contract in Arizona. But after his 18 of 27, 309-yard, two-touchdown performance in the
Cardinals
win against the
Panthers
(all while getting sucked into the "Cam Newton is awesome" maelstrom), it's at least a possibility Kolb will play like Arizona believes he can. Kolb supporters point to an impressive two-game stretch he had in 2009 for why he's worth all that money. I'm more interested in his 130 quarterback rating from Sunday and where he can go from there.
9. Chris Johnson:
You might not know this, but last year, Johnson had a disastrous season. When you compare him to 2009, his performance declined by more than 600 yards and he scored three less rushing touchdowns. If that's not the sign of a guy who has already become much less effective … wait, what's that? Johnson still rushed for 1,364 yards and 11 touchdowns last season? Oh, never mind. But here's the thing with Johnson. He keeps proclaiming that he's going to rush for 2,000 yards, and while he did it in 2009, he fell woefully short last year. And yes, he won't make it 2,000 in 2011 either. But he'll also be better than last year, particularly since he now
should be completely happy
with the money he's making.
8. Bob Sanders:
We all know Bob Sanders can't stay healthy. Not after missing 64 of 112 career games with the
Colts
. And because we've barely seen the guy (only nine times in the past three seasons) we always seem to lose sight of the fact that Sanders was once a premier safety threat mentioned in the same breathe as
Troy Polamalu
and
Ed Reed
. One good sign for Sanders' return to respectability: he didn't have to spend this offseason rehabbing an old injury. But Sanders also is 30 now, where the aches and pains increase rather than diminish. In his first game with San Diego, he accumulated six tackles. But at least he didn't leave the game with an injury. Which, with Sanders, is pretty good news.
7. Tim Hightower:
You'll recall that Hightower had a bit of a fumbling problem as the No. 2 running back behind
Beanie Wells
in Arizona -- he had eight lost fumbles combined in the past two seasons -- and though Hightower had good production in place of the injured Wells, the Cardinals decided they'd rather have Wells than Hightower. The
Redskins
, who were saying goodbye to
Clinton Portis
, went after him, and their interest was rewarded this week when Hightower looked solid, rushing 25 times for 72 yards and a score. Just as important, though, is his pass protection and his versatility (he's a pretty good receiver as well). Just as long as he doesn't fumble, he could be a really good addition for Washington.
6. Steve Smith (Eagles version)
: We still don't know how healthy Smith is, but the fact that he was active for the first game -- much to the chagrin of the
Giants
, I imagine -- is awfully impressive, considering he was coming off microfracture surgery on his knee. He wasn't targeted by
Michael Vick
, and he didn't play all that much. But the fact he was out there at all was pretty ridiculous. Smith probably won't be healthy enough to produce the stats that would give him a legit shot at the comeback player of the year, but he's already gone to extraordinary lengths to return this soon, so why not?
5. Steve Smith (Panthers version)
: Aside from all those Panthers fans who now have hope, receiver Steve Smith has to be one of the biggest
Cam Newton
fans around. For a guy who wanted out of Carolina as soon as possible (and as receiver, why would he want to try to field passes from
Jimmy Clausen
?), the infusion of Newton into this offense was the main reason Smith exploded for eight catches, 178 yards and two touchdowns. Considering he only accumulated 46 catches for 554 yards and two (!) scores in 2010, a little Newton in his life apparently has gone a long way.
4. Chad Henne:
Despite Miami fans chanting that they wanted
Kyle Orton
(who now has to hear the chants of "We want Tebow" in Denver) in the preseason, the popular storyline out of south Florida is that Henne finally will turn himself into a legit starting quarterback. Henne was a major storyline in the offseason -- coach Tony Sparano said "we'll see" about Henne's chances of starting and receiver
Brandon Marshall
laid out in detail why
Tyler Thigpen
was a better player until Henne began to make believers out of his teammates, who voted him offensive captain. It'll continue to be a storyline as long as Henne plays the way he did against the
Patriots
(30 of 49 for 416 yards, two touchdowns and a garbage-time interception) in one of the best performances of his pro career.
3. Rex Grossman
: Based on the way he played against the Giants on Sunday, I thought about putting Grossman higher on the list. But I just don't see him as a top-15 quarterback -- this season or any other. Maybe if he got to play against the Giants shell of a defense every week. But until that happens, I don't see him taking home the hardware. That said, Grossman surprised many people this week -- including, I imagine,
John Beck
-- and didn't look like the same quarterback who was
Donovan McNabb
's two-minute offense replacement. At least, he played like a legitimate starting quarterback.
2. Bryant McKinnie
: Surely, McKinnie would be the first comeback player of the year award winner to have weighed 400 pounds (allegedly) and gotten released from his old team for it (not to mention earning $75,000 for getting down to
a trim 372
). But McKinnie, as the new left tackle for the
Ravens
, helped set the tone last Sunday when, on the first play of the first Ravens drive, he dispatched
Steelers
linebackers
James Farrior
and
James Harrison
, allowing Baltimore running back
Ray Rice
a 36-yard gain. Baltimore ended up beating Pittsburgh by four touchdowns, and don't think McKinnie wasn't a big reason for that. If he keeps it up, perhaps McKinnie can make history as the first offensive line ever to win the award.
1. Matthew Stafford
: The
Lions
quarterback scared the daylights out of just about everybody when he hobbled to the sideline with an apparent injury in Detroit's season-opening win against the
Buccaneers
. For a guy who's missed 19 games the past two years with various ailments, that was not a moment for the weak at the heart. But it was only cramps, and during Detroit's victory, Stafford showed that he still has the talent to be a top-five quarterback. And considering most of the comeback players of the year happen to be quarterbacks, that doesn't hurt his chances either.
For more NFL news, rumors and analysis, follow

@EyeOnNFL

on Twitter and subscribe to our
RSS Feed
.