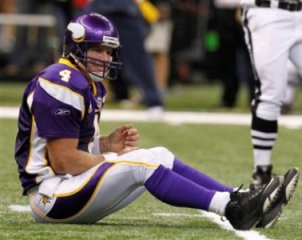 Posted by Josh Katzowitz
My take on Thursday's
Saints
14-9 win against the
Vikings
.
1.
I loved the "We are one" salute at the beginning of the game, signifying the players' solidarity with each other as they enter the final season of the current Collective Bargaining Agreement. Some people didn't like it – they thought it was too showy or too much of a flick-our-noses-at-the-owners kind of moment (and I've seen a joke or two on Twitter about how the owners should show solidarity by turning off the lights for a minute) – but I thought the move was pretty damn cool.
"Even though five minutes from then we were going to go out and bash each others' heads in," QB
Drew Brees
told reporters after the game, "we're all one voice."
2.
Jeez, how much did the Vikings miss WR
Sidney Rice
last night? More importantly, how much will they miss him until he can return from hip surgery?
Percy Harvin
was mostly invisible (one catch, 12 yards), and
Bernard Berrian
was, somehow, worse (one catch, three yards), and aside from TE
Visanthe Shiancoe
, Minnesota's passing game was terribly unimpressive.
Greg Camarillo
made a nice catch, and even
Greg Lewis
recorded a reception. But originally, I thought Harvin and Berrian would be OK until Rice returned. I might have been totally wrong. And if Shiancoe is the only receiving threat – he was Thursday, at least – and the Saints figured out a way to shut him down in the second half, it's not far-fetched to think other teams will do the same.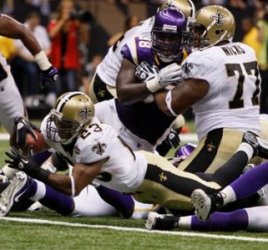 You also have to wonder about
Brett Favre
. Not just that he might be too old (finally), but that his decision to miss most of training camp cost his team dearly. As Camarillo said after the game, the offense had no chemistry. A couple extra weeks of practicing together might have helped solve that.
3.
The Saints ran the ball just three times in the first half, but the coaching staff switched gears in the second half and made a point of giving the ball to
Pierre Thomas
. He rushed 19 times for 71 yards, and he helped New Orleans eat up huge chunks of time in the fourth quarter to keep the Vikings at bay. The big run came with 1:59 to go when, on a second and six, Thomas broke a
Ben Leber
tackle (which would have stopped him behind the first-down marker) and made the first down to seal Minnesota's fate.
Of course, much of the credit must go to New Orleans interior linemen. Guards
Jahri Evans
and
Carl Nicks
were outstanding against one of the best defensive lines in the NFL.
For more NFL news, rumors and analysis, follow @cbssportsnfl on Twitter and subscribe to our RSS Feed .