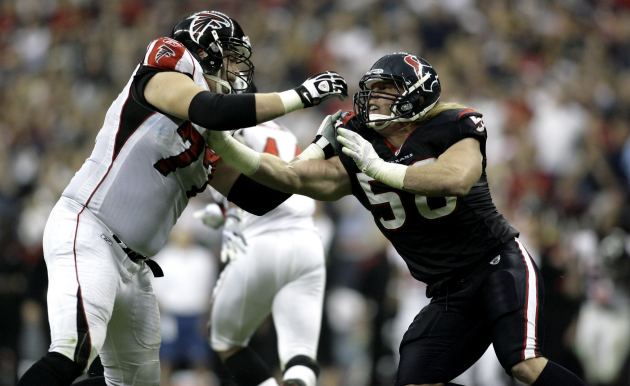 By Josh Katzowitz
There has been talk this year that the
Falcons
offensive line plays dirty. In fact,
Giants
defensive end
Justin Tuck
recently made his feelings known, implying
Atlanta's linemen were dirtbags
.
Tuck isn't the only one. This year alone, the
Packers
and the
Lions
also have accused the Falcons of dirty play, and Detroit* defensive end
Cliff Avril
said, "You watch film of Atlanta's O-line and they're 20, 30 yards down the field cutting guys. You're running toward the pile and they're trying to clean you up."
*Man, if the Lions are calling your team dirty, that's not a great sign.
So, Atlanta tackle
Will Svitek
: are you a dirtbag?
"That's his point of view," Svitek said, via the
NY Post
. "If he views us as cheap, then so be it. We're going to do what we do. We take pride in being physical. You don't want to be viewed as soft. We're always going to be there, and we want them to know we're there."
The biggest problem opponents have with Atlanta is its cut-blocking theory. As in, cut-blocking is completely cool. And cut-blocking
is
legal**. But it's almost never appreciated by the player being cut-blocked. This is also an issue, by the way, the
Texans
offensive line is criticized about, and for many years, the
Broncos
with Mike Shanahan as head coach had the same reputation.
**This is an interesting look at the legality of cut-blocking and the history of it.
"We cut like everybody else," Svitik said. "That's not illegal, and we don't get fined. We're not trying to hurt anybody. Diving at people's legs is just part of the game. It's not done in a cheap way."
As the
Post
points out, the referees haven't seen the Falcons as dirty this year. They've only been whistled for one personal foul and just seven holding penalties in 1,073 snaps. That's actually pretty incredible.
But as long as Svitek is being called a dirtbag, he feels like maybe he should make some money off it.
"I've been called worse," he said. "I'm going to have to find the Wikipedia definition of 'dirtbag.' Maybe look it up on urbandictionary.com. I've joked that maybe we should print up T-shirts and brand it, maybe make some money with [the size of] the New York market."
For more NFL news, rumors and analysis, follow

@EyeOnNFL

on Twitter, Like Us on Facebook, subscribe to our NFL newsletter, and while you're add it, add our
RSS Feed
.