Posted by Will Brinson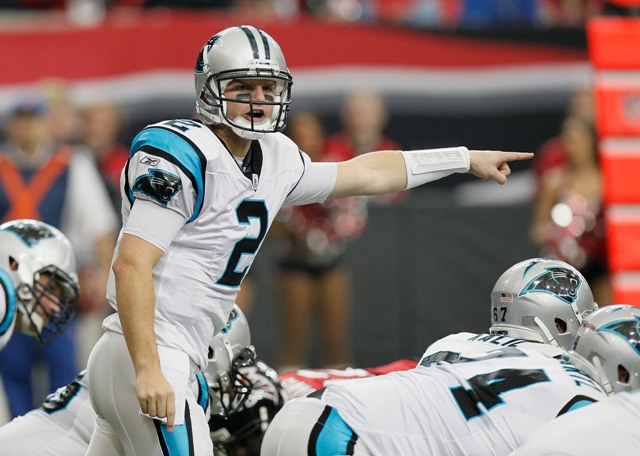 Eye on Football's playing doctor for every NFL team with our Offseason Check-ups .
Not to try and bring back the Anchorman meme that probably became uncool a few years ago, but, man, things really got out of hand fast in Carolina, didn't they? John Fox is gone, Ron Rivera is in, Jerry Richardson is likely not too popular with the fans because of the labor situation, and the draft-pick situation for the
Panthers
is a nightmare.
There's also a pile of questions relating to how 2011 will unfold based on the rules once the labor situation is settled. And the whole problem of everyone else in the NFC South being potentially dominant or at least pretty good ... primarily because of quarterback play. And thus, we see the Panthers problem: they need a franchise quarterback. Andrew Luck's decision to return to school put a big crimp in the plans for the No. 1 overall pick, and
Cam Newton
's been penciled in at this point by basically anyone.
Even if he
is
the pick, the Panthers can't negotiate with him, so who knows at this point? There's ample argument for why Carolina should take a cornerback, a defensive tackle, trade the top pick, or just roll the dice with Newton.
Defensive Tackle, Quarterback

The odd things about Carolina's roster is that in 2010, they had the talent to succeed. Injuries (
Jeff Otah
and
Thomas Davis
most notably), poor play (
Matt Moore
and
Jimmy Clausen
most notably) and an awkward coaching situation changed things dramatically and the team unraveled. It became pretty clear, though, that even with a talented offensive line and two superb running backs in
Jonathan Stewart
and
DeAngelo Williams
, you can't run the ball if no one respects your passing game.
Can Newton fix that passing game? Is his upside worth passing on a very-much-needed defensive tackle like
Marcell Dareus
out of Alabama? Does it even matter if Newton can be
Tim Tebow
2.0 and sell a pile of jerseys while making the Panthers nationally relevant, at least for a season?
It seems clear that Newton's going to either be a total home run, though not likely right away, or an absolute, unmitigated disaster. There might be an in-between area, but given the hype surrounding the potential No.1-overall pick, it's hard to imagine Newton settling into something that's just "average."
1. Quarterback
Value Over Replacement Player is typically a statistic that you see in baseball. But the notion remains true when you talk about the MVP race: how would the
Patriots
fare if you took out
Tom Brady
and plugged in an "average" quarterback? Well, the Panthers showed that if you plug in the player most below average in the NFL, disaster ensues. Quarterback is absolutely the most important position of need for Carolina -- it's just a matter of whether or not Newton or
Blaine Gabbert
could end up becoming "the guy" in Carolina as a top pick, just one season after the Panthers apparently wasted a second-rounder on Clausen. No one -- and I mean NO ONE -- can know the answer until we sees how it plays out. That's what makes their top pick so insanely controversial.
2.
Defensive Tackle
Making the Panthers' choice at the top of the draft even more difficult is the presence of Dareus, who seems like a pretty good bet to succeed in the NFL. Or, at least, to not flop at defensive tackle. With (maybe) four winnable games on the 2011 schedule, the Panthers could conceivably draft Dareus, hope they perform to 2010-level expectations with a vastly more difficult schedule, and land Andrew Luck in the next season. Playing chicken with a franchise quarterback and gambling on losing a lot isn't really an efficient way to manage in the NFL, but is drafting Cam Newton really a safer option?
3. More Draft Picks
I said this for Denver and they probably have more holes to fill than the Panthers, but Carolina doesn't even have a second-rounder because they traded their pick to the Patriots in order to draft
Armanti Edwards
out of Appalachian State, which might secretly be the worst draft decision in quite some time, especially because it's the first pick on the second day of the draft and a coveted spot. With a draft that's deep at defensive line, and the Panthers in need of a cornerback, a quarterback and a defensive tackle, having more picks -- as opposed to, say, LESS picks -- would be a pretty big advantage for the franchise.
2011 could be disastrous for the Panthers. I mentioned four winnable games, and that's not a joke: can they beat Detroit in Ford Field? Arizona out west? Tennessee at home in Week 10? Washington at home in Week 7? The
Jaguars
at home in Week 3? Okay, that's actually five, so we're getting somewhere! Or not -- those games are as far from locks as you get, and they're the easiest ones on the schedule. Maybe an upset or two in the NFC South is doable, but that's a bit optimistic for anyone who watched what happened in 2010.
Hey, but hope springs eternal. Or something. Ron Rivera's got a talented staff in place and the Panthers do still have a roster with some stars; at the very least, they've got studly linebackers and a strong offensive line, should free agency fall they way they want (and when you've got your owner leading the negotiations, well, that's never a bad thing). Drafting Newton could immediately reenergize the fanbase and turn out to be an absolute gamechanger when it comes to the franchise's future. But if there's one team that actually wouldn't mind seeing a lockout last through the entire 2011 season, it's probably Carolina.
For more NFL news, rumors and analysis, follow

@cbssportsnfl

on Twitter and subscribe to our
RSS Feed