Posted by Andy Benoit
It will be fascinating to see how Buffalo's Stevie Johnson bounces back from his heartbreaking mistake against the
Steelers
. The young wideout was uncommonly public in his emotional reaction to the whole ordeal.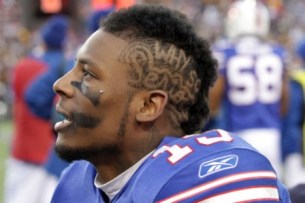 Days after drawing national headlines for his all caps tweet to @God, Johnson talked to the Buffalo media while wearing a shirt that read "It's All Good". It's possible he may have still been feeling spiteful and meant to get "It's all God" on the shirt, but judging from his attitude, a typo seems doubtful.
"I've been able to put it behind me," Johnson said,
according to the Buffalo News
. "I haven't forgotten about it but I'm able to move on. I feel like I learned I'm not in control. I'm not in control of the situations, and I thought I was. I was getting to the point where I felt I was in control of every situation I was in."
Johnson was asked to elaborate on the "in control" part. "My play on the field. When plays are called I just felt like I was in control. I was watching the Boise game and I seen what happened with the kicker. I was like, things happen. That kind of stuff happens. I can forgive him for that. But if it happens to me I'll be able to make the play. But it came down to it, and I didn't."
Not to pour salt into a wound, but the drop was one play that WAS in Johnson's control. (Same goes for Boise State kicker Kyle Brotzman and those kicks, by the way.)
Nevertheless, all Johnson can do is move on. Does he truly know how? The rest of his NFL career starts this Sunday at Minnesota.
For more NFL news, rumors and analysis, follow

@cbssportsnfl

on Twitter and subscribe to our
RSS Feed
.