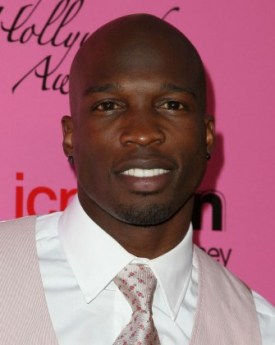 I've helped cover the
Bengals
the last several years, so I've gotten to know
Chad Ochocinco
a little better than most. I've recorded his outlandish quotes, I've covered his antics, I've been blown off with the rest of the media corps when he's in one of his surly moods.
Mostly, I'm a little jaded by him. When the Bengals starred in last year's
Hard Knocks
on HBO, I had a few friends who, after watching him and his winning personality, immediately became big Ochocinco fans. They hadn't been exposed to him before – except for the end zone dances – and because he is funny and charming, he reeled them into his world.
Now, he's become a reality TV superstar. He was on
Dancing with the Stars
this spring, but overall, that didn't seem to go very well. Now, he's starring in his own reality dating show,
The Ultimate Catch
, on VH1.
I've decided to watch the premiere and blog a review. Let me warn you: I'm a little tired of Ochocinco's act, but I'll remain as objective as I can be. Needless to say, this show is going to have to impress me in order for me to give it a positive review. Remember, I'm watching this so you don't have to.
-Oh lord, it's a 90-minute premiere. I was hoping for an hour-long show. Tops. How much Ochocinco can one man take on a Sunday night?
-Looks like he's going to be playing the narrator to his show, facing the camera with a cardigan sweater and a tie. Kind of like hip Mr. Rogers. Anyway, he's explaining the two catch phrases he's known for – "Child, please" and "Kiss the Baby." But if he's so well known for them, why does he have to explain what they mean?
-We're starting out at the Rose Bowl, where 85 attractive women are pretending to stretch in the locker room in their short shorts and midriff-revealing jerseys before they go out to meet Ochocinco on the field. They're told they'll go through a mini-camp before Ochocinco cuts down the roster to 17.
-
Bernard Berrian
,
Vikings
WR, is apparently along for the ride. He's like The Ultimate Catch's Chris Harrison. I wonder what catch phrases Berrian is known for?
-There's no question that Ochocinco can be a funny guy. Witness his comment when he first sees the 85 ladies that are "trying out" to be his ultimate catch: "I haven't seen this many girls on the football field since the last time we played the
Steelers
."
-Wow, that's cold. He looks at a few of the girls once, and he tells them they're cut. They're not even done stretching, and girls are running off the field because they've been axed. He cuts 17 girls at first glance. Then, he calls a bunch into a huddle, only to cut them all.
-You've gotta like Jasmine's honesty: "I'm about to s--- a 12 ½ pound baby, I'm so nervous."
-The drills Ochocinco are running include: the hugging station (with blocking sleds that have Ochocinco's picture where his face should be), the end zone dance, and the trash talking zone. Ochocinco was right when he said this show was all about dignity and grace. Like when No. 81 straddles the blocking sled and pretends to hump the pretend Ochocinco. Needless to say, Ochocinco cuts her immediately.
-Ten minutes in, and my wife has exited the room. She's had enough. And she LOVES dating shows.
-When I was a waiter in high school, I had this theory: if you were a bad server, the customer would leave you a crappy tip. But if you were a REALLY bad server, you'd get 20 percent or more. Emma just proved my theory correct. She can't catch a football, and she admits she doesn't dance well. But Ochocinco kind of digs that about her and confirms that she's made his first cut.
-Good thing. Jasmine won't have to s--- that 12 ½ pound baby after all. She's made the first cut. I think Jasmine might be the early blog favorite.
-Uh oh, Jasmine is already starting trouble, trying to save a bed for one of her friends, even though there's clearly a red purse from another woman already on the bed. Says Jasmine, "You're about to wake up with a face full of lipstick on your eyebrows." Exactly.
-Looks like Ochocinco is doing this NCAA tournament bracket style. Funny story, that's actually how I chose my wife.
-Stereotype No. 2 (after Jasmine's stereotype No. 1): Katie, the ranch girl who likes to chew straw in her teeth and who can't dance because "I'm white."
-Terrell Owens makes a non-surprising surprise appearance. Why is he here? Oh yeah, he has a reality show on this very same network.
-You have to admit the five-piece band is a nice touch.
-So much for Owens as Ochocinco's wingman. He's actually hitting on some of the women at the house. Hmm, that's actually pretty intriguing. I wonder if the cameras for Owens' show are rolling as well.
-It's interesting that when Ochocinco is talking to these girls, he's crossing his arms across his chest. He's either a little withdrawn or he's a little nervous.
-Berrien asks Lisa why she thinks Ochocinco is going to pick her? "I travel all the time. I'm very pretty. I don't know if it's bad or good." Then, she tells some nonsensical story about being hit with a bottle rocket, which set her hair on fire. This show is equal parts ridiculous and awesome. Well, not equal parts, but you know.
-When Courtney sits on Ochocinco's lap in front of the fire, I'm not sure I've ever seen a reality show star who's participating in his own dating show look so uncomfortable.
-Jasmine can not believe that Candice went outside with Owens – who asks for her phone number. Jasmine is shocked. Just shocked. But you can't outfox Candice. She knows there are cameras all around. She refuses Owens' advances.
-Somehow, I look up and my wife is back in the room watching. She allows that the women on this show make the girls on the Bachelor look brilliant.
-Owens confesses to Ochocinco about him and Candice, and how that maybe Candice would have given up her number if there weren't cameras all around. Ochocinco is shocked. Just shocked.
-So I'm confused. The winner gets the huge diamond ring, and … what? Is that it? I didn't expect Ochocinco to drop to a knee or anything, but all they get is an expensive ring? At least Bret Michaels offers the possibility of love.
-The bracket comes into play as we near the show's end. Ochocinco is picking the girls he likes best, No. 1 through No. 16, and I guess they'll compete against each other one-on-one. No. 17 is done. How would it feel to be, say, girl No. 15? Probably not great. But hey, you survive into the second show of the season.
-And No. 17 and the one who's out: Cynthia, who somehow annoyed Ochocinco with how much she talked. Yep, she's got to go.
-The final review: Well, it's no Rock of Love/I Love New York/Flavor of Love; it's actually a bit classier than that. It was what I expected. A show that's a little stupid featuring a guy who loves the camera (but isn't necessarily all that dynamic in front of it), but it was somewhat entertaining. The person who came off the best in this show (except, of course, for Jasmine). Bernard Berrian. Maybe he should have his own dating show. Or at least his own catch phrase.
--Josh Katzowitz
For more NFL news, rumors and analysis, follow @cbssportsnfl on Twitter.