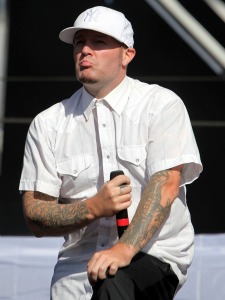 Can Tebow help resurrect Fred Durst's career? Let's hope not. (Getty Images)
By Josh Katzowitz
Tim Tebow
and Limp Bizkit
vocalist singer crooner
screamer Fred Durst had dinner together Wednesday night in West Hollywood, according to a report in the
New York Post
. Now, some of you might be surprised to hear that, considering Durst's nu-metal band and Tebow's brand of philosophy and religion probably don't mesh all that well together.
But if you think about it, OF COURSE they'd be friendly enough to have dinner together. If there's any way to turn Limp Bizkit from a terrible creation into something that's, at best, mediocre, it'd be Tebow's healing touch.
And since Tebow is into performing miracles, it makes perfect sense that he'd try to save Durst's floundering career.
Besides, if there's anybody who can convince Durst to never again screw around with classic songs by George Michael, it's Tim Tebow. If there's anybody who can stop Durst from writing lyrics like, "I did it all for the nookie, c'mon/The nookie, c'mon/So you can take that cookie/And stick it up your yeah!" it's Tim Tebow. And if there's anybody who can demand Durst never (EVER) end up on a sex tape that somehow gets leaked to the public, it's Tim Tebow.
Or I could be totally wrong about their conversation. In fact, let's have a little fun*. Give me your best guess on what the two talked about during their dinner date. Be like Tebow, though (and not like Durst), and keep it clean. Otherwise, we'll treat like you Limp Bizkit and try to forget we ever heard from you.
*In a perfect world, this contest would have a prize of the Limp Bizkit CD of your choice. But I figured that would be more of a deterrent than a prize, so forget it.
For more NFL news, rumors and analysis, follow

@EyeOnNFL

on Twitter, Like Us on Facebook, subscribe to our NFL newsletter, and while you're add it, add our
RSS Feed
.