Posted by Andy Benoit


1. Giants-Eagles: The hyped game that didn't quite live up but was still fun

You know how college authorities realize they can't prevent underage drinking so instead they settle for an extra vigorous crusade against drinking and driving? It's a case of wisely fighting an important battle instead of trying to win an unwinnable war. Apply this concept to the anticipated media coverage of Tom Coughlin this week. It's November and the Giants have lost two straight. Given the Giants' history of late season stumbles – including last year's 3-8 finish – you just know the New York press won't be able to resist a hot-seat storyline these next few days.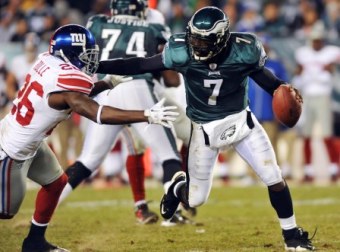 Since telling the New York media to not overreact to a negative Tom Coughlin storyline is like telling a college freshman not to drink, we'll take the media's keys by saying, "Okay, don't try to create a hot seat by questioning Coughlin's disciplinary tactics and relationship with players; if you MUST criticize Coughlin this week, criticize him for his clock management at the end of the first half and for not imploring defensive coordinator Perry Fewell to throw more blitzes at Michael Vick."

Coughlin had all three of his timeouts with about 30 seconds left at the end of the half. Instead of using one of them, he let the Eagles run down the clock and attempt a field goal to end the half. As it so happened, the field goal was blocked. Had Coughlin used a timeout, the Giants would have had the ball near midfield with 20 seconds and two timeouts left. But even if the field goal wasn't blocked, the Giants could have at least forced the Eagles to kickoff. You never know what happens from there (though with the way Will Blackmon handled kick returns in the first half, maybe you don't want to know).

Regarding the blitzes – there wasn't an Eagles fan in America who wasn't breathing a sigh of relief every time the Giants rushed only four. Cris Collinsworth said throughout the broadcast that Vick and the young Eagles receivers needed to prove they understood their hot route assignments. But they didn't fully have to. Vick was flustered nearly every time the Giants brought heat. He made a few plays, but he took even more hits. When he was successful – which was more often than not – he was standing back in a clean pocket.

At the end of the day, Philly played well enough to win. But since the New York media will start questioning Coughlin anyway, let's hope they at least take one of these two sensible angles.

2. Peyton Manning Loses

The difference in the Colts-Patriots game was Peyton Manning's three interceptions. Shockingly, all three were HIS fault. The first interception was an overthrow that landed in Brandon Meriweather's lap.

On the second pick, as CBS's bird's-eye-view camera revealed, Manning read two deep coverage when, in fact, the Patriots played four deep. When tight end Jacob Tamme correctly read the coverage and cutoff his route, Manning threw it deep down the sideline to a wide open…Devin McCourty.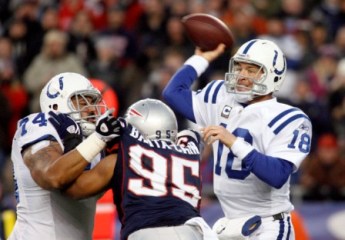 Manning's third pick was the coup de grace that prevented a potential game-tying field goal from Adam Vinatieri. Of the play, Manning said he got a good look but just did not properly execute the throw.

Of course, saying Manning lost the game is like saying Abraham Lincoln caused the Civil War: technically, you could argue it's true, but come on. Aside from a small handful of throws, Manning was his usual ingenious self. And so was Tom Brady, of course. The man who legitimized the Bieber haircut was 19/25 for 186 yards, two touchdowns and no interceptions. He was surgical between the numbers, spreading the wealth to Wes Welker (who got his first touchdown in eight games), Aaron Hernandez, Rob Gronkowski and Deion Branch. Brady now has 19 touchdowns and just four picks on the season for a passer rating of 100.6.

P.S. The common perception is that the Patriots have a backfield by committee. Nope. The Patriots have a traditional feature running back they really like. BenJarvus Green-Ellis has had 17 or more carries in three of the past four games. His 133 attempts are 77 more than third down back Danny Woodhead, who is the only other Patriot getting regular carries these days. Fred Taylor has been injured and Sammy Morris has been an afterthought. Green-Ellis is a smart runner with natural downhill momentum; Woodhead is a patient open field weapon. Together, they give the Patriots a classic NFL backfield.

3. Young no more

Whether they get rid of him now or after the season, Sunday, November 21, 2010 will ultimately go down as the day Vince Young threw the final straw on the camel's back in Tennessee. Please, no more stories about Young maturing or getting his life together or harnessing his talents or whatever else so many people have wistfully said about the guy. This 27-year-old man taunted the home fans when they started booing him. This was actually an improvement from Week 1 of '09, the last time a Nashville crowd booed Young. In that instance, Young quit on his team, got hurt and then disappeared the next day.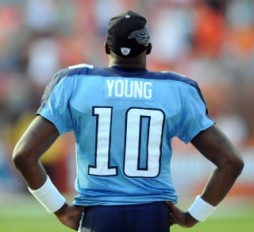 After this 27-year-old man taunted the home fans, he injured his thumb. Word is, Young did not ask Jeff Fisher to go back in the game after the injury. FOX repeatedly showed shots of Young sulking on the sideline, even though the Titans were fighting in a fiercely close game.

After the Titans lost in overtime, this 27-year-old man threw his jersey AND shoulder pads (his shoulder pads!) into the stands, then abruptly left the team, but not before calling out his head coach in front of the rest of the locker room. This is the same 27-year-old man who missed meetings earlier in the season, got in a bar fight during the offseason and partied so hard this past spring that even callow Packers tight end Jermichael Finley was taken aback.

The most obvious sign that Fisher and the Titans are done with Young is that Fisher has said Young is not his starting quarterback right now, even though that might mean entrusting the job to rookie Rusty Smith until Kerry Collins (calf) is fully healthy. Did you see Smith, the sixth-rounder from Florida Atlantic Sunday? He looked every bit like a sixth-rounder from Florida Atlantic. Smith was so awful that even a pun involving his first name would be too complimentary at this point. If Fisher is willing to even risk putting Smith on the field again, you know he's utterly fed up with Young.

If Young is not dismissed now, he'll be dismissed after the season. After all, he's scheduled to count $15.21 million against the cap (if there is a cap), which is about $15.21 million too much.

4. McNabb makes Kyle Shanahan look like a jackass

It was Kyle Shanahan who chose to bench Donovan McNabb against the Lions a few weeks ago (Mike Shanahan took the bullets as the messenger – the extremely ill-prepared-for-the-DC-media messenger). The reasoning behind it? Cardiovascular endurance and no understanding of the two-minute offense (which the Redskins spend zero time practicing, by the way).

Well, Sunday at Tennessee, McNabb's Redskins were tied 16-16 with the Titans with 1:37 to play. Instead of asking Rex Grossman to put on a Superman cape he doesn't own, Shanahan (either Mike or Kyle, it doesn't matter) let their franchise quarterback go back out there and actually be their franchise quarterback. All McNabb did was complete 5/6 passes (the scorebook says 5/8, but that's only because the NFL foolishly credits a spike as an incompletion) for 44 yards. It was a textbook two-minute drill that set up a potential 47-yard game-winning field goal.

Graham Gano happened to miss that kick. But thanks to three first downs resulting from three Titans penalties (including two personal fouls) on Washington's second overtime possession, Gano got another crack at it. His successful 48-yard field goal g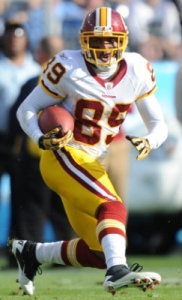 ave Washington a victory (albeit a Pyrrhic one, as seven Redskins, including Clinton Portis and Casey Rabach, got hurt) and a 5-5 record.
Afterwards, when asked about McNabb and the two minute offense, Mike Shanahan said, ""I guess we don't have to talk about that anymore".

5. Moss and Moss

There were two Moss' playing wide receiver in the Redskins-Titans game. The little one did extremely well (six catches, 106 yards, one touchdown); the bigger one, eh, not so much.

It's doubtful many people care to talk about how Santana Moss beat the Titans defense over the top on more than one occasion Sunday. What people want to talk about is how Randy Moss was blanked for a second straight game. Each person who has helped make Moss' Titans jersey a top-seller these past three weeks has as many catches in that Titans jersey as Moss himself does.

Moss was targeted just four times Sunday. What was the issue? The same as usual: help coverage against Moss compelled the quarterback to look in a different direction. Redskins cornerback DeAngelo Hall shadowed Moss and played well, but he had the luxury of shepherding the receiver inside to safety help all afternoon. Moss' presence is still valuable – this special coverage was part of the reason Nate Washington had 117 yards on five catches – but the guess here is that he'll probably want to catch a pass sooner or later.

6. The Raiders are back!

Lately we've been hearing all about how the Oakland Raiders are back. It's true. The team that came into Sunday having lost seven straight after the bye extended the streak to eight in spectacular fashion. This wasn't a case of the Steelers showing up and being the more focused team. And it wasn't a case of mistakes costing the Raiders (heck, it was the Steelers who committed 14 penalties for 163 yards). No, this was simply a case of one football team being significantly better than another.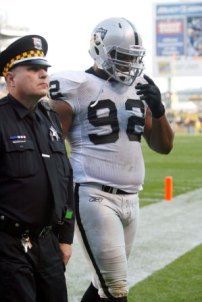 The Steelers' front seven thrived in its usual aggressive, downhill attack mode much of the afternoon. Every time Jason Campbell seemed to finally anticipate a jailbreak blitz, the Steeler linebackers would drop back into coverage. Every time Campbell anticipated a traditional rush, the Steelers would bring overloads off the edges. Each blitz seemed to be uniquely designed to exploit a particular mental weakness of Campbell's (which explains why there were so many different blitzes). It didn't help that Oakland's No. 2 ranked rushing offense managed just 61 yards – only 14 of which came from Darren McFadden.

The highlight of this game, besides the fluid acceleration showcased by Rashard Mendenhall (his 59 yards on 23 carries seemed more like 115 yards) and besides Ben Roethlisberger's 18 completions and three touchdowns (all of which seemingly resulted from him extending the play), was Richard Seymour's ejection in the first half. The ejection came after the All-Pro defensive tackle' got involved in his third scrum on the day. Seymour, incensed by something Roethlisberger whispered in his ear after a touchdown, turned around and struck a blow to the quarterback's face (helmets were on). Roethlisberger immediately hit the deck in a reaction that was probably 20 percent Divac, 80 percent legit.

In what was a really nice touch, referee Tony Corrente announced that Seymour "ejected himself because of his actions." Some might try to paint this as another classic installment of the Raiders-Steelers rivalry. Don't get poetic. The Raiders-Steelers rivalry was three and a half decades ago. In today's world, this was a matchup between a first-class organization and a no-class organization. Have the Raiders improved from "no class" standards this season? Perhaps, but we didn't see it Sunday.

7. Heartbreakers

Last week, the Jets crushed the Browns' hearts on a last second overtime touchdown. Minutes earlier, the Jaguars had crushed the Texans' hearts on a hailmary. This week, the Browns' hearts were re-crushed by those same Jaguars, while the Texans' hearts, presumably still broken, were further shattered by those same Jets.

And so we have the Jets at 8-2 sitting atop the AFC East. And, believe it or not, the 6-4 Jaguars are atop the AFC South. That good looking young star quarterback for the Jets has now conducted three game-winning drives in the past three weeks, with the most impressive coming Sunday. Sanchez's 42-yard sideline strike to Braylon Edwards was the product of a great throw and great play design against Houston's two-deep man coverage (which is a terrible coverage to call in that situation because the corners are told to push the receivers toward the sideline, which helps the Jets when they don't have any timeouts). A seam route from a Jet in the slot held safety Eugene Wilson just long enough for Sanchez to unload the ball over the top; it was a classic case of offense simply defeating defense.

The following play brought about the touchdown pass to Santonio Holmes, which struck yet another blow to all the Friar Tucks out there who claim that off-the-field character issues matter. (Only when they spill into the locker room or onto the field do they matter.)
Sanchez still isn't reading coverages with great efficiency, but he's obviously showing poise in crucial situations. His surprising surge (passing yard totals of 336, 299 and 315 the past three games) is what has New York in first place.

As for the Jaguars, it's time to start asking if they're for real. David Garrard still hasn't gone out and singlehandedly won a game for them yet, but when you have a player like Maurice Jones-Drew, maybe the quarterback really can be average (MAYBE). Jones-Drew led all Week 11 rushers with 133 yards, and by now you've seen his five broken tackles on that magnificent 75-yard catch and run to set up the late go-ahead score against the Browns.

8. Saints go marching in

It was disappointing that New Orleans wasn't able to build a bigger lead against Seattle Sunday. Some expected th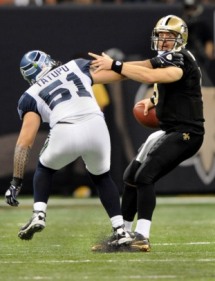 e Saints to run the score up on Pete Carroll because, as Sports Illustrated's Peter King wrote, "I wouldn't be surprised if there's a sentiment among some on the Saints who think Pete Carroll left Bush out to dry when he returned his Heisman in September over the USC football scandal." Bush and Carroll exchanged warm pleasantries before the game, but that was likely just the ultimate display of teeth-gritting diplomacy from Bush.

Oh well, Bush didn't play anyway, as he's still recovering from the fractured fibula (you wonder if the fact that New Orleans has to play again in four days had anything to do with the decision to keep him out one more game).

Fortunately, the Saints didn't need Bush. Drew Brees was 29/43 for 382 yards and four touchdowns. (He did have two interceptions.) Five different Saints had over 35 yards receiving, including wideout Marques Colston (113 and two scores) and rising, long-armed third-round rookie tight end Jimmy Graham (five catches, 72 yards). The Saints offense clicked on all cylinders.

It's likely that New Orleans will get a victory in Dallas on Thursday. A coaching staff's preparation for a Thursday game is totally different than for a Sunday game, and we're talking about a Sean Payton/Gregg Williams-led coaching staff versus the interim Jason Garrett/Paul Pasqualoni-led coaching staff. In that case, the defending World Champs will suddenly be 8-3.

As for the lowly Seahawks, they're 5-5…and in firm command of the putrid NFC West.



9. The obligatory Vikings mention

We can save the Brett Favre-Brad Childress talk for another time (like, say, all other times for the rest of this week). All you really needed to see in this game was Greg Jennings' touchdown catch early in the third quarter. The play was not only a masterful display of quarterbacking by Aaron Rodgers (four touchdowns, no picks on the day – though thanks in part to the buttery fingers of Husain Abdullah in the red zone), it was also a microcosm of Minnesota's season.

Defensive end Jared Allen was unable to get around the single blocking of Packers left tackle Chad Clifton (a leading Pro Bowl nominee). With minimal pass-rush up front, Vikings cornerback Asher Allen became vulnerable late in his coverage against Jennings. Allen gave up separation on a slight double move, then failed to make the routine open-field tackle. The safety helping over the top, Madieu Williams, had no idea what angle to take in pursuit of Jennings. Waffling between a downhill angle and lateral angle, Williams eventually settled on an awkward cross between doing both and doing nothing, which resulted in him goofily attacking thin air. Jennings wound up walking into the end zone.

10. Quick Hits

**Please, nobody try to start a discussion that goes anywhere near the sentiment of, "Dallas has momentum under Jason Garrett – you never know, crazier things have happened." No, crazier things have not happened. A win over the Lions does not make the 3-7 Cowboys special. And just in case you are a Cowboys fan who, for some reason, is still holding out hope, just know that your team faces New Orleans, Indy and Philly over the next three weeks.
**Raiders punter Shane Lechler brought a strip of smelling salt with him on the field b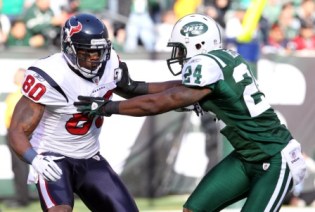 efore every punt Sunday. That's what it takes to be arguably the greatest punter of all-time.
**The Chiefs lined up Mike Vrabel at wide receiver on one of their goal-line plays. Todd Haley must be shocked that defenses still don't respond to Vrabel when he lines up in goal-line offense. Putting Vrabel at wideout was probably Haley's way of pinching himself to see if this is real, if defenses still aren't alert. (For the record, Cassel's pass to Vrabel on that play was incomplete, as the wideout/linebacker had trouble getting off the jam of safety Kerry Rhodes.)
**Whoever suggests that Darrelle Revis has not been his MVP-caliber self this season is not paying attention. Two weeks after holding Lions star Calvin Johnson to one catch for 13 yards on four targets, Revis held Texans star Andre Johnson to four catches for 32 yards on nine targets.
**Why is the middle of the field brown and dead in San Francisco but outside the hash marks it's green and luscious?
**The FOX crew working the Cardinals-Chiefs game had a heck of a good time telling viewers that Arrowhead Stadium was as loud as a jet engine Sunday afternoon. My beef with this is, whenever we get these decibel level comparison things, I never know how close to the jet engine we're talking about. There's a difference between a jet engine that's in the sky or lifting off two runways over and a jet engine that is within arms length. So where, exactly, are we in relation to this make believe jet engine being talked about at all the noisy venues?
**For the record, I kept a close eye on both the Bucs-Niners and Cardinals-Chiefs games. The bits about the field color and the jet engine were the best either game had to offer.
**The Jets really missed right tackle Damien Woody Sunday (Mario Williams had a field day). Let's hope the veteran's MCL injury is not serious.
The Bengal defense's heart will be seen on milk cartons across the southern Ohio and northern Kentucky areas Monday morning.
**Panthers second-year running back Mike Goodson rushed for over 100 yards for a second straight week. And against the Ravens, no less.
**Kudos to Ed Reed for pitching the ball to Dawan Landry for six points on Reed's interception return. Why don't more teams pitch the ball in return situations? It's not like the offensive players-turned-would-be tacklers naturally know how to react to that….
**Just so we can touch on all 14 games from Sunday, I'll pass along the most substantial note I wrote myself from the Falcons-Rams game: Matt Ryan is excellent throwing off of rollout motion.
For more NFL news, rumors and analysis, follow @cbssportsnfl on Twitter and subscribe to our RSS Feed .