Posted by Andy Benoit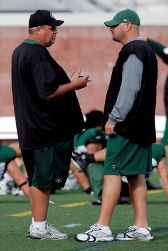 There's a fascinating article from Bob Glauber of News Day about how Rex Ryan and Jets defensive coordinator Mike Pettine (remember the brutally honest goateed bald guy from Hard Knocks?) handle the defensive play-calling.

Apparently, the two men split the duties during the game – a practice that is virtually unheard of at the pro level. Glauber writes:

Their arguments over the headsets are laced with anger and profanity.

"If anybody ever recorded us on the headsets, we'd have our own reality show," Pettine said Thursday as the Jets continued preparations for Sunday's AFC Championship Game against the Steelers. "People say we're like brothers on the headset, and we've been approached after the game and they're like, 'Hey, are you and Rex OK?' ''

After a recent win, Pettine recalled that conversation as he and the rest of the staff smoked cigars near the team bus, one of Ryan's traditions. "I'm like, 'We're smoking cigars in the parking lot. Of course we're OK,' ''Pettine told the coach. "Half of it you don't even remember, but it's just two competitive guys and we both have our opinions."

This season, Ryan delegated more play-calling power to Pettine, though in the playoffs, the head coach has taken back a significant amount of that power. It's not to the point where Ryan has taken over the defense entirely, but Pettine admits that it's close.

Asked if he was OK with that, Pettine replied, "We're 2-0 in the playoffs. I'm real OK with that."

For more NFL news, rumors and analysis, follow @cbssportsnfl on Twitter and subscribe to our RSS Feed.