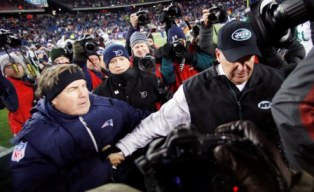 Posted by Josh Katzowitz
Whenever the
Jets
are getting set to face the
Patriots
, Rex Ryan always seems to make a spectacle of himself. Whether it's him declaring he's not going to kiss Bill Belichick's rings or him declaring he's going to kick Belichick's ass or him declaring it's him vs. Belichick, he's always that little-brother type who's trying to upset the calmer, older, more-renowned boy.
It hasn't worked thus far.
And while engaged in a national teleconference today, CBS analysts Phil Simms, Dan Dierdorf and Bill Cowher described one reason why. Ryan tries to make himself bigger than the game, and when the previews have been written and the pregame reports have been filed, none of that bluster matters.
"Coaches need to figure out that coaches don't block, tackle or catch," Dierdorf said. "I like Rex a lot, but it really just bothered me (last week) when he said, 'I finally beat
Peyton Manning
.' First of all, the Jets beat the
Colts
. And now he says, 'It's just myself against Bill Belichick.' No, it's about the players and it's always going to be about the players. Rex needs a reality check in my estimation."
Or he needs to not get outcoached again, like he did when the Patriots dominated New York 45-3 earlier this year.
"He did get outcoached in New England," Simms said. "Some of the things he was trying to do, he deserved to lose. He'll change a lot of things (this weekend). That 45-3 is there looking at you all the time. I thought he put the players in some situations where he had no chance for success."
And as Cowher says, you never know what's going to happen in New England's locker room.
"They'll say the right things, but I can tell you in that locker room and on Saturday night when Bill Belichick is talking to them, some of those quotes will come back," Cowher said. "Everybody loves to make it personal. Bill Belichick will take this personal, and he'll make his players take this personal. I wouldn't wake a sleeping giant, and I think (Ryan) has done it.
For more NFL news, rumors and analysis, follow @cbssportsnfl on Twitter and subscribe to our RSS Feed .