Posted by Andy Benoit

1.) The Almost Legend

The Alex Smith Story on Sunday night was like a Greek tragedy. The much-maligned quarterback of the disappointing 0-4 Niners makes one of the great blunders of the 2010 season when he reads blitz from the Eagles, eschews his hot receiver (Vernon Davis) and instead fumbles, resulting in an easy Quintin Mikell touchdown return. Smith endures the wrath of a Candlestick crowd that showed up at the stadium seemingly determined to boo their own team until the visiting Eagles could feel right at home.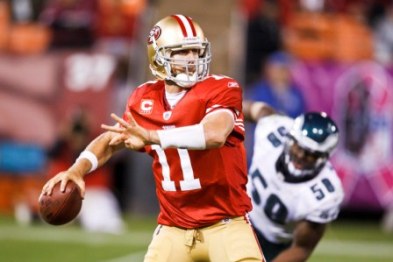 Mike Singletary hears the boos, hears the We Want Carr! chants (which, by the way, surely sparked a few wry smiles from Houstonites watching the game) and, from the looks of it, tells his quarterback he's making a change. His quarterback appears to respond with something along the lines of, Like hell you are! Singletary, to his credit, sticks with Smith – which is important because not only did Smith practice all week and clearly beat out Carr when the two were competing for the job this summer, but also because Al Michaels, during one of his rare breaks from gushing about the paradise that is the Bay Area, had told the NBC audience that Singletary deeply values loyalty.

Smith, backed by the support of no one but himself, goes back out and goes 5/5 with a touchdown on a drive that was crisper than a dry Cornflake. No one could have blamed Smith if he'd celebrated that touchdown by giving the Candlestick crowd the Chuck Cecil treatment. Instead, he goes back to the sideline, watches the game through a fierce stare, and then goes back out and does it all again.

The 49ers get the ball back trailing 27-24 with 1:28 to play. When Smith completes a 27-yard pass to Vernon Davis (who finally got to do what he does best, which is run seam routes), we think we might be seeing a modern comic book hero unfold before our very eyes. But three plays later, Smith's arm gets hit by a penetrating Trevor Laws, resulting in an interception and gut-wrenching 0-5 start for the preseason NFC West favorites.

Now, Singletary's job could come into question. (You know, because it's his fault Frank Gore fumbled twice. And because it's his fault Smith gave up the ball to Mikell before all the fireworks. And because it's his fault Joe Nedney missed a 40-yard field goal. And because it's his fault offensive tackles Joe Staley and Anthony Davis played poorly at times.) Smith's starting status should be secure, but a winless record has a way of tricking decision-makers into hasty moves. So we'll see.

Overall, at least this sure-to-be-boring game that yours truly openly dreaded all week turned out to be one of the best dramas thus far of this young 2010 season.
2.) Rethinking the NFC?

The Green Bay Packers were supposed to run away with the NFC North. Instead, they're a game and a half behind the 4-1 Bears and, after Monday night, could be only a half-game up on a Vikings team that just acquired the greatest deep threat in NFL history. If Sunday's loss at Washington alone isn't bad enough, how about the fact that quarterback Aaron Rodgers, tight ends Donald Lee and Jermichael Finley, outside linebacker Clay Matthews and defensive lineman Ryan Pickett all came away with injuries that could put their status for Week 6 in jeopardy?

Rodgers has a concussion. Lee has a shoulder (he hurt it on a play in which he caught a touchdown…and celebrated). Finley, according to reports, has a displaced hamstring (don't worry, no one knew you could displace your hamstring). Matthews has the more traditional pulled hamstring. Pickett has a knee. This for a team that has already lost for the season running back Ryan Grant, safety Morgan Burnett and inside linebacker Nick Barnett.

Packer fans should actually be breathing a sigh of relief, though. Finley initially appeared to have some sort of serious knee injury (he was doing the whole "towel over the head thing" while riding a cart to the locker room, and he came back to the sideline on crutches).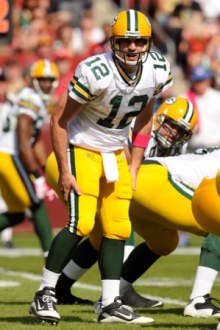 From a Super Bowl standpoint, the Packers are not good enough to survive the loss of Finley. If he is out for an extended period of time, the Packers will discover that Greg Jennings and Donald Driver aren't actually impossible to defend. The outside wideouts benefit greatly from the attention Finley commands from opposing safeties. Not to mention, Finley himself is good for at least 80 yards a game. Green Bay still has enough talent at wide receiver to compete, but an offense can't disguise its intentions with a wide receiver the way you can with a tight end.

Regarding the other two injured superstars: Rodgers will presumably be back soon (not to put any pressure on the guy, but quarterbacks in Green Bay don't really miss games); Matthews has successfully come back from a hamstring injury once already (he missed virtually the entire preseason, and then recorded three sacks in each of the first two regular season games). It's important he get healthy ASAP. There was a noticeable decline – perhaps even disappearance – of Green Bay's front seven prowess after Matthews went out Sunday (the Redskins punted on seven of their first eight possessions but exploded in the second half to finish with over 350 yards through the air).
Note: The original diagnosis of a "displaced hamstring" for Finley was accurate (Finley says he's had the issue before), but his knee was actually the bigger deal. On Monday we learned that Finley will undergo arthroscopic surgery and miss around three weeks.

Note II: For a full rundown of Green Bay's substantial list of injuries -- updated Monday afternooon -- click here.

3.) Taking the Pack to task

Now that we've (sort of) played the sympathy card for the banged-up Packers, how about censuring them for bungling the field goal at the end of regulation? Mason Crosby missed a 53-yarder that would have won the game. But he's not to blame.

Instead, blame the head coach and quarterback. Why – WHY !? – did Mike McCarthy and Aaron Rodgers settle for a 53-yarder in that situation? Two plays before Crosby's kick, Rodgers made a masterful presnap read against a Redskins blitz from his right side. He lasered a ball to rookie tight end Andrew Quarless for a 21-yard completion. There were 26 seconds on the game clock when that play commenced. After Quarles' catch, the Packers sauntered to the line of scrimmage and got around to spiking the ball with seven seconds left.

Seven seconds is enough time to take two stabs at a quick-out pass that could pick up around five yards. That's the type of play Green Bay's offense does better than any offense. Instead, the Packers settled for a 53-yard attempt. Thinking you can make a 53-yarder to end a game is almost as bad as thinking you can block Chicago's 21-yarder to end a game.
4.) You play to win the game. Hello ?!

If only Herm Edwards had said this when he was with the Chiefs, instead of when he was with the Jets. Oh, that would have been the perfect introduction here. Instead, we'll settle for a somewhat flimsy angle of "Play to win the game – that's what Edwards' replacement in Kansas City, Todd Haley, did Sunday at Indianapolis."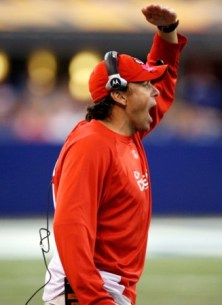 Of course, Haley's Chiefs did not win the game. Their loss allowed the 1972 Miami Dolphins to schedule their annual champagne celebration unusually early (first time since 1970 that no NFL team started 4-0). But Haley sure played to win. Figuring he probably couldn't outscore Peyton Manning with Matt Cassel straight-up (indeed, Cassel was a modest 16/29 for 156 yards and, like the rest of the Chiefs team, produced zero touchdowns Sunday), Haley looked to manufacture points through calculated (reckless?) gambles. He opened with an onside kick. He went for it on fourth-and-two on the teams' first possession. Both moves were unsuccessful, putting the Chiefs on the wrong end of a six-point swing. But at least Haley was willing to take the risks.

Haley maybe would have taken a more traditional approach had he known his defense would be so stifling. Chiefs fans should feel encouraged about Romeo Crennel's young group. It was the real deal Sunday. Ends Glenn Dorsey and Wallace Gilberry got consistent separation against the Colts front line (both in terms of penetration and shedding blocks in lateral run support).

Outside linebacker Tamba Hali all but locked up a trip to Hawaii with the way he destroyed right tackle Ryan Diem (forget what I said in the Key Matchup feature about Hali being a minimal factor because he tends to wreak havoc late in plays rather than immediately off the snap).

Inside linebacker Derrick Johnson was a stud in all phases. Formerly a strict open-space player, Johnson is proving his mettle between the tackles in high-traffic areas. He's one of the fastest-closing tacklers in the game today. (Johnson led the Chiefs with nine stops in this game.) Plus, he can drop into coverage.

Speaking of coverage, the Chiefs have arguably the league's best young cornerback tandem in third-year gems Brandon Flowers and Brandon Carr. Flowers was, once again, barely challenged Sunday. Carr, to the surprise of many, held his own against Reggie Wayne; he has excellent size and strength. Crennel is able to variegate his defensive looks because he has two trustworthy cover corners on the outside.

The Chiefs still have plenty of issues to take care of offensively. Cassel needs to rely less on his legs and more on his arm. The front five must stay viable for four quarters (the Colts defensive line was the markedly fresher unit late in this one). Jamaal Charles is a sensational home run threat, but he fumbles too often and goes down if a defender so much as breathes on him. And Dwayne Bowe must lose the oven mitts if he is to be the true No. 1 receiver this offense needs (Bowe had a pair of crucial drops late).

There are no moral victories in pro football. And Haley's team could have won Sunday if it had only executed better in the second half. But at the end of the day, if we were wondering whether Kansas City is a legit contender in the AFC West, the answer is a resounding Yes.
5.) Which brings us to…

Written somewhere in Norv Turner's contract is a clause that says the Chargers fourth-year head coach only has to win at home. At least it sure seems that way. You would have thought San Diego could win in Oakland given that the empty seats would create a 2010 Qualcomm Stadium feel. Not to mention, the Chargers had defeated the Raiders 13 straight times.

You actually can't blame Tuner for this one. If you're into blaming coaches, go ahead and feast on special teams coordinator Steve Crosby. Even if you're not into blaming coaches, feast on Crosby; the Dolphins last week made criticizing special teams coaches the new chic thing. Crosby's unit gave up two early blocked punts that resulted in nine Raiders points. In all, the Chargers special teams have allowed three blocked punts and four return touchdowns on the season.

The offense also gave up a return touchdown of its own. Phillip Rivers' fumble on a hit from Michael Huff was scooped up by Tyvon Branch for what amounted to the game-clinching score. The only thing unusual about that Chargers turnover was that it did not occur in the red zone. (San Diego had two first half turnovers inside the 20.)

Malcolm Floyd had 213 yards receiving. Rivers had 431 passing. Antonio Gates, who had five catches for 92 yards, extended his all-time tight ends record for consecutive games with a touchdown catch to nine. Still, when Rivers kept looking for Patrick Crayton and Craig "No Longer Worthy of a Catchy Nickname Like Buster" Davis late in the fourth quarter, you couldn't help but think that this team might (would definitely) be better off with Vincent Jackson lining up outside.

On the Raiders side, this win, naturally, came at the hands of a backup quarterback. It seems like Bruce Gradkowski gets knocked out for at least part of every game. This week it was a shoulder that sidelined the Jeff Garcia ersatz. After some Jason Campbell-like jittery passes early on, Jason Campbell did a spectacular job filling in for Gradkowski. Campbell finished 13/18 for 159 yards and a touchdown.
Also, running back Michael Bush, filling in for injured Darren McFadden, rushed for a hard-earned 104 yards on 26 carries. The Raiders, 2-3, may have a few backfield controversies to sort out before facing their winless Bay Area neighbors in Week 6.
6.) That other team with quarterback drama

Before we dispel the notion that Max Hall is going to lead a resurgence in Arizona, let's dispel the notion that the Saints have serious issues. Yes, the Saints, by their standards, are struggling a bit. They miss Reggie Bush in the passing game and Pierre Thomas in the running game. They're uncharacteristically turning the ball over at inopportune places on the field. (Heck, even Drew Brees got into the act, with two of his three interceptions being the result of an underthrown ball). Most concerning is, defensively, the Saints are not creating turnovers – at least not like they were last season. They have just four interceptions on the season. Their fortunes hope to change once free safety Darren Sharper (knee) gets off PUP.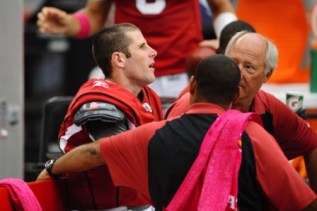 Regarding the Cardinals – you have to admire Max Hall's grit. He seemed determine to break the NFL record for most injuries suffered in a single game (four players currently share the unofficially record – Albert Haynesworth, Jason Peters, Jevon Kearse and, somehow, Vince Carter). Hall took gobs of big hits Sunday.

One hit, in particular, stands out. It was on the play in which Hall fumbled and lost his helmet. This was a cool play because we actually had a review to see if Hall lost the football before he lost his helmet (new rule states that a play is immediately dead if a player with the ball loses his lid). Sean Payton challenged the play because not only did Cardinals right tackle Levi Brown recover the fumble, he also scored. (By the way, don't tell Beanie Wells, but Brown actually doubled Wells' fantasy output on Sunday. Wells requested more playing time and then spent the entire game running to the right and meeting the Saints safeties.)

Here's a question for the Competition Committee: is it really fair for a team to score a touchdown recovering its own fumble? Rules prohibit a team from fumbling forward inside the final two minutes of a half (thank you, Dave Casper and the Raiders). Why not just prohibit the offense from fumbling forward or advancing a recovered fumble at all times? The offense should not be rewarded for fumbling.
7.) Another change…

Drew Brees' first half interception to Paris Lenon came off the hands of running back Ladell Betts (Betts, by the way, had a tough all-around game Sunday). Carson Palmer's final interception – hauled in by Sabby Piscitelli – resulted from a tipped ball by Chad Ochocinco. Tony Romo's second pick – courtesy of Michael Griffin – was tipped by tight end Martellus Bennett. In all three of these instances, the receiver was at fault for the turnover. We see this kind of thing every week.

It's time the NFL do something about it. Obviously I'm not talking about outlawing tipped interceptions. (Come on.) I'm talking about crediting tipped interceptions to a guilty receiver. Much like how a fielder's error doesn't count as a hit against a pitcher, a receiver's error shouldn't count as an interception against a quarterback.

Of course, maybe it all levels out in the end. Look at Romo, for example. Yes, he had the tipped pick. But his 69-yard touchdown to Miles Austin should have been an interception. Safety Michael Griffin disguised his coverage and baited Romo into throwing into a double team. Romo's poor quarterbacking on that play was nullified only by Griffin's poor angle and timing. Perhaps luck swings both ways. Still, that doesn't mean it wouldn't make sense to keep better turnover statistics.
8.) NFC East

While we're on Romo…it's time for him to lose that little Scottish hats in the postgame interviews. Oh, and it's time for him and the Cowboys to start winning. (How's that for analysis?) The Cowboys, at 1-3, are still only 1.5 games out in the NFC East. But that division is looking a lot better as of late. The Giants have rediscovered their pass rush (10 sacks against the Bears last week, three on Sunday against the Texans). They also have one of the brightest young stars in the game in wideout Hakeem Nicks, who has amazing body control and change-of-direction ability to go with long arms, long legs and hands big enough to palm a table for two. Nicks had 130 yards and two scores on 12 receptions Sunday.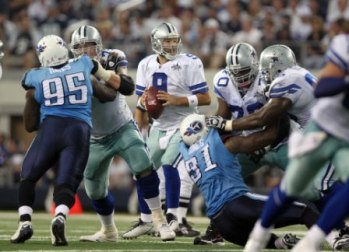 The Eagles are 3-2 and have not only a rejuvenated Michael Vick but a freshly-blossomed LeSean McCoy. The second-year running back is averaging over 100 yards per game in total offense.

Finally, the Redskins appear to be rock solid defensively. They too have a second-year sensation in outside linebacker Brain Orakpo, though it's been the play of rangy safety LaRon Landry that has galvanized Jim Haslett's new 3-4 defense.

In short, the NFC East has four quality teams. The most polarizing of the bunch can't have many more games like the one it had against the Titans (12 penalties for 133 yards, minus-three turnovers, six sacks allowed).
9.) Move the fans

The Redskins-Packers broadcast was constantly interrupted by the outstretched arms of fans that repeatedly got into the camera shot celebrating on big plays. These were the fans sitting in the row in front of the camera. This kind of interruption should absolutely never happen. Yet, we see it each week (especially in Redskins games).

The television networks should demand that seats near key cameras be left unoccupied. In fact, go ahead and leave open the first row or two of seats that are closest to the broadcast booth, as well. Nothing is more obnoxious than hearing in the background the cheers of a few individual fans during a telecast.
10.) Quick Hits

***The NFL's best pass defense (Baltimore) got the better of the NFL's best pass offense (Denver). But the story of the game was the return to full health of Ray Rice, who showed his familiar lateral explosiveness in rushing for 133 yards on 27 carries. Also, Joe Flacco was effective against the Broncos' non-existent pass-rush.
***Is Todd Collins the first quarterback in NFL history to get benched late in the third quarter despite his team protecting a 14-point lead? What's funny is that Collins clearly deserved the hook. If Mike Martz had called just four or five more deep passes outside the numbers, Collins would have found a way to finish with more interceptions than completions. (In the end, he had six completions and four picks.) The only thing shakier than Collins' accuracy was his decision-making when his pocket trembled.
***Hard to decide who had the better self-tipped interception, Julius Peppers or Kroy Biermann. Obviously, Biermann returned his for six points, while Peppers did not. But Peppers had the wherewithal to shush the Carolina crowd after the play, which was a nice touch.
***Carson Palmer's first interception – the pick six to Cody Grimm – was inexcusable. But his second was on Terrell Owens for not coming back to the ball. And the third was on Chad Ochocinco for deflecting it up in the air.
***Disappointing to see the Rams not show up in Detroit. Instead of that game giving us the story one of super awful team and one potential Cinderella, it just gave us the story of two really bad teams. The Rams are 2-3; the Lions are 1-4. The Mark Clayton injury is devastating for St. Louis. He had finally blossomed after joining a team in which he was the elder statesman.
***Memo to all announcers: quit saying a team "burned a timeout" when the team is using the timeout to stop the clock late in a game. That's not burning a timeout – that's wisely spending it. Burning a timeout is when you call one early in a half because of miscommunication.


For more NFL news, rumors and analysis, follow @cbssportsnfl on Twitter and subscribe to our RSS Feed .