Posted by Andy Benoit

According to
Jane McManus of ESPN New York
, NFL representatives met with New York
Jets
officials to find out exactly who in the organization had knowledge of Sal Alosi's "sideline antics". The Jets announced earlier this week that Alosi was suspended indefinitely after the team discovered that he was the one who issued the order to form a wall along the sideline.
But if you pause for a moment, you might notice the funny smell this story emits. Wh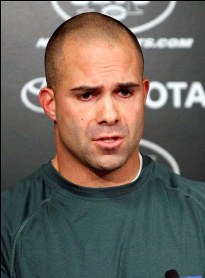 y did it take the Jets until Wednesday to discover that Alosi gave the order to form a wall? That's not the type of thing that requires an investigation. After
Nolan Carroll
was tripped, Rex Ryan or another Jets coach could have walked up to the members of the wall and said something along the lines of, "Say guys, who told you to stand there?" Or, they could have asked that question after the game. Or first thing Monday morning. Or anytime Tuesday.
Instead, the Jets discovered that Alosi issued the order after the entire country over-reacted to the story. (And yes, the country over-reacted. What Alosi did was cheap and out of line, but at the end of the day, this major controversy we're talking about here is a case of one man tripping another. It's easy to say Carroll could have been hurt on the play, but any player can get hurt in any circumstance. The reality is, Alosi didn't commit a felony – he TRIPPED a guy.)
But let's get back to the point: the Jets "discovered" Alosi gave the order to form a wall only after the story became a big deal. Then they suspended him indefinitely. Convenient timing, no?
Some might think that Alosi is taking the fall for an order that was issued from someone above him (like, say, Rex Ryan or Mike Westhoff). But do you really think something like people standing along a certain part of the sideline is an official order that comes down from the powers that be? Or, is it possible that it's something that happens when one person sees a team lining up for a punt and suddenly says, "Hey guys, I have a clever idea…"?
It's extremely doubtful that there even was an official order given. And if there was, no way Alosi was the guy. The NFL is a very hierarchical culture; no team would give its strength and conditioning coach the power to issue an order of any sorts during a game.
Nevertheless, the media has run with this opportunity to make a story. Can't blame the media, really. Fans have eaten it up. Which is why here we are reporting the big news that the NFL is formally looking into a tripping case.
For more NFL news, rumors and analysis, follow

@cbssportsnfl

on Twitter and subscribe to our
RSS Feed
.