Posted by Andy Benoit

The New York
Jets
might be the only team in the NFL where the scheme is more important than the players executing it. At least, this is true for the front seven. (Of course, it's only true for the front seven because the back four, and specifically cornerback
Darrelle Revis
, is so dominant. So maybe, at the end of the day, the players are still more important than the scheme. It's a chicken or egg thing.)
Anyway…about that scheme…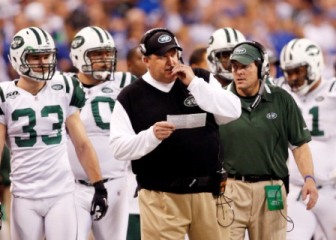 One of the greatest misconceptions in football is that Rex Ryan's Jets are strictly a blitzing defense. When the Jets bring pressure, it's not always in the form of a blitz. Often times, the Jets rush only four. But unlike a 4-3 scheme, where the four rushers are downlinemen, a 3-4 scheme allows for a linebacker to rush. The Jets have mastered the art of what scouts call a "zone exchange", which is to say, the Jets are great at disguising which linebacker will rush. This often creates the illusion of a blitz, as opposing offensive lines struggle to identify assignments and wind up scrambling from out of position.
So why is New York better than other teams in this department? For one, Ryan is fantastic at creating congestion on one side of a line of scrimmage and bringing clean pressure from the other. The Jets will overload on say, the right side of a line. They'll force an offensive line to slide its protection to the right, but once the ball is snapped, they'll drop a handful of those would-be rushers back into zone, leaving the offense with four linemen blocking two pass-rushers. Over on the left side, a defensive back or linebacker will rush through what is now an open alley.
This concept demands speed from the pass-rusher, which is why that pass-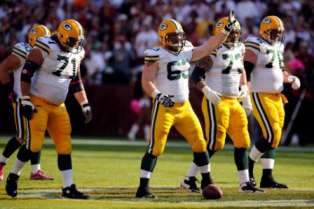 rusher is often a safety or nickelback. Fans automatically assume this is a blitz. But watch closely and you'll see, often times, the Jets are still only rushing four players. In order for this to work, you need agile, versatile linebackers (like, say, a
Jason Taylor
or a
Bryan Thomas
).
This leads us to the next topic: the results. We think of pressuring a quarterback as generating sacks. The Jets think of it as generating incompletions. The Jets recorded a modest 32 sacks in 2009. But they forced opponents into an incomplete pass a league-best 48.3 percent of the time. Their zone exchanges aim to not just reach a quarterback, but make him believe he's under siege. That way, he'll hurry his throw.
The
Packers
have had their fair share of pass protection woes, though their offensive line is far more cohesive than it was at this point a year ago. Left tackle
Chad Clifton
is playing perhaps the best football of his career. Left guard
Daryn Colledge
has been more consistent. Center
Scott Wells
is as steady as a calendar. Right guard
Josh Sitton
is one of the bright young run-blockers in the game (and he's been adequate on passing downs). Right tackle
Bryan Bulaga
has struggled early on, but unlike last year's struggling right tackle,
Allen Barbre
, Bulaga at least has first-round talent to fall back on. (That said, the Packers will probably go back to
Mark Tauscher
once the veteran is healthy.)
Despite these decent offensive line improvements, expect the Packers to spread the field with four-receiver sets against New York, with two of the receivers split outside the hash marks. Doing this will discourage the Jets from overloading in the box and being ultra aggressive with blitzing defensive backs. And, when the Jets decide to overload and bring defensive backs anyway, Rodgers, with four wide targets at his disposal, should have a quickly-defined read. This plays into Green Bay's offense, as the Packers love the quick-striking passing game.
The onus will be on the Packer receivers to make plays after the catch. Either
James Jones
or
Jordy Nelson
will have to be in the 80-90-yard range receiving. And with the Jets putting Revis on
Greg Jennings
, it's critical
Donald Driver
(quad) be effective.
For more NFL news, rumors and analysis, follow

@cbssportsnfl

on Twitter and subscribe to our
RSS Feed
.