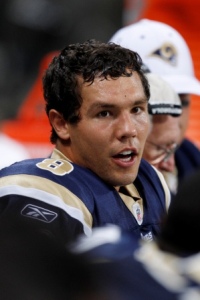 Posted by Josh Katzowitz
Don't call
Sam Bradford
the face of the
Rams
organization. Just because he's getting paid an obscene amount of guaranteed money from said organization, he doesn't look at himself as the No. 1 player St. Louis will count on in order to return to NFL respectability.
He's pretty adamant about it, actually.
"I think that's ridiculous," Bradford told the
St. Louis Post-Dispatch
. "I don't think one person is any face of the franchise. It takes 11 guys on offense, 11 guys on defense and however many guys you have playing special teams to win a football game. That's how I look at it. And I wish more people would look at it like that."
Well, not everybody was a No. 1 overall pick and not everybody signs a $78 million contract, the richest ever for a rookie. From that aspect, perhaps Bradford
should
have more of a burden to be the face of the organization.
The Rams, though, are being careful with their high-priced draft pick. They decided not to build a marketing campaign around him – a good move if coach Steve Spagnuolo decides to keep
A.J. Feeley
as the No. 1 QB for the time being – and they're trying to limit the number of interviews he must endure.
As Spagnuolo says, the club is trying not to overwhelm the rookie. For now, Bradford appreciates it.
"We want him to become acclimated to the life of being an NFL player, focus on being in training camp, focus on being a better player, a better teammate, and really have all of his attention be on the field," Kevin Demoff, the club's vice president of football operations, told the paper. "I think his name, the buzz, the recognition, it's all organic; we don't need to do anything to help it. And we don't want to take advantage of him."
For more NFL news, rumors and analysis, follow @cbssportsnfl on Twitter and subscribe to our RSS Feed .