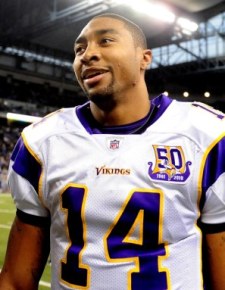 By Josh Katzowitz
Joe Webb
has made a career so far of entering games when the starting quarterback is injured -- or making a spot start himself -- and impressing people enough for them to say he's a legit NFL starting quarterback. Now, it seems as if he's impressed his coach enough for Leslie Frazier to wonder if Webb might be the team's quarterback of the future.
"Some of the things he does, man, and what it does to the rest of our team -- you can't ignore it," Frazier said, via
ESPN 1500
. "It's something we're going to take a real hard look at as we go forward. He definitely lifts our team. He's done it. He did it a season ago as well."
After rookie
Christian Ponder
was knocked out of Saturday's game with a concussion, Webb led the team on three scoring drives that helped surprise Washington and knock off the
Redskins
,
33-26
. Webb, once again, showed how he's a double threat by completing 4 of 5 passes for 84 yards and two touchdowns and rushing four times for 34 yards. Combine that with his performance vs. the
Lions
a few weeks ago when he replaced Ponder with the
Vikings
losing by 17 and nearly led the team to a comeback victory, and you can see why Frazier might be having second thoughts about his starting quarterback.
On Saturday, Webb got some help from backup
Toby Gerhart
, who looked good while rushing for 109 yards on 11 carries after
Adrian Peterson
left the game with a torn ACL. But Webb has been
showing his skill
since last year when we quoted Frazier saying, "It'd be hard for me to say that I knew that Joe would play at such a high level so consistently."
In terms of his ability to impress in short bursts, this year hasn't been any different for Webb.
"Magic. He's gifted, man," receiver
Percy Harvin
said. "He's one of the gifted players that you can't describe. You can't practice it. Not too many teams got quarterbacks that can do what he does."
It's clear that Webb's teammates, especially Harvin apparently, have great confidence in the second-year player. But it's hard to imagine that Frazier will turn the keys of his offense over to Webb anytime soon.
Remember, Ponder was the No. 12 pick last year. He signed a four-year $10.5 million contract that was fully guaranteed, so, we're not talking Peterson-type money here. But it'd still be unusual to give up on a first-round pick after a rocky rookie season. Especially with the lockout preventing Ponder an offseason and with Donovan McNabb taking the team's first six starts.
But assuming Ponder is out next week with his head injury, Webb should get the chance to start the season finale. And if he makes another spiffy performance, the rumblings about giving Webb more of a chance to take Ponder's place permanently only will increase.
For more NFL news, rumors and analysis, follow

@EyeOnNFL

on Twitter, Like Us on Facebook, subscribe to our NFL newsletter, and while you're add it, add our
RSS Feed
.