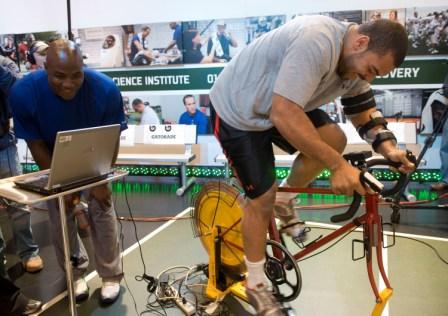 Posted by Josh Katzowitz
When nobody was looking at the end of the season,
Cowboys
linebacker
DeMarcus Ware
seemed to emerge from nowhere to finish 15 ½ sacks, the most in the NFL. It's the fifth-straight season in which he's recorded at least 11 sacks, and though you might not think of him in these terms, he's one of the best defenders in the NFL.
This week, he's been in Dallas to work with Ohio State's Cameron Heyward in the Gatorade Sports Science Institute where, as Ware puts it, he's helping teach Heyward "about nutrition, how to play at a peak performance and learn your body better and learn about yourself."
We caught up with Ware today for a Super Bowl week edition of Five Questions (or more):
CBSSports:
Tell me about the entire spectrum of the year for you. Wade (Phillips) getting fired and Jason Garrett taking over and the team being disappointed with the season but you having high individual performances. It was a crazy year, huh?
DeMarcus Ware:
It was a rollercoaster year. First, you have the Super Bowl coming to your stadium, and you have the high hopes of playing in it. Then, your season starts off 1-7, and then all of a sudden, you have a coaching change where Jason Garrett comes in and sort of sparks us and gives us a little bit of motivation to play a lot better. Our season turned around a little bit, and you hoped it could have turned around a lot earlier.
But no matter what, it's a job. You have to have your individual goals, and with me, it's rushing the passer and making big plays. You have to do that regardless of how the season is going. I think I did that this season. There's a lot of things I need to do better, but as a whole, I think I did my role.
CBS:
I've been around a lot of teams that have the "dead coach walking" thing going, and I know what the clubhouse or locker room is like in that situation. Was that tough to experience, and when Jason was hired, it seemed like he sparked you a little bit. How much of a change …?
Ware:
I think it wasn't really a spark. But sometimes guys do well with change. The team did really well with change with a new coach and a new philosophy on how he does things. Also, putting the pads on (us at a mid-season practice) changed us too …

CBS:
Yeah, what was the reaction to that?
Ware:
I didn't like it.
CBS:
I bet.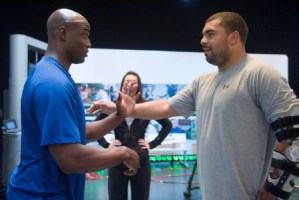 Ware:
I don't like to wear pads at practice during the season. For the older guys, either you know how to do it or you don't, regardless of whether you have pads on or not. You should know how to practice. But that changed for us. It really helped out the younger guys. Sometimes they have to put the pads on and go through the fundamentals and be taught those things.

CBS:
There are a lot of pass-rushers around the NFL, like
Clay Matthews
and
Jared Allen
, who get a lot of pub. But you were the sack leader. From a national perspective, it doesn't seem like you don't get the same kind of attention they do.
Ware:
I don't.

CBS:
Why is that?
Ware:
The thing is I've never thought about that. From when I had 20 sacks (in 2008), I didn't get any pub. From getting 16 or 17 sacks a year, I didn't get any pub. I think it's the person that I am. Sometimes it's the team you play on, but even when we were 13-3, I still didn't get any pub.

CBS:
But you play for the Cowboys.
Ware:
Yeah, but I don't know. People have favorites, and maybe I'm not a favorite. To the fans, I am. To certain guys, I'm not.

Photos courtesy of Gatorade
For more NFL news, rumors and analysis, follow @cbssportsnfl on Twitter and subscribe to our RSS Feed .