Posted by Will Brinson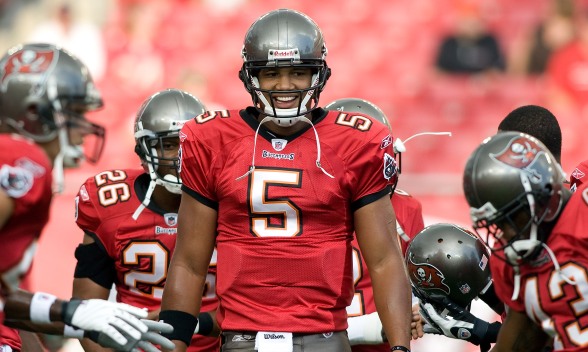 Eye on Football's playing doctor for every NFL team with our Offseason Check-ups. Also, check out our team-by-team podcast:




If you know anyone predicted that the
Buccaneers
would challenge for a divisional title and/or the playoffs, you should stop reading this immediately, buy that person a plane ticket to Las Vegas and go get your Biff Tannen on.
And even though Raheem Morris' Tampa Bay squad shocked the world, people still aren't ready to believe. That's okay, and probably a little fair until the success becomes consistent, and perhaps more, um, explicable. But sometimes wins aren't borne out by stats and
Josh Freeman
, an absolute star of a quarterback in the making, is a good sample of that. Freeman led the Bucs on several incredibly impressive fourth-quarter comebacks in 2010, and there's little question that he's the face of the franchise going forward.
All optimism aside, though, there's still plenty the Bucs need to address before going head-to-head against the
Falcons
and
Saints
seems like a fair fight.
Defensive line, secondary
Tampa Bay burned its first two 2010 picks on defensive tackles --
Gerald McCoy
and
Brian Price
-- and it wouldn't be all that surprising to see the Bucs use some early selections on the defensive line again this year. Defensive end is a big need, and there's plenty of depth at the position heading into April's draft.
The secondary could be an issue for the Bucs, but it's really up in the air at the moment. That's because would-be-star cornerback
Aqib Talib
is dealing with "violence issues" that have manifested in the form of a "felony arrest warrant," and
Tanard Jackson
, suspended for substance abuse issues in 2010, is a total wild card.
Ronde Barber
's fine when it comes to behavior, but there's little chance he'll play after 2011.
1. Defensive end
After spending two early picks on the interior defensive line in 2010, it actually makes a ton of sense to also address the ends in 2011. And this is the perfect draft to do so with a pile of DE talent that should fall to the back end of the first round. Perhaps guys like Purdue's Ryan Kerrigan and Iowa's Adrian Clayborn would entice the Bucs.
2. Cornerback
It wouldn't seem all that prudent to suggest that the Bucs look for a "problem child" type of corner to beef up their secondary, but if someone like Jimmy Smith falls to them, they'd have to at least consider the move. (And, really, it's not fair to make any comparison with Smith's reported attitude problems and the legal issues for the current Bucs' secondary.) Alternately, don't be shocked to see them beef up the position's depth via later rounds.
3. Running Back
LeGarrette Blount
had an absolutely fantastic season for Tampa (and he's blatantly going to be the guy who gets drafted too early in 2011 fantasy drafts) but there are still questions as to whether it was Tampa's scheme or Blount's skills that propelled his year. Even if it was the latter, the Bucs should look to build backfield depth in a year that's prime for doing so in the draft.
Its relatively easy to be bullish on the Bucs heading into 2011, but it's also important to remember that there is room for improvement and growth in Tampa, and with such room can come some growing pains. Of course, it's not terrible news that the draft sets up nicely in terms of depth versus need for this roster.
A repeat of 10 wins in 2011 might be a bit of a stretch, especially if Atlanta and New Orleans improve in the offseason. But discounting Morris' ability to motivate this team would be a foolish move, and there's good reason to expect continued improvement.

For more NFL news, rumors and analysis, follow

@cbssportsnfl

on Twitter and subscribe to our
RSS Feed