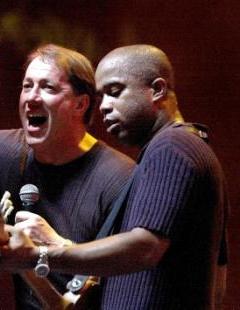 Well, it seems like Buffalo QB
Trent Edwards
– who will compete with
Ryan Fitzpatrick
and
Brian Brohm
for the starting position when training camp opens – has impressed at least one casual observer. The same casual observer who said eight months ago that perhaps the
Bills
should move on without Edwards on the roster.
The casual observer is former Bills star QB Jim Kelly, who told the
Buffalo News
Friday night that he hopes Edwards wins the starting job.
"I know Trent, I've known him for a couple of years and I think everyone hopes that one guy will step up," Kelly told the News' Rodney McKissic.
Last November, of course, Kelly told USA Today a different story in regards to Edwards.
"I like Trent personally," Kelly told USA Today. "He works hard. But he's had three years. It's time to find somebody who is the future of the Buffalo Bills. If I'm the owner, that's what I'm thinking."
It sounds like Kelly - who's rocking out with Hootie and the Blowfish's Darius Rucker in the picture to the right (I use the term "rocking out" rather loosely in this case) - himself is confused by just what in the heck what he's thinking. But Edwards, I'm sure, will take it.
For the record, I agree with the Jim Kelly of 2010. Unlike the Jim Kelly from 2009, I also think Edwards should be the starter in Buffalo this season.
--Josh Katzowitz
For more NFL news, rumors and analysis, follow @cbssportsnfl on Twitter.