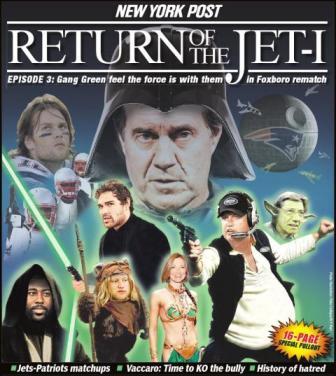 Posted by Josh Katzowitz
You don't have to be a Star Wars nerd to think this
NY Post
sports cover (see a
bigger version here)
is fantastic. Rex Ryan as Han Solo, Joe Namath as Yoda,
Nick Mangold
as
a Wookie
an Ewok,
Mark Sanchez
as Luke Skywalker, and (of course) Bill Belichick as Darth Vadar.
Not much else to add here, but what an awesome, awesome cover. And this was the first shot across the bow in what has turned out to be a
Boston vs. New York newspaper war.
Even the headline (Return of Jet-I), which should seem oh-so-obvious comes across as very clever. As Yoda would say, How cool this is?
For more NFL news, rumors and analysis, follow @cbssportsnfl on Twitter and subscribe to our RSS Feed .