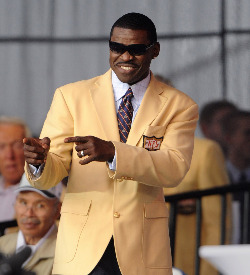 Posted by Will Brinson
You ever see that picture of Phil Mickelson driving
through Krispy Kreme with his Masters jacket on
? If not, you should check it out, because, like most quirky things that athletes do with championship trophies and apparel, it's pretty humorous.
However, if someone offers to show you a video of Michael Irvin flaunting his NFL Hall of Fame jacket, DO NOT CLICK PLAY. Why? Well, here's why:
"I remember when I was inducted into the Hall of Fame and they gave me my Hall of Fame yellow blazer,"
Irvin told the Chicago Tribune
. "I wore it for two straight days. Finally my wife was in bed and said she wanted to make love but that I had to take the coat off. I refused and kept the blazer on because I wanted to perform like a Hall of Famer on the field and off."
So, um, that's ridiculously disgusting. Not the act of love-making or even the wearing weird clothes while love-making thing ... just that, well, let's say hypothetically you end up in a situation on Hall of Fame weekend where you might have to be hugging Michael Irvin, well, how much do you trust his dry cleaner?
And believe me, these hugs happen. Don't they,
Hines Ward
, Rich Eisen and Michael Irvin's MOTHER?!? (Notice he's cheesing out with a grin on every picture but the last one, no?)