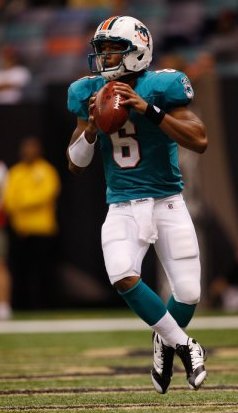 Posted by Josh Katzowitz
I saw Pat White play live three times when he was at West Virginia. He never failed to impress. Yes, he wasn't the greatest thrower, but his athleticism and his field vision and his ability to do exactly the damn thing that he needed to do to lead the Mountaineers to victory were impressive.
He, simply put, is one of the best collegiate players I've seen.
But when Miami took him in the second round of last year's draft, I thought it was just a tad high. Like two rounds too high. While I figured he wouldn't be a star at quarterback, I thought he could remain in the NFL for a while if he could find a niche. Maybe be the next
Antwaan Randle El
(also selected in the second round) or Ronald Curry –athletic college QBs who caught on as NFL receivers.
Instead, it looks like White might be done after one lone season.
Pro Football Talk
writes tonight that, after the
Dolphins
released him last week, nobody in the NFL has shown any interest in hiring him.
The problem, though White will go down as the greatest player in Big East history (and the guy who probably saved the BCS bid for the conference), is that he's not big enough (6 feet, 190 pounds) and can't take an NFL pounding (witness this video of
last year's
Steelers
game ).
Tonight, I asked, via a series of text messages, a former NFL player who followed White's career at West Virginia what he thought about White's NFL future.

Me: You surprised nobody seems interested in Pat White? Does his skill set just not work well in the NFL?

Him: Not really. I think he could help a team, but he would have to be willing to play another position while developing as a QB. Plus people are wondering why the Dolphins gave up on him after one year. But I think if he sticks with it, he can make it. Ala Jeff Garcia.

Me: How could you play another position and still develop as a QB? Doesn't seem like there is enough time in the day.

Him: If he's listed as a WR. He can still run scout team QB and do things like that. Would take doing extra.
But does White even want to play in the NFL? According to numerous reports, he had second thoughts about whether he even should return for his sophomore season. Thoughts of playing pro baseball again reportedly crept into his mind.
Maybe, just maybe, getting cut was the best thing that could have happened to White. Maybe the NFL isn't interested in Pat White, but maybe Pat White isn't interested in the NFL either.
For more NFL news, rumors and analysis, follow @cbssportsnfl on Twitter and subscribe to our RSS Feed .