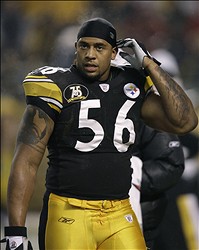 Posted by Josh Katzowitz
UPDATED (9:24 p.m.):
According to
ESPN's
Adam Schefter,
Jets
LB
David Harris
also has signed his franchise tag tender. Like Woodley, he will make about $10.2 million for next season.
----------
Steelers
LB
LaMarr Woodley
made $550,000 last season, but after
Pittsburgh franchise-tagged him
, he was due to make more than $10 million. That's a pretty hefty raise for one of the team's best defenders, and that's probably why he became
the first player this offseason to sign his tender.
All along, Woodley seemed fine with the position he was placed in by the Steelers, and his quick signing of the tender seems to prove that theory.* Also, because Pittsburgh reportedly plans to sign him at some point to a long-term deal.

* Also, Panthers C Ryan Kalil apparently will sign his franchise tag tender as well.
Now, what does this mean for the NFLPA – which is on the record as heavily opposing the franchise tag (they've tried to point out that with the expiration of the CBA next month, owners are not allowed to tag players)?
Well, nothing really.
They're not breaking rank with the NFLPA (and remember, the players aren't striking, so there's no picket line to cross or anything. If the owners lock out the players, they couldn't play the game, even if they wanted). Rather, they're just insuring that they'll have a great payday if the franchise tag survives into the new CBA. And if not, the signing doesn't really mean anything at all.
In other words, no harm could come from signing the tender.
For more NFL news, rumors and analysis, follow @cbssportsnfl on Twitter and subscribe to our RSS Feed .