Posted by Andy Benoit
Want more Week 14 review? Hit up our podcast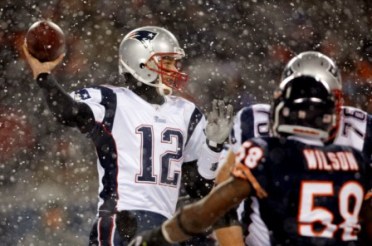 1.) Goodness!

For the second week in a row, the New England
Patriots
took center stage on the NFL's headline game of the week and gave viewers an entire second half of garbage time. The garbage time is almost worth it, though, because watching the Patriots obliterate opponents in the first half has become like watching Picasso paint, Sinatra sing or Rosie O'Donnell eat. New England's latest masterpiece took place at Soldier Field, where the Patriots were the only people who refused to be bothered by a little frozen rain. (You could almost hear the
Bears
saying down on the sidelines, "Hey what the hell? I thought we agreed beforehand that the weather was going to have a significant impact on this game!)
Tom Brady
, the unquestioned MVP of 2010, has 19 touchdowns and 0 interceptions over his last eight games. Thanks in part to the frost-bitten fingers of the Bears linebackers, Brady has thrown 268 passes without an interception (18 behind Bernie Kosar's all-time record). The last time Brady was this brilliant (2007), opponents at least knew where he wanted to go with the football (
Randy Moss
over the top;
Wes Welker
underneath). There's no figuring out THIS version of Brady. A great illustration of this would be
Deion Branch
's improbable 59-yard touchdown on the final play of the first half. Yes, that play was aided by the Bears' coverage mistake, but Brady lulled the Bears into that mistake.
None of New England's receivers or running backs would be surefire starters on a typical NFL team (not even slot master Wes Welker). But Brady has made viable weapons out of all of them. You already knew that, though. We all know that the Patriots are versatile and balanced. What we didn't know is that a "versatile and balanced" formula can yield five straight games of 30 points-plus.
Even more surprising is that the Patriot defense has been nearly as dominant as the offense recently. The Pats have allowed just 10 points over their last two games. This season, the lineup has consisted of
Vince Wilfork
at nose tackle,
Jerod Mayo
at inside linebacker,
Devin McCourty
at cornerback and a mixture of players rotating at the other eight positions. The "fluidity" of the lineup made for ugly inconsistency at times early this season. But now Bill Belichick has broken-in his rookies and found niches for all his ancillary players. The Patriots rank near the bottom against the pass and on third down, but they also lead the AFC with 20 interceptions. Consider this proof that the best way to hide your weaknesses defensively is to play with a lead (something this club knows how to do).


2.) One game where the snow was too much

By now you've probably seen the footage of the snow crashing through the torn roof of the Metrodome. What's the rule of political correctness with this one? Do we have to leave it at "Scary sight, lucky no one was hurt"? Or are we allowed to mention how cool it was? (Absolutely positively no pun intended.)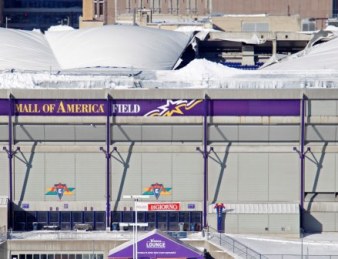 The Vikings may not be thrilled about the snow damage…right now. It turned their Week 13 home game into a glorified road contest. But in the big picture, you have to figure that a collapsed roof can't hurt Zygi Wilf's leverage for getting a new stadium.

When the history books are written, the Giants-Vikings game will probably be remembered for something other than the "awesome but only because nobody was hurt" Metrodome roof collapse: it's entirely possible, maybe even likely, that Brett Favre's consecutive starts streak is coming to an end. We include it in this piece – which is normally a review of Sunday's action – because, predictably, during the hours of 7:00 am to 1:00 pm Sunday we got new Favre quotes and updates every three to four minutes. Even with no game being played, or perhaps because of no game being played, Favre was a dominant story Sunday. The last update was that Favre's shoulder is a multi-week injury, and an extra 30 hours wouldn't make that much of a difference in his recovery. Thus, it's likely Favre sits. (Of course, Leslie Frazier refutes this, so perhaps yet another extensive Favre piece could be for naught.)

Obsessive compulsive Favre fans will find themselves dry-heaving if the legendary streak stops not on the nice round 300, but rather, on 297, which is not prime number but on first glance, sure looks like one. (If you're counting playoffs, Favre's streak is at 321.)
Whether you love Favre or love to ride around on your high horse and tell everyone how you can no longer stand the guy (even though you still watch all his games, perk up during the SportsCenter and Pardon the Interruption segments about him, listen to his press conferences and click on every Jenn Sterger story you Googler, errr, "happen to come across"), there's no denying that the end of the streak is a big deal.

But you know what? It won't be that big a deal for long. Peyton Manning, who at 34 years old has started all 205 regular season games of his career, needs to play six more years to pass Favre's mark. No guarantees, certainly, but Manning will probably do that. If he does surpass Favre, the moment will feel like an enormous let down. Favre has battled bumps, bruises and full-on injuries his entire career. And, to everyone's pleasure and chagrin, he's always been very public about them (the Ed Werder reports throughout this past week confirm that). Manning, aside from a broken jaw in 2001 that most people don't remember and a bursa sac issue late in the '08 preseason, has never been hurt. That makes his streak far less sexy, even if its smoothness is yet another testament to his brilliance.


3.) Jags

The Jaguars-Raiders provided the best 60 minutes of action we got Sunday. The story of the game was once again the effectiveness of Maurice Jones-Drew and the Jaguars rushing attack. MJD had 101 yards on 23 carries (his sixth consecutive triple-digit-yard rushing performance); backup Rashard Jennings – who, if you haven't seen him, is essentially the AFC's version of Ryan Torain – came in and capitalized whenever the Raiders showed signs of fatigue. One instance of this was Jennings's 74-yard touchdown run that was part of Jacksonville's 21-point third quarter.

Two of Jacksonville's touchdowns were set up by big plays on special teams: Montell Owens' recovery of Jacoby Ford's kick return fumble in the third quarter and rookie Deji Karim's 65-yard return late in the fourth. Jacksonville needed to make plays on the third side of the ball Sunday because, aside from a few effective play-action passes and drag routes to blossoming tight end Marcedes Lewis, David Garrard and the passing game had no answer for Oakland's vastly underrated defensive line.

At the end, however, the Raiders looked like the 6-7 team they are when Jason Campbell was forced to make plays in obvious throwing situations. It's too bad Campbell, who was asked to hand the ball off and get out of the way at San Diego a week ago, struggled down the stretch. He had been fantastic early on, completing 11 of his first 14 passes for 212 yards and two touchdowns. He evaded the rush and consistently hit his second and third reads. But when the Raiders were compelled to be one-dimensional, Campbell began staring at the pass-rush and gyrating unnecessarily in the pocket. He took an awful sack on the second to last play of the game and then somehow topped that mistake by throwing in the middle of the field to Jacoby Ford, which caused the game clock to expire.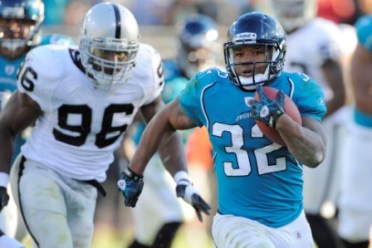 At the end of the day, the better team won this game. With this victory, the Jaguars ensure that they won't reproduce last season's disappointing collapse (0-4 finish after 7-5 start) and they put themselves in position to clinch the AFC South with a win over Indy next week.

But don't get too giddy, Jags fans. Your team's defense has a glaring weak spot that Peyton Manning will ruthlessly attack. That weakness is named Sean Considine. The backup safety who already lacks speed in the worst of ways put on a tackling-missing clinic Sunday. If regular starting safety Courtney Green does not return from a separated shoulder suffered against Tennessee, the Jags are in trouble.


4.) Following up on the run

Last week we talked about how, lately, teams have been winning games by dominating on the ground. Nine teams in Week 12 and five teams in Week 13 outrushed their opponents by 150 or so yards. It's an interesting trend, and we promised we'd check in on the running game again this week. So how'd it look?

After San Diego got underrated inside linebacker Stephen Cooper back and predictably stifled the Brodie Croyle-led Chiefs offense. The Chiefs were held to just 48 yards rushing. The Chargers, meanwhile, racked up 207.

Kansas City still has the No. 1 rushing offense in football, though the Jaguars are less than eight yards per game behind them now. Jacksonville gashed Oakland for 234 yards (the Raiders, spurred by Darren McFadden's ability to accelerate, rushed for 153 yards).
The Panthers totaled 212 yards against the Falcons, but of course, only the Panthers would know how to convert 212 yards rushing into a 21-point loss. The Cardinals got 211 yards, 79 more than the Broncos.

Overall, teams are continuing to win on the ground. Again, this isn't to say that a rushing attack is more important than a passing attack. But the data does seem to say that a rushing attack is more important this year than last year. Of the top 10 rushing offenses in 2009, five made the playoffs. Of the top 10 rushing offenses this season, seven are playoff bound (the three that aren't are Oakland, Minnesota and Houston).


5.) Changes needed in Cincy

Another week, another loss for the Bengals. This time it was on the road to a Pittsburgh team that Cincy played close on a Monday night back in November and beat twice in 2009. Terrell Owens once again expressed his frustration in the postgame press conference. The 36-year-old has actually been one of the few bright spots on the Bengals this season, but there are questions about whether he'll be back once his contract expires after the season. Ditto head coach Marvin Lewis.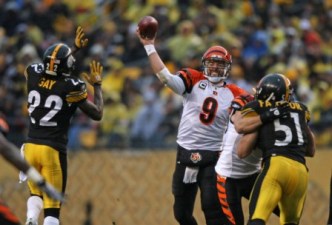 But the man whose future in Cincy needs to seriously be questioned is Carson Palmer. He is not the same player he was prior to his '08 elbow injury, and he's certainly not the same player he was prior to his '05 knee injury. Palmer threw two more pick-six's Sunday – one to his close USC friend, Troy Polamalu, and another to LaMarr Woodley. Like Palmer's three previous pick-six's this year, these were gimme interceptions resulting from a blatant misread.

Palmer insists that he's healthy; perhaps he is. But his bizarre accuracy issues and decisions from the pocket suggest something is awry. More troublesome is that the Bengals have become a team that expects – and is expected – to lose each week. That's partly the product of ownership's willingness – nay, eagerness – to bring in every underachiever and character-flag guy under the sun. But it's also a product of poor leadership. As the immensely-compensated franchise quarterback, Palmer shoulders a chunk of the leadership burden.

Insiders around the league complain that Palmer is too nice – that he's too willing to turn the other cheek and endure an earful of criticism from teammates (i.e. Chad Ochocinco). The dynamic of the quarterback-receiver relationship in Cincy has become the most defining aspect of this team's identity. And now we're talking about the identity of a team that's lost 10 straight.

The problem is Palmer is under contract until 2015, and it's doubtful that owner Mike Brown, who has a reputation for caring more about dollars than victories, will be willing to take the bath he'd need to take in order to make a change under center.


6.) The Jets are "struggle-ling"

From one struggling USC quarterback to another, what's up with Mark Sanchez? He was awful against Miami – and that's putting it kindly. Sanchez completed 17 of his 44 passes Sunday, threw an interception (along with a handful of "near interceptions") and fumbled four times (losing just one). His two early turnovers led to Miami's only 10 points. Ten points wound up being three more than what was needed to beat a Jets team that has now gone nine straight quarters without an offensive touchdown.

Time to panic in New York? Yes and no.

We'll start with the "no" first. The Jets, at 9-4, are two games up in the AFC Wild Card race with three to play. They hit a slump last season, still got in at 9-7 and went on to the AFC Title Game.

But the "yes" part is that the '09 slump came earlier in the year, and from Week 1 through Week 17, the '09 Jets were one of the league's best rushing teams. The '10 Jets seem to be hitting a wall on the ground. LaDainian Tomlinson looks more like what we thought he'd look like all along: a savvy third-down back but not a 20-carry-a-game star. Shonn Greene has been little more than a flaky flirt this season. After 17 yards on eight carries agains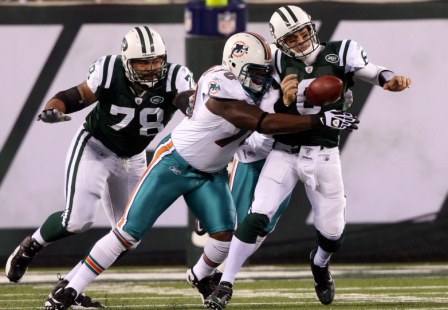 t the Dolphins, Greene has averaged fewer than four yards per rushing attempt in four of his last five outings (granted, this could be in small part because the Jets prefer to use his bruising body in short-yardage situations).

It's not just the offense. Coming into Sunday, there were concerns about New York's pass defense. As the NFL Matchup Show pointed out, teams are max-protecting against Rex Ryan's complex blitzes more this season and finding ways to exploit the safeties and linebackers in coverage. However, it's hard to gripe about the pass defense this week, considering the Jets held Chad Henne to 5/18 for 55 yards (those are his final stats – not first, second, third or fourth quarter stats).

But defensive dominance is only valuable if you have an offense that can at least control tempo. The Jets controlled tempo last season by running the ball some 60 percent of the time. This season, they're running less than 48 percent of the time. In other words, they've hitched their wagon to their second-year Trojan horse, and now that Trojan horse is showing iffy footwork, jittery pocket presence and questionable decision-making skills under pressure. Sanchez is capable of bouncing back, but it looks like it will take more than a well-publicized lunch meeting with the head coach to make that happen.


7.) P.S. from Jets-Fins game

The late window of games was surprisingly futile Sunday. The Bears got devoured by the Patriots. The Seahawks went to San Francisco and pulled another one of their maddening inept masterpieces out of their…ears. The Rams looked like an upstart but overmatched club facing the defending World Champions on the road. The Chiefs gave the type of performance that had to make Matt Cassel, who was watching at home, sick to his stomach all over again. And, out of principle, I boycotted the Broncos-Cardinals game (the poor Sunday Ticket-less folks in my hometown of Boise, ID got stuck with this as their CBS afternoon game). So I have no idea what happened there, though I heard the Cards won by a lot.

The only late-window contest that was close was the Jets-Dolphins. And, let's be honest, that game was only close because neither team knew how to play offense in a driving rainstorm.

But we can't be sour about an entire late afternoon of football. So, in an effort to give a toast with a glass that's half full (half full for these next few paragraphs, anyway…can't be half full too long because we still have an NFC West story on the way), I present to you Dolphins outside linebacker Cameron Wake. The former CFL superstar entered Sunday's game with an NFL-best 12 sacks. He secured a Dolphins victory by increasing that total to 14 on the final two plays of the game.

Everyone has been touting Clay Matthews as the 2010 Defensive Player of the Year. But until Sunday at Detroit, the Packers outside linebacker had been somewhat quiet the past month-and-a-half (quiet for DPOY standards, that is). Wake has been a beast week in and week out. As quick as he is off the edge, the 250-pounder takes on blocks remarkably well. This vast array of skills has made him one of the premiere run-defending outside linebackers in the game (did you see the fourth down stop he had on Shonn Greene in the second half?).

Consider this bit here an effort to get Wake's name where it belongs: in the forefront of the DPOY discussion.


8.) The NFC West: You're kidding, right?

It looks like the NFC really is going to have a sub-.500 team in the postseason this season. The Rams and Seahawks both got dismantled Sunday, falling to 6-7. St. Louis is a young team; Seattle is just downright irritating. When they lose, they sure like to get their money's worth.

Both the Rams and Seahawks will be underdogs in Week 15. The two square off for what could be a "win and you're in" game in Week 17. (The league wouldn't dare make that the Sunday night game, would it?)

We could debate all day about the merits of a 7-9 playoff team. There are two sides to the debate: the side that says "division title or not, you can't let a sub-.500 team in and screw over a likely 10-6 team" and the side that says "a division title is a division title, let 'em in – even if it means screwing over a likely 10-6 team." The problem here is that, both sides can agree, a 10-6 team, or ever a worthy 9-7 team, is going to get screwed over.

The NFL needs to use common sense and change the playoff regulations after this season (the suggestion here is only guarantee a playoff spot to ABOVE .500 teams AND re-seed all playoff teams by record). If the league can't find the motivation to fix this soon-to-be embarrassing mess on its own, maybe FOX can provide encouragement. The playoff games represent a significant chunk of the NFL television package's value. It's not fair that FOX, which forks over the GDP of a small country for the right to broadcast NFC games, gets stuck with a pathetic Wild Card matchup simply because the NFL refuses to amend its outdated playoff system.


9.) The Real McCoy

How is it that LeSean McCoy plays for one of the most prominent franchises in professional sports, records over 120 yards in offense four straight games yet does not come up in most discussions involving the top echelon of running backs in the NFC? McCoy was quiet throughout most of the first two-and-a-half quarters against Dallas Sunday night. Then, midway through the third, he burst up the middle for a 56-yard run (left guard Todd Herremans was spectacular all night, and particularly in getting to the second level on this play). In the fourth quarter, McCoy had runs of 13, 6, 12, 19, 13 and 6 yards. He finished with 16 carries for 149 yards, leaving him with 972 yards rushing on the season.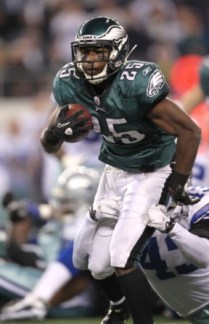 Because he has become arguably the best screen pass weapon in the game, McCoy leads the Eagles with 67 receptions on the season (534 yards). Prior to DeSean Jackson's 210-yard outburst – highlighted by an NFL-long 91-yard touchdown catch that was nearly as stunning as his fall-into-the-end-zone celebration was clever – Philly's leading receiver in terms of yardage was Jeremy Maclin. In short, the Eagles are rolling behind Michael Vick and three bona fide stars with a combined four years of experience coming into this season. The key is that all four players have lethal speed, which forces defenses to play more zone. Safe but simple zone looks has given these young Eagles easier reads to make.

Speaking of Vick, if Andy Reid was displeased about the amount of hits he was enduring prior to this game, he must now be downright irate. That's one thing the Eagles must be concerned about moving forward.


10.) Quick Hits

***Donovan McNabb once again looked pretty good running that super complex two-minute offense in Washington. When the Redskins botched the extra point snap (actually, the Redskins didn't botch the extra point snap – only long snapper Nick Sundberg and holder Hunter Smith did), it marked the second time this season that McNabb's successful two-minute drive at the end of regulation was ruined by the field goal unit. (The other was against the Titans in Week 11.)
***The game in Buffalo managed to be as poor as the weather. Would you believe it was two Jake Delhomme turnovers in the fourth quarter that helped seal the loss for the Browns?
***Two defensive ends who stood out in the Jaguars-Raiders game: Jeremy Mincey for Jacksonville and Lamarr Houston for Oakland. Both can pressure the passer but also play the run.
***Raise your hand if you had Andre Whitworth, Troy Polamalu and LaMarr Woodley in the touchdown pool for the Bengals-Steelers game.
***Did you see the way Dick LeBeau censured Polamalu after the safety inexplicably tried to pitch the ball back on his second interception? How many assistant coaches would grab a superstar by the pads like that and read him the riot act? And how many superstars would go up to that coach afterwards for an apology hug? It's a special culture in Pittsburgh.
***I realize the Lions' surprising win over the Packers probably deserves more than an afterthought mention in the quick hits like this, but really, what is there to say? I watched a majority of this game and I can tell you, in all honesty, nothing happened. Well, there was the Aaron Rodgers injury, of course. But we'll be talking about that all week anyway. As far as everything else goes, this was a game in which neither team converted a third down until midway through the third quarter. The Packers lost because of unfortunate first half turnovers
***The Bucs front seven looked disinterested in run defense in the first quarter. Unable to shed blocks, the Bucs surrendered 121 yards to Ryan Torain (the most rushing yards in an NFL first quarter since Tiki Barber against the Raiders in 2005). Torain had just 51 yards the rest of the game, though.
***Somehow, the Redskins actually got more out of Albert Haynesworth this Sunday than they got in any other game since Halloween.
***The Saints got Pierre Thomas back after his nine-week absence with a left ankle injury. (Thomas had 39 yards on 12 carries against the Rams.) This team is rolling. Reggie Bush is once again healthy and in top form. Gregg Williams' defense has been extra effective with safety blitzes in recent weeks. On Sunday, bourgeoning free safety Malcom Jenkins intercepted Sam Bradford (who, for a lot of this game, was rattled by New Orleans' pass-rush) and returned it 96 yards for a game-swinging interception touchdown late in the first half. How is it that no one is really buzzing about the 10-3 defending World Champions?
***Good idea to paint the lines red on Chicago's snowy field.
***The Chargers rediscovered their rushing attack Sunday (big time). Mike Tolbert had 66 yards on 16 carries. That was one more yard than rookie Ryan Mathews had on the same number of attempts. Darren Sproles, who came into the game with only 36 rushing attempts, produced 53 yards on six carries.
***Sean Smith is a somewhat limited cornerback in terms of fluidity and physicality, but he was tremendous Sunday. Smith was credited with four pass breakups, though it felt more like 12.


For more NFL news, rumors and analysis, follow @cbssportsnfl on Twitter and subscribe to our RSS Feed .