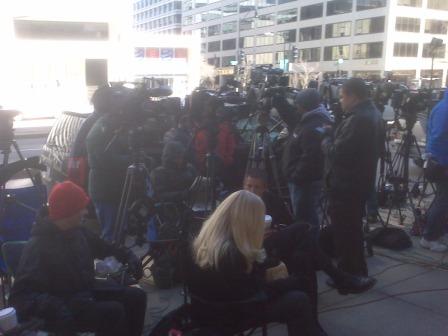 Photo by Clark Judge, CBSSports.com
Posted by Josh Katzowitz
The biggest news to come out of this morning's NFL-NFLPA mediation session is that, as of 1:30 p.m. ET, the two sides are still inside the building, presumably negotiating, and they're talking about extending the CBA.
Word has begun to filter out that the two sides are talking about an extension that would allow the owners and the union to continue to negotiate (according to
Sports Illustrated's
Jim Trotter, the owners were the ones to request it, and the union would have to sign off on the deal). Naturally, that means the union's plan to decertify and the owners' plan to lock out the players could be on hold. If the union doesn't get the assurances it wants, though, it still could file those decertification papers by 4 p.m. ET.
But the fact that both sides didn't immediately, "Screw it, we're outta here," is (relatively) decent news.
Meanwhile, a huge glut of reporters, including CBSSports.com's own Clark Judge, is twiddling their thumbs on the streets of Washington and waiting for some kind of news that's actually confirmed (the news in the above paragraph doesn't necessarily qualify).
Some have been huddling at the Starbucks up the block, and others have moved across the street in an attempt to stay warm, because the sun, blocked by the big buildings, is beginning to disappear on the sidewalk.
Hopefully, they'll have to wait the rest of the day. Not because I don't feel pity for the reporters – lord knows I've waited longer for stories on topics that were much less important than this – but because that means the sides are continuing to talk.
For more NFL news, rumors and analysis, follow @cbssportsnfl on Twitter and subscribe to our RSS Feed .