Posted by Andy Benoit

Episode 3 of Hard Knocks embodied everything we love about the HBO/NFL Films hit drama. First off, the box score: 24 S-bombs (including a few with the word "bull" before it, which is always funny) and 26 F-bombs. The first F-bomb came from special teams coach Paul Westhoff six minutes in. Best of all, that particular F-bomb was part of a package of vitriolic sarcasm. (When interior linemen were slow off the snap in rushing the punter, Westhoff told them "Take your time – f*** around a little bit more.").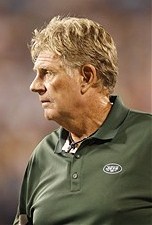 Westhoff wound up being the star of the show – and not just because he finished first in the final F-bomb count. He was brutally honest about wide receiver/special teams gunner
David Clowney
, essentially saying the fourth-year pro can be a star but that he hasn't shown anything yet. Of backup punter Timothy Conley, an undrafted second-year player from Idaho who is just trying to make the NFL, Westhoff said, "This time last year, I would have traded him for a night off." Coaches were impressed with Conley's improvement this season, but before the episode ended, the young punter joined the list of guys who are now famous for having been cut on Hard Knocks.
A few more highlights from Wednesday night's show…
---Kris Jenkins gave a speech in the locker room prior to the
Panthers
game in which he pointed out that the Panthers were his former team and told the second unit players "Don't embarrass us". Is that motivating?
---It's surprising how willing the coaches are to differentiate between the first-string and second-string players. Defensive coordinator Mike Pettine didn't make the first unit watch film of the second half of the
Giants
game because he didn't want what they saw to "rub off". Pettine ripped the second unit throughout the first 10 minutes of the show; Rex Ryan joined in and also ripped the third unit late in the show.
---After a quiet Episode 2, we finally got more Revis jokes. Rex Ryan had his assistant negotiate a fee paid to a magician who was brought in to entertain the players. The magician wanted $3,500. Ryan told his assistant to negotiate down to $2,500. When the assistant reported back that the magician had agreed to $2,500, Ryan and Mike Tannenbaum told her to call Revis.
---We hear that rookie hazing in the NFL is all in good fun. But what was that powder that the veterans were dumping in the face of
Brian Jackson
?
---Ropati Pitoitua ruptured his Achilles, giving us a fantastic glimpse of the emotional roller coaster that injuries lead to. When Ryan found out about the injury, he dejectedly informed the other coaches and snapped at players. Minutes later, he was jubilant again after
Chauncey Washington
lit it up on special teams.
---Finally, the treadmill scene: nothing shocking happened, but it was odd to see, from left to right, Mike Tannenbaum,
Braylon Edwards
, Rex Ryan and Woody Johnson working out on a treadmill. All four were walking. This makes sense with Tannenbaum, Ryan and Johnson…but Braylon Edwards?
For more NFL news, rumors and analysis, follow

@cbssportsnfl

on Twitter and subscribe to our
RSS Feed
.