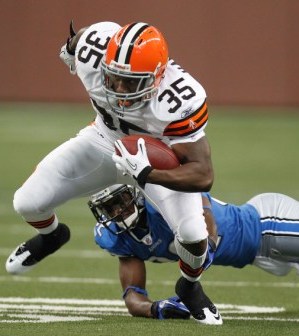 Posted by Josh Katzowitz
Perfectly encapsulated in the
Cleveland Plain Dealer's
Tony Grossi's lede in his story this evening is what
Will was saying earlier
today.
Writes Grossi: "Sometimes it seems like the
Browns
lose
Jerome Harrison
's number."
Writes Will Brinson: … "He's (apparently) done something evil to Eric Mangini's family, because there's no other way to explain how a guy who put up a season's worth of rushing yards in the last three games of 2009 is still splitting carries with fumble-machine
Peyton Hillis
and only getting carries when the team is backed into its own end zone."
It's actually hard to believe Harrison didn't play more last Sunday. So, let's try to figure this out logically. Why didn't the Browns give Harrison more than nine carries last week? After all, Harrison averaged more than five yards a carry, and the Browns were winning most of the game. What's the problem?
My theories:
Maybe it's because Harrison isn't known as a great pass blocker. Maybe it's because the three teams he dominated last year for a combined 561 yards finished No. 31 (Kansas City), No. 29 (Oakland) and No. 19 (Jacksonville) in the NFL in run defense. Maybe it's because the week before he started that unreal three-game stretch, he gained nine yards on seven carries against Pittsburgh – the third-best running defense in the league. Plus, he's small (5-foot-9, 205 pounds).
All of those are possibilities, I suppose.
But the man the team took in the second round of the 2010 Draft,
Montario Hardesty
, who blew out his knee in the preseason, was known to have knee problems coming out of Tennessee, and Peyton Hillis only had 13 carries last year and was known as a short-yardage back. Harrison has more experience – and more success – than either of those players. So, yeah, it makes all the sense in the world that Hillis started instead of Harrison.
I'm just kidding about that. Despite all I wrote in the two paragraphs above this one, I have no idea why the Browns didn't give Harrison more carries Sunday. I'm not sure I can figure out this one logically, because it doesn't seem like a logical move (I'm sure it's logical to the Browns coaches, though).
Now, the Browns will face Kansas City. You know what happened last time Cleveland played the
Chiefs
? Harrison rushed for 286 yards and three touchdowns on 34 carries. Which means he'll probably get 10 carries Sunday.
And since I began this post with Grossi's lede, I'll leave with you his kicker as well.
Coincidentally, the only player in the NFL who had more rushing yards than Harrison over the last month of the season last year was Jamaal Charles of the Chiefs. Charles finished with 1,120 yards in 10 starts; Harrison had 862 in seven.

And look what the Chiefs did. They went out and signed veteran rusher Thomas Jones as a free agent. When the Chiefs took the field for their first play on offense Monday night against San Diego, Charles was on the bench.

"Lets you know it happens everywhere, huh?" Harrison said.
For more NFL news, rumors and analysis, follow @cbssportsnfl on Twitter and subscribe to our RSS Feed .