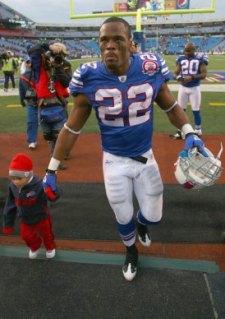 Bills
WR
Fred Jackson
spoke to the media today as he reported to training camp, and in his comments, he touched on the loss of former Buffalo WR Terrell Owens, the status of rookie RB
C.J. Spiller
(hint: he's not there) and on the vibe brought by new coach Chan Gailey.
But that wasn't what was newsworthy. Nope, what's newsworthy – at least to Jackson's 3-year-old son Braeden – was that Daddy took his TV away from him and put it in his temporary dorm room.
"I've got to have a big screen TV," Jackson said. "That's the first thing I carried in. It was my son's TV and he just realized that I brought it here. The whole conversation while I was walking down the hallway was like, 'Well, you're taking my TV.' I had to explain to him that Daddy's going to borrow it for a about a month or so. Then he tells me I better bring it back."
So, how is Braeden dealing with his sudden loss?
"He just kind of understands that it's a battle he's not going to win," Jackson said. "He's just dealing with it now."
To add insult to injury, Braeden had to help his father move in to training camp.
"He wasn't too excited about that either," Jackson said. "I had to promise him I'd take him to get something to eat at his favorite place, which is McDonalds. So, he's doing that right now. Hopefully I can keep him moving and we can keep things flowing pretty easily, and he can get over me taking his TV from him."
--Josh Katzowitz
For more NFL news, rumors and analysis, follow @cbssportsnfl on Twitter and subscribe to our RSS Feed .