Posted by Andy Benoit

1.) The common sense approach for Jerry Jones

Out of principle, I've been trying to avoid Dallas Cowboy stories at all costs these past few weeks. I've also been buying into the idea of keeping Wade Phillips around for the remainder of the season just because, well, the Collective Bargaining Agreement issues do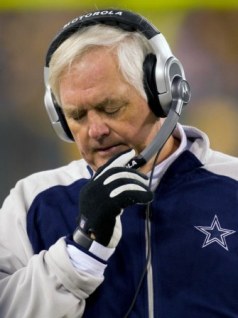 complicate matters, and promoting someone from Phillips' staff to the top position on an interim basis doesn't pack much punch.

But what happened in Green Bay can't be ignored. Thus, I'm writing a Cowboys story – an opinionated Cowboys story – that should cover the thousands of other Cowboys stories you'll read this week. Here it goes:

It would be wrong to say the Cowboys quit Sunday night, as "quitting" would imply they actually got started at some point. The problems for this team are as numerous as they are obvious. Based on the way Jon Kitna seems to be received by teammates, you'd swear Dallas' 52 other players are all atheists. The only way Kitna could be ignored any further is if Andre Gurode simply stopped snapping him the ball. Beyond Kitna, the running backs appear to be forbidden from pass blocking. The only time Dallas' defense looks the least bit complex in the presnap phase is when a linebacker or safety lines up in the wrong spot. Cornerback Orlando Scandrick has been particularly awful all season, though at least he hasn't mortgaged his heart and self respect the way Mike Jenkins has (what kind of tackling effort was that on the James Jones touchdown???).

We could go on forever, but the point is, this team has crossed the threshold of pathetic, and because of that, Jerry Jones needs to fire Phillips. Yes, a head coaching change at this point is complicated, but I'll take complicated over helpless any day. For the rest of this season, replace Phillips with Dave Campo, a fiery motivator with some head coaching experience. Don't promote Jason Garrett – he may be just as big a part of the problem. Over these next eight games the former NFL backup quarterback needs to prove he's still worthy of being an offensive coordinator in this league. The overly-simplistic system, lack of identity in the ground game and inconsistency of key players suggest he's not. (By the way, have we ever seen a hot young head coaching candidate cool as quickly as Garrett? Those two 6-2 teams playing this Thursday night were both turned down by Garrett at one point.)

The second the game clock reads 0:00 in Week 17, Jones needs to offer a contract to Bill Cowher. Cris Collinsworth made a great point during the broadcast: when the Cowboys have had a no-nonsense disciplinarian head coach (i.e. Jimmy Johnson and Bill Parcells), they've prospered; when they've had a "players' coach", they've floundered. Go get Cowher. He'll instill toughness, he runs a 3-4 scheme and, though maybe not a top echelon personnel guy the way Johnson and Parcells were, he'll ultimately improve the roster.

Cowher wants to coach; it's amazing he's still available after four years. Jones got lucky there. If for some reason Cowher is hesitant to get back in, Jones should offer him $10-12 million a season. He should be willing to give up part of his power, too. Sure, if there's a lockout, Cowher may not get to instill his modus operandi on the team until August, which would be a problem. But that problem pales in comparison to the one that is the status quo.


2.) Childress sets a new standard for buzz kill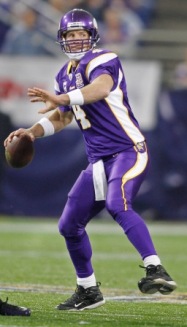 We've all made a joke that falls painfully flat. It's a terrible feeling. The ensuing silence makes the air around you feel thick, and when you try to backtrack or play it off, the nightmare only intensifies. No matter what your politics, in that moment you find yourself marveling at the courage it must take for someone like Vice President Joe Biden to face the world every day.

Biden at least specializes in the foot-in-mouth variety of failed jokes. That's the harmless kind. The other kind of failed joke is the one that derives from spite and pettiness. The room falls silent on these jokes because everyone knows that there is an uncomfortable hint of truth behind it. That's what happened when Brad Childress said in his postgame press conference, "I'm not going to stand here like Brett Favre and tell you I need compassion, I need a hug. I'm all right."

(Crickets)

Why – why?! – say that? Now, instead of talking about how Favre threw for a career-high 446 yards and led an incredible two-touchdown comeback in the final four minutes against Arizona, we're talking about how the quarterback and head coach still don't like each other.

And it's not just the Favre storyline that takes a backseat. Percy Harvin played on a bad ankle and was fantastic (nine catches, 126 yards). Adrian Peterson (15 carries, 81 yards and a touchdown, plus four catches, 63 yards and another touchdown) showed late in the game why he has reclaimed his spot as the league's best running back. Jared Allen, with 2.5 sacks and six hits on Cardinals quarterback Derek Anderson, quieted all his naysayers (which even those naysayers were glad about, considering everyone agrees that Allen is a great guy and fun to root for). If the Vikings beat the Bears next week, they'll welcome the Packers to the Metrodome in Week 11 with a chance to get within one game in the NFC North.

THESE are the storylines that should be highlighted this week. But thanks to Chilly's chill-hearted joke, we get another week of drama in Minnesota.
3.) What the Hillis happened in Cleveland?

You wonder if the Trap Game is simply a law of nature. If any team would be immune to it, it'd be the Patriots. But sure enough, with showdowns against the Steelers and Colts on the horizon, Bill Belichick's team came out flat as board Sunday in Cleveland. It was apparent right from the start that the Trap Game law was in affect. Trailing 3-0, rookie tight end Rob Gronkowski signaled for a fair catch on the ensuring kickoff, then, for some reason, though "eh, never mind", and let the ball bounce to the turf. After a scrum, the Browns came away with possession, leaving a short field for football's new giant-killer, Colt McCoy (actually, the tongue is not ALL THE WAY in cheek calling McCoy a "giant killer", considering that the rookie is 2-1 as a starter and has beaten the Patriots and Saints).

New England's socialistic ball control offense never came close to mustering enough firepower for a comeback. The story of the day, however, was on the other side of the ball. Fullback turned tailback Peyton Hillis rushed for a career-high 184 yards and two touchdowns on 29 carries. He also caught three passes for 36 yards. By now, you've probably heard about eight or nine different people refer to the 240-pounder from Arkansas as a battering ram. Indeed, Hillis seems to perk up at the point of contact.

The Browns have a meat and potatoes offense and, thanks in large part to Rob Ryan, one of the best-coached defenses in the NFL. The talk about Eric Mangini getting fired is clearly preemptive. Credit Mike Holmgren for giving the one-time wundercoach a vote of confidence over the past several months. Mangini is capitalizing on the tough lessons he learned early in his career.


4.) Poor Bills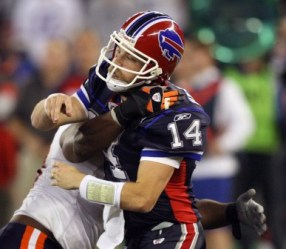 It's hard to feel sorry for a professional football team, but goodness, how can you not want to see the Bills get off the snide? After back-to-back overtime losses, Chan Gailey's club went to Canada to clear its mind and play before a crowd that, we're guessing, literally does not know how to boo. (By the way, only 50,746 people showed up for the game, which is fine with the Bills, as they've already been paid $78 million for the whole Canadian home games arrangement. The Rogers Communications executives, on the other hand, aren't thrilled with the low attendance, though they recently said they'd like to extend the deal past 2012. In fact, they might even try to negotiate with the Buffalo community an even split for Bills home games, which means the Bills would become the divorce children of the NFL.)

Aside from two interceptions and a few ground balls, Ryan Fitzpatrick played well Sunday. So did his new favorite receiver, Steve Johnson. The third-year pro from Kentucky surprisingly won the starting job opposite Lee Evans in training camp. After catching 11 passes for 145 yards against the Bears, Johnson leads the Bills with 30 receptions for 409 yards on the season. He's a humble, try-hard guy, which makes him an embodiment of this entire club.

But this is still a club that fell three points short Sunday. Since a city change didn't do the trick for the Bills, how about a temporary name change? Given this team's heart and tenacity, I propose the Buffalo Anti-Cowboys.


5.) Charlie Whitehurst makes his debut; quarterback controversy in Seattle?

Hahaha, uh, no. Let's move on.


6.) Colts-Eagles…..annoying?

The Colts are 5-3. The Eagles are 5-3. The Eagles just beat the Colts. That means the Eagles should be above the Colts in the power rankings, right? Sure – whatever, we can have that debate later in the week.

Regarding Sunday's Colts-Eagles game itself, I can't get over how maddeningly choppy this game was. Did anyone else notice the utter lack of rhythm? It was one of those games where you have to keep checking the top of your television screen because you can't remember what the score is and you have absolutely no idea how much time is left in the qua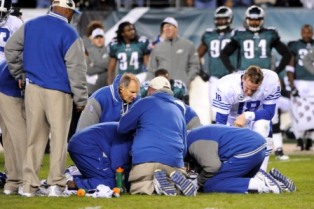 rter.

Forget trying to sort out what, exactly , happened in this game – at the end of it, all I could think about was how pissed off the hardcore 60 Minutes fans must have been. The 60 Minutes announcement – you know, the "For those of you expecting to see 60 Minutes, you're watching the NFL on CBS. 60 Minutes will be seen in its entirety immediately following this game, except on the West Coast, where it can be seen at its regularly scheduled time" – is something we've all come to associate with the ending of what are usually exciting games But when Jim Nantz read the CBS announcement during this game, there was still 13:47 left in the fourth quarter. Thus, the 15 million or so people who plan their Sunday evenings around the news magazine program had to wait 40 minutes for their show. And you know the type of person who is hardcore 60 Minutes fan is also the type of person who thinks football is a ridiculous waste of time. Those people had to be seething waiting for this choppy game to end.

Why was this game so choppy? For one, it was loaded with injuries, including a scary one for Colts receiver Austin Collie that delayed the action for several minutes. (More on this shortly.) Two, the game began with a 62-yard run by LeSean McCoy and an interception by Asante Samuel. This gave the Eagles 10 quick points, which many people did not notice because a couple of the early window games were still finishing up. Thus, when you finally got into watching the game, you instantly felt behind. Finally, Peyton Manning was brilliant at times, but he threw 21 incompletions. That's a lot of clock stoppages.

If you were to go back and edit out some of the commercials and obnoxious (and scary) injuries from this game, you'd see that it was actually a pretty good contest. A few key notes:

***Michael Vick was every bit as superb as his numbers suggest. Vick was 17/29 for 218 yards and a touchdown, along with 74 yards and another touchdown on 10 runs. You forget how much more fun football is when Number 7 is a star.

***The Eagles were able to get pressure on Manning, sacking him three times and forcing him to redefine his pocket on several occasions.

***Jacob Tamme will be claimed in every fantasy football league across America this week (if he wasn't already). Dallas Clark's replacement posted Dallas Clark-like numbers Sunday: 11 catches, 108 yards and a touchdown. The surprisingly-lithe third-year pro was targeted 17 times.

***Jim Caldwell made a mistake in the way he utilized his timeouts on Philly's final drive. Caldwell should have used his first timeout after DeSean Jackson's 11-yard run on the drive's first play. Instead, Caldwell used his timeout after Philly's next first down play. His thinking was, he'd then still have a timeout to use after the second down play and third down play. That's exactly what happened, so all was well. But Caldwell still should have used his timeout right away. If you need to save clock, then start saving clock ASAP. If Indy had, say, recovered a Philly fumble on the second down play, they would have had 40 seconds more left on the clock. The odds of that scenario playing out are small, yes, but they're still greater than zero.

***Regarding the hit on Austin Collie, it's understandable that the Eagles disagreed with the personal foul call. It wasn't a helmet-to-helmet shot, and it's debatable whether Collie was even defenseless anyway. That said, some of the Eagles could have shown more respect in arguing the call while Collie was still down. Upon seeing the replay on the big board, Asante Samuel jumped up and down and actually ran around Collie's motionless body on his way to getting in an official's face. Come on, Asante.


7.) Indy's uniforms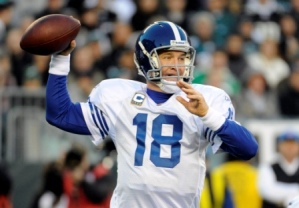 Jim Nantz noted that the Colts wore throwback uniforms for only the second time in franchise history. It's kind of hard to wear throwbacks when your current uniforms are basically already throwbacks. It doesn't get much blander that then blue and white in Indianapolis. Given that they employ the most marketable player in the league, it's actually amazing the Colts have not done some modern redesign to their jersey and brand. Yes, the horseshoe logo and understated color scheme has tradition, but most of that tradition is tied up in Baltimore. (And the people of Baltimore hate the Colts anyway.)

The only other time the Colts have worn throwbacks was Thanksgiving '04 at Detroit. Those uniforms were basically the same as the modern unis, except that the white helmet had the horseshoe on the back, not the side. The significance here is that those helmets were white. On Sunday, Indy's helmets were blue. Why does that matter? Because, ostensibly, this marked the first time in Peyton Manning's entire football career that he took the field for a meaningful contest in a helmet that wasn't white. Manning has worn a white helmet as a Colt. He wore a white helmet at Tennessee, and his Isidore Newman high school team wore white helmets. Sunday, he got to wear blue.


8.) No joke by The Bay

The Raiders are for real, given that reality in this case is a solid but not spectacular 5-4 record. Winners of three-straight for the first time since 2002, Oakland held the first-place Chiefs to just 104 yards on the ground. Coming into the game, Kansas City had rushed for over 200 yards in each of its previous three outings.

Fourth-round rookie Jacoby Ford (2010 Scouting Combine best 4.28 forty time) had six catches for 148 yards, including two crucial long grabs late over the middle right in front of Chiefs star corner Brandon Flowers. (Give credit to Jason Campbell, who on both plays showed fantastic pocket poise and accuracy.) Ford also took the second half opening kickoff back 94 yards for Oakland's first score.

There were plenty of unusual interruptions in this game due to confusion among the officials. Jeff Triplett crews are usually great crews, but every once in a while Triplett and his men will have a few bumbling moments. One hiccup came on the overtime coin toss. The Chiefs called heads and won, but Richard Seymour thought they called tails. This wasn't nearly as bad as the Jerome Bettis-Phil Luckett '98 Thanksgiving game, but still, the NFL could put an end to this silly risk of coin toss controversy by having the home team always be heads and the away team always be tails. What's the point of having players call heads or tails?


9.) Fine, I missed an extra point; so Suh me!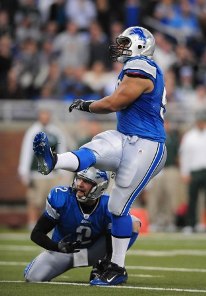 Do not let anyone tell you that the difference in the Jets-Lions game wound up being Ndamukong Suh's missed extra point. Football is way too complex for that. If Suh makes that third quarter extra point, the Lions are up 14-10, rather than 13-10, which changes the play-calling and, subtly, the mindset of everyone involved. It would have been a totally different game; who knows how it would have played out?

The difference, or differenceS, in the Lions-Jets game were Matthew Stafford's shoulder injury (it's very concerning just how easily that part of his body gets hurt), LaDainian Tomlinson's six catches for 47 yards (seemingly all of which came at a convenient time for the Jets), Santonio Holmes' big 52-yard catch-and-run in overtime (amazing how significant one missed tackle can be, huh?) and Darrelle Revis' All-World performance against Calvin Johnson (the Lions star receiver caught one pass for 13 yards and was targeted just four times).

The Jets have some work to do offensively, but the good teams find ways to win even when they're not clicking on all cylinders.
10.) Quick Hits

***Sticking with Lions-Jets, I wish someone would force Jahvid Best to change his number. Tiny running backs with explosive speed and quickness shouldn't wear 44, it just doesn't look right.
***As expected, the smashmouth Falcons were able to run the ball down the Bucs' throats all afternoon Sunday. Michael Turner had 24 carries for 107 yards and two touchdowns.
***In his first game back since suffering a week 6 concussion, Falcons cornerback Dunta Robinson did not look at all eager to stick his nose in there and be physical. Not saying the Falcons have another Bryan Scott situation on their hands (remember Bryan Scott, the rising safety for Atlanta who got a concussion and, for the next year or two, was noticeably afraid of contact?). But Robinson's lack of aggressiveness was plain to see.
***This seems like a perfect segue into ripping Mike Jenkins one more time for his pathetic tackling effort (or non-effort) on the James Jones touchdown. Seriously Mike. What. Was. THAT?
***Nate Burleson got flagged for celebrating a touchdown by kicking the ball into the stands a few weeks ago. When he scored Sunday, Burleson did a wind up to boot the ball again, only this time he intentionally missed it. Clever. (P.S. Burleson had seven catches for 113 yards this game.)
***How about Ray Rice racking up 97 yards on seven receptions?
***Safety Chris Harris spent some time at linebacker for the Panthers. It's a little surprising they didn't try him at quarterback.
***When was the last time we saw two teams score fumble recovery touchdowns on kickoff coverage on the same day? Talk about the ultimate lucky touchdown. The Cardinals got one from Michael Adams and the Packers got one from Nick Collins on a fumble that would have been ruled down by contact if the Cowboys had been able to challenge.
***Hope you enjoyed watching Nick Collins, by the way, because if the NFL is true to its word about cracking down on illegal hits, the Packers safety should be suspended a game for his shot on Roy Williams. That hit was almost as egregious as Brandon Meriweather's hit on Todd Heap. (True, Meriweather was not suspended, but that was likely only because the hit occurred the week before the NFL issued the harsher punishment for violating the rule.)
***I didn't watch the Chargers-Texans game, but in seeing the highlights and scanning the box score, it's looking like I might have to learn how to say the name Seyi Ajirotutu. Dammit all.


For more NFL news, rumors and analysis, follow @cbssportsnfl on Twitter and subscribe to our RSS Feed .